The Extreme Supply-Sider one in Topeka, that is. Josh Barro notes how tax cuts failed to result in entrepreneurial renaissance that would result in revenue increases; Wonkblog further observes (I did before) that employment growth has collapsed utterly and completely. Paul Krugman has dissected the social dynamics underpinning the adherence to patently unsupported ideas, but it is always useful to reiterate the facts of the case.
Kansas is doing so poorly in terms of private employment growth since 2011M01 — the beginning of Governor Brownback's administration — that it rivals in (poor) performance Wisconsin [1].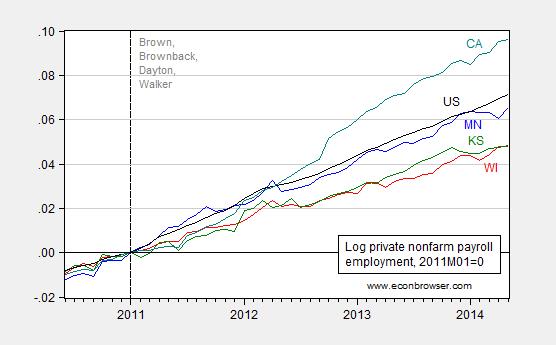 Figure 1: Log private nonfarm payroll employment for Wisconsin (red), Minnesota (blue), California (teal), Kansas (green) and the US (black), all seasonally adjusted, 2011M01=0. Vertical dashed line at beginning of terms for indicated governors. Source: BLS, and author's calculations.
It turns out that broader measures of economic activity confirm the collapse in growth. The recently released Philadelphia Fed coincident index shows May activity lower than that in January of the year. This means the cumulative growth gap (from 2011M01) between national activity and Kansas has widened to 2.8% (log terms).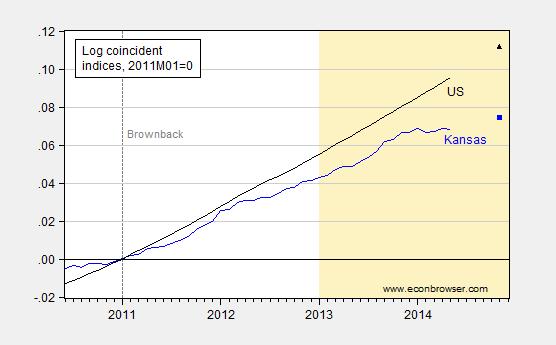 Figure 2: Log coincident indices for Kansas (blue) and the US (black), seasonally adjusted, 2011M01=0. Implied levels from leading indices for Kansas (blue square) and US (black triangle) for 2014M11. Dashed lines at 2011M01 (beginning of Brownback administration). Tan shading denotes period that tax cuts apply to. Source: Philadelphia Federal Reserve May releases for coincident indices and leading indices, author's calculations.
Forward looking indicators from the Philadelphia Fed indicate that over the next six months, the gap will widen — to 3.8% (Figure 2). Figure 3 depicts where Kansas sits in the distribution of state six month growth rates (not annualized). The wisdom of Moody's decision to downgrade Kansas government bonds in April seems to have been borne out. [3]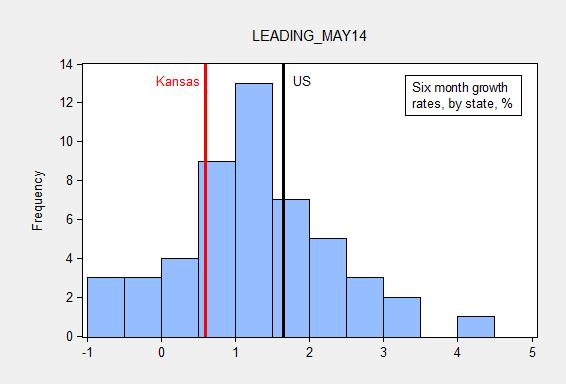 Figure 3: Frequency distribution of six month non-annualized growth rates. Solid red line at Kansas growth rate; solid black line at US growth rate. Source: Philadelphia Fed leading indices, May release.
Kansas sits in the bottom quarter of the distribution. The gap between the US and Kansas non-annualized six month growth is over a percentage point. The corresponding gap over the entire period which the Philadelphia Fed has been tabulating the coincident indices is about a quarter of a percentage point (this is essentially a state-specific "fixed effect"). (Note: one cannot appeal to antediluvian views on the negative impact of minorities on growth, as in this comment, since Kansas is relatively homogeneous.)
Concluding thoughts: After three years of an experiment in ALEC-Laffernomics, Kansas lags the US economy significantly. This should be no surprise to anyone. Over thirty years ago, I interviewed Arthur Laffer for the Harvard International Review about the supply-side scenario. I was skeptical then. I see no reason, from the experience of Kansas, to be any less skeptical now (See this post for a statistical analysis, and links to more comprehensive empirical analyses).
Addendum, 5:50PM Pacific: Bruce Hall, who previously asserted Wisconsin's negative performance with respect to Minnesota was partly due to the higher minority population in Wisconsin, now asserts California's outperformance with respect to Kansas is comparable 'to an F student who raises his grade to a C to an A student who just "plods along."', where Kansas is the A student because its government is "well run".
I have calculated the log ratio of Kansas to California coincident index, taken the first difference and multiplied by 12 (so the coefficients are interpretable as impact on annual growth rates) regressed it on a constant, time trend, and a dummy that takes on a value of one when Governor Brownback comes into office. The time trend thus accounts for the alleged poorly run policies of California. Here are the results:
Δz = –0.020 + 0.00004×time – 0.016×BrownbackDummy
Adj-R2 = 0.02, SER = 0.03. Bold face entries denote significance at the 5% MSL.
The results indicate that relative annual growth is 1.6 percentage points slower under Governor Brownback.