When Technocrats Are Pushed Aside
Nearly 56 years ago, with the beginning of the second Five-Year Plan, Chairman Mao called for a "Great Leap Forward". The objective was rapid development of the agricultural and industrial sectors in such a way as to catch up quickly with both the Soviet Union and eventually the West. A focus was on use of mobilization by political means of large amounts of labor in order to circumvent the need for imported inputs including machinery.
Political mobilization as a means of achieving goals that are otherwise assessed as unrealistic by technocrats is noteworthy. In particular, key aspects of the Great Leap Forward included:



Abolishment of private property and moving agricultural production into state owned communes.

A goal of doubling steel production, in part by way of backyard furnaces.

Massive investment in infrastructure, primarily irrigation projects.

I'll focus on the doubling of steel production as an example of how failure to think through proper program implementation can lead to enormous waste. From Kung and Lin (EDCC, 2003):
… significant proportions of [the rural labor force] were being diverted to activities totally unrelated to agriculture, most notably the smelting of iron and mining and transporting ore in the so-called backyard furnaces. As was the case with water conservancy works, these projects similarly required that the highly fragmented and localized interests be unified. Moreover, as these were primarily industrial projects and their effective execution required managerial skills and expertise that were rarely available in the smaller collectives, the larger commune arguably provided the organizational context within which a faster pace of rural-based industrialization could be made possible.

However, the economic costs of this diversion were colossal. First, the 3 million tons of steel produced in these backyard furnaces was of such poor quality that at least half of it was considered wasted. Second, unintentionally many commune authorities were so preoccupied with iron and steel manufacturing in the autumn of 1958 that they neglected to harvest the crops, which were simply left to rot in the fields. This diversion of resources is estimated to account for 28.6% of the overall grain output collapse, a factor that was secondary only in importance to excessive procurement, according to one estimate.
Fixed investment rose; and so initially did grain and steel production.
Source: Bramall (2009)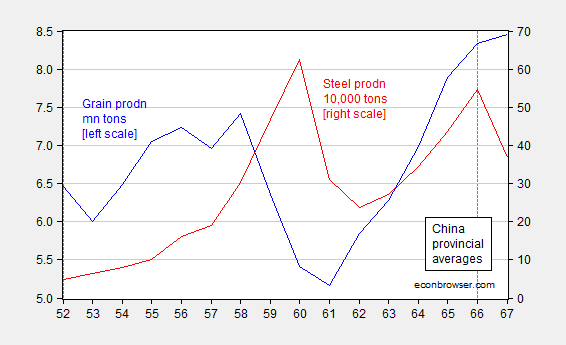 Figure 1: Average of provincial production of grain, in millions of tons (blue), and of steel, in 10,000 tons (red). Source: Li and Yang (JPE, 2005)
What happened in the wake of an essentially un-analyzed attempt to drastically re-orient the Chinese economy? Agricultural and industrial output collapsed. The ensuing famine resulted in 30-45 million deaths.
An ideologically driven committed "big push" involving lots of resources, unguided by careful analysis of how policies will be implemented, and likely effects, will almost certainly result in waste of monumental proportions and other unintended consequences.
More on the Great Leap Forward here and here, and Chinese development here.