Wisconsin's Department of Workforce Development released employment figures today. Nonfarm payroll employment down 12,000, private NFP down 11,000, month-on-month.

Figure 1 depicts US and Wisconsin (log) NFP employment normalized to 2011M01; Figure 2 shows the counterfactual of what Wisconsin employment should be, based on historical correlations holding over the 1990-2010 period (using a ECM with national employment).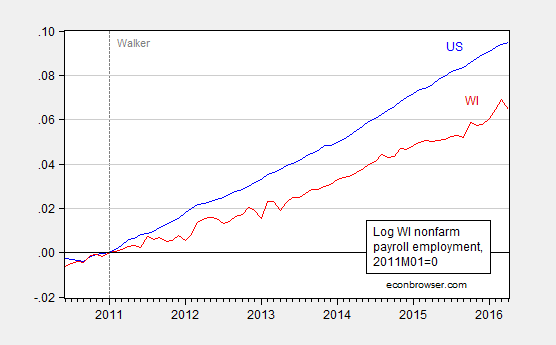 Figure 1: Log nonfarm payroll employment, 2011M01=0, for Wisconsin (red), and US (blue). Source: BLS, DWD, and author's calculations.
Figure 2: Actual Wisconsin nonfarm payroll employment (red) and counterfactual forecast (blue), and 90% confidence band (gray). Source: BEA, DWD, author's calculations. Counterfactual forecast from ECM using US, Wisconsin NFP, one lag of first differences, estimated 1990-2010, assumes US NFP weakly exogenous (see description here).
To sum up: Wisconsin NFP employment is declining, and is trending at a pace lagging the national rate, and is currently at a level statistically significantly different from that implied by historical correlations. Using a sample ending in 2009M06 instead of 2010M12 does not materially change these conclusions, as noted in this post.
John Koskinen, Chief Economist and Division Administrator for the Division for Research and Policy Analysis, in the Wisconsin Department of Revenue from 2007-15, had a more upbeat view, which is discussed here. He characterized Wisconsin employment growth as pretty good, although it was not clear to me what statistical benchmark he used. A more downbeat assessment is here.