Or, "CBO Score — them's fightin' words!".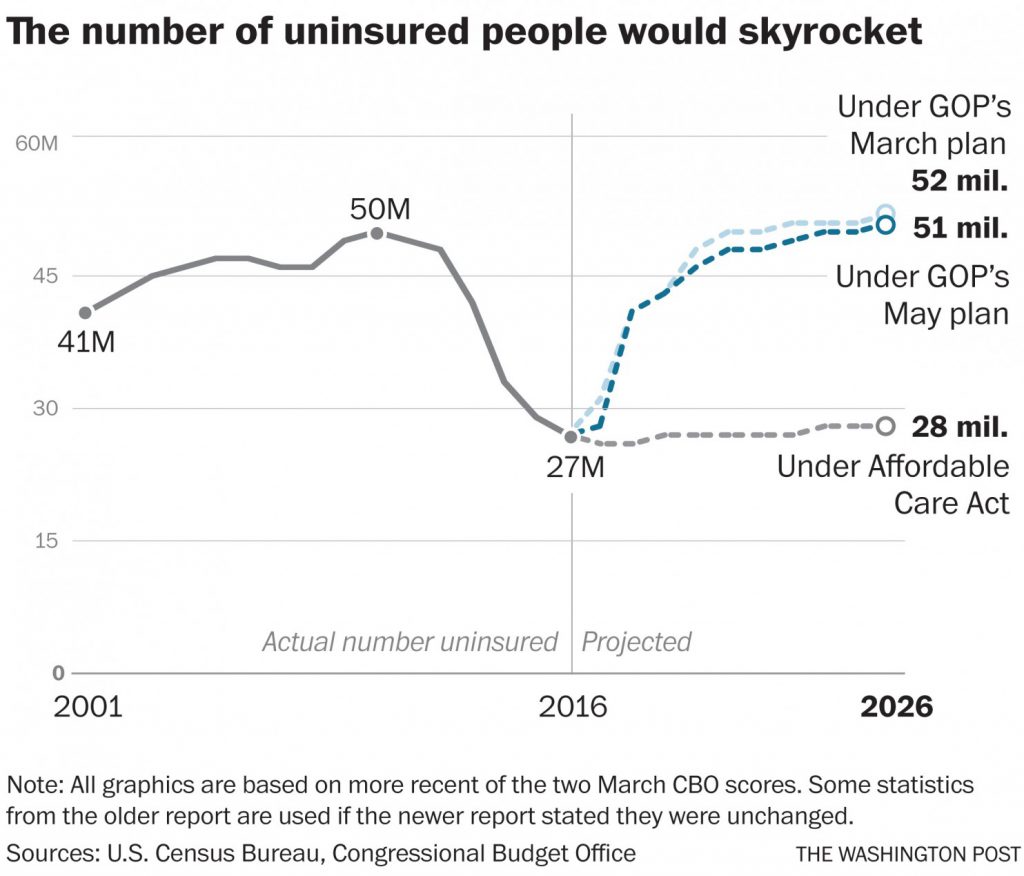 Source: Eilperin, Snell, "Uninsured ranks still to grow by tens of millions under latest House health-care bill, CBO says," WaPo, May 24, 2017.
From today's CBO score of the AHCA, bottom line, 14 million more uninsured next year, and 23 million more by 2026.
CBO and JCT broadly define private health insurance coverage as consisting of a comprehensive major medical policy that, at a minimum, covers high-cost medical events and various services, including those provided by physicians and hospitals. The agencies ground their coverage estimates on that widely accepted definition, which encompasses most private health insurance plans currently offered in the group and nongroup markets. The definition excludes policies with limited insurance benefits (known as mini-med plans); "dread disease" policies that cover only specific diseases; supplemental plans that pay for medical expenses that another policy does not cover; fixed-dollar indemnity plans that pay a certain amount per day for illness or hospitalization; and single-service plans, such as dental-only or vision-only policies. In this estimate, people who have only such policies are described as uninsured because they do not have financial protection from major medical risks.

CBO and JCT estimate that, in 2018, 14 million more people would be uninsured under H.R. 1628 than under current law. The increase in the number of uninsured people relative to the number projected under current law would reach 19 million in 2020 and 23 million in 2026. In 2026, an estimated 51 million people under age 65 would be uninsured, compared with 28 million who would lack insurance that year under current law. Under the legislation, a few million of those people would use tax credits to purchase policies that would not cover major medical risks.
Here are a couple of salient graphs, on (1) impact on coverage, and (2) Medicaid coverage.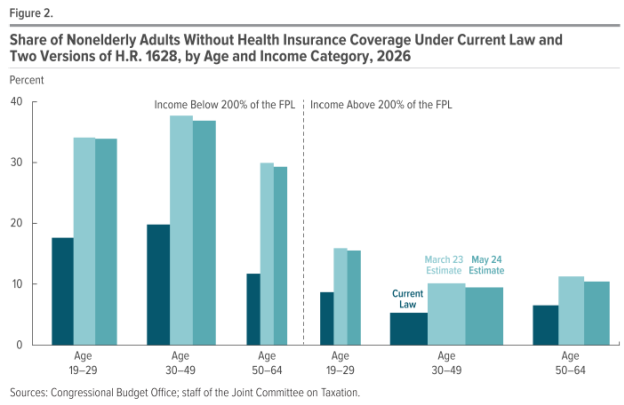 Source: CBO, Cost Estimate: H.R. 1628, American Health Care Act of 2017 (May 24, 2017).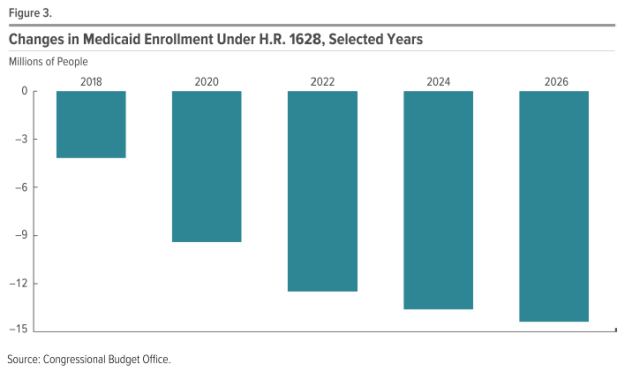 Source: CBO, Cost Estimate: H.R. 1628, American Health Care Act of 2017 (May 24, 2017).
And about pre-existing conditions coverage?
Although premiums would decline, on average, in states that chose to narrow the scope of EHBs, some people enrolled in nongroup insurance would experience substantial increases in what they would spend on health care. People living in states modifying the EHBs who used services or benefits no longer included in the EHBs would experience substantial increases in out-of-pocket spending on health care or would choose to forgo the services. Services or benefits likely to be excluded from the EHBs in some states include maternity care, mental health and substance abuse benefits, rehabilitative and habilitative services, and pediatric dental benefits. In particular, out-of-pocket spending on maternity care and mental health and substance abuse services could increase by thousands of dollars in a given year for the nongroup enrollees who would use those services. Moreover, the ACA's ban on annual and lifetime limits on covered benefits would no longer apply to health benefits not defined as essential in a state. As a result, for some benefits that might be removed from a state's definition of EHBs but that might not be excluded from insurance coverage altogether, some enrollees could see large increases in out-of-pocket spending because annual or lifetime limits would be allowed. That could happen, for example, to some people who use expensive prescription drugs. Out-of-pocket payments for people who have relatively high health care spending would increase most in the states that obtained waivers from the requirements for both the EHBs and community rating.
A little more explicitly:
…over time, less healthy individuals (including those with preexisting or newly acquired medical conditions) would be unable to purchase comprehensive coverage with premiums close to those under current law and might not be able to purchase coverage at all.

…

CBO and JCT estimate that a few million people would buy policies that would not cover major medical risks. That estimate is highly uncertain. Although less healthy people might be able to purchase plans that would include a limited number of benefits, those policies would not provide sufficient financial protection to meet CBO's definition of insurance coverage. The existence of tax credits in the nongroup market would encourage a second market to emerge to sell policies priced to closely match the size of the credits.

Although such plans would provide some benefits, the policies would not provide enough financial protection in the event of a serious and costly illness to be considered insurance.
I see there are pre-emptive attacks on the CBO's assessment from the usual suspects; see this post for a discussion. For a discussion of CBO's macroforecasting record (as compared to say the Administration or Blue Chip), see this post.