Quarterly GDP figures for Kansas indicate essentially zero q/q growth in 2016Q4, and 0.3% y/y. This is true despite the end of the drought. BEA Plains region growth outpaces Kansas, as well.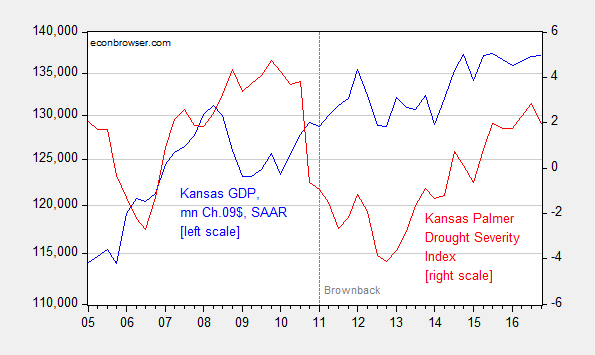 Figure 1: Kansas real GDP, in millions Ch.2009$, SAAR ( blue, left log scale), and Kansas Palmer Drought Severity Index (red, right index); lower values indicate drier conditions. Source: BEA (May 11 release), and NOAA.
Needless to say, this growth performance leaves something to be desired. In fact, 2016Q4 Kansas GDP is only 1.2% higher than it was in the first quarter of 2012 – over four years earlier.
Some might argue that the region as a whole is growing slower than the nation. In Figure 2, I depict Kansas, Plains and US GDP relative to 2011Q1.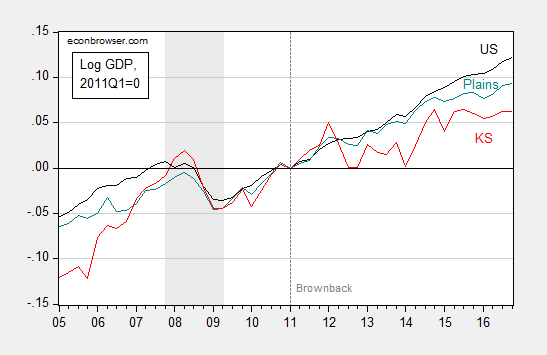 Figure 2: Log GDP relative to 2011Q1 for US (black), Plains (teal), and Kansas (red). NBER defined recession dates shaded gray. Source: BEA, and author's calculations.
Kansas GDP q/q growth decelerates 1.1% relative to pre-2011. US GDP growth accelerates 0.8%; Plains by 0.2%. Kansas relative to US GDP growth decelerates by 2.1% in the Brownback period; that deceleration is significant at the 6% MSL (using HAC robust standard errors).
Update, 5/27 9:30AM Pacific: Bruce Bartlett brings my attention to this paper which lends analytical substance to the assessment that Brownback's tax cuts have not led to acceleration of employment growth. Here is a post discussing the source of the slowdown (keeping in mind balanced budget requirements).