Since the President has acknowledged that the intent of his restrictions on entry of individuals from certain countries is actually a "travel ban", it is of interest to assess the impact on foreign travel to the United States, and consequent impact on the US economy.



Figure 1: Year-on-year growth rate of US international enplanements (blue), and world industrial production (red). Source: Bureau of Transportation Statistics, IMF World Economic Outlook, April 2017, Figure 1.1, and author's calcuations.
Note that while the correlation is not very high, it is interesting that international enplanements (both incoming and outgoing) have trended sideways since 2016M11, even as world industrial production has risen. We will have additional insights (for March) on June 11th.
A new study finds international tourism to the U.S. has dropped in the Donald Trump era.

America's share of international tourism saw a 16 percent decline in March when compared to the same month last year, according a data analysis released on Wednesday by Foursquare, a technology company with a focus on location intelligence.

The decline dates to October 2016, … according to the study. The decline has been steady with leisure tourism-related traffic to the U.S. falling an average of 11 percent between October and March, compared to the same period a year before.

Conversely, Foursquare analysts found tourism in the rest of the world increased 6 percent year-over-year during that same period.
Justin Fox/Bloomberg is a skeptical that we have already seen a big economic impact on the US economy, and I agree it is early to judge. On the other hand, the graph he presents on foreign spending in the US is sobering.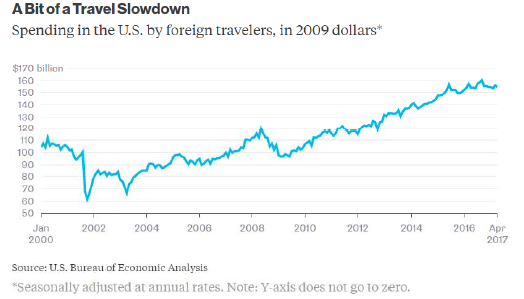 Source: Justin Fox, "The Trump Effect on Tourism Is Overhyped," Bloomberg, June 2, 2017.
For context, the April 2017 figure is about 0.9 ppts of GDP.