From The Wichita Eagle:
Lawmakers rolled back Gov. Sam Brownback's signature tax policy over his objections Tuesday night, forcing into law tax increases to fix a budget shortfall and provide more money for schools.
(h/t Bruce Bartlett)

The legislation ends the "march to zero" income tax cuts that Brownback heralded for much of his time as governor.

Income taxes will rise across the board but most tax rates will remain lower than they were before the 2012 tax cuts. The increases are expected to generate more than $1.2 billion for the state over the next two years.
The experiment has been going on for years, since at least 2013, but we have not yet seen the promised "shot of adrenaline" effect that was promised.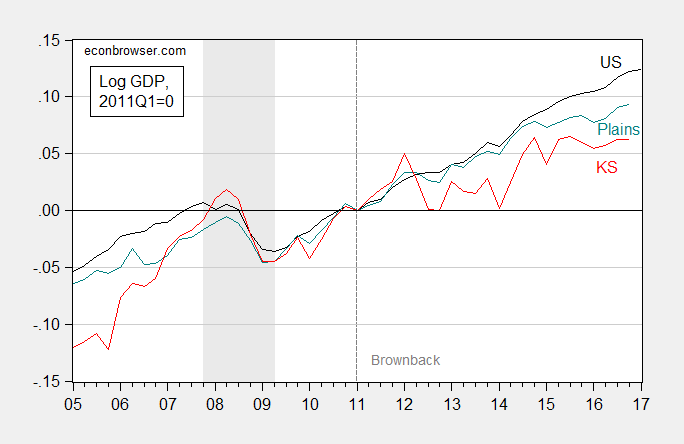 Figure 1: Log GDP relative to 2011Q1 for US (black), Plains (teal), and Kansas (red). NBER defined recession dates shaded gray. Source: BEA, and author's calculations.
In fact, Kansas GDP growth (as well as employment growth) has been lackluster (see Figure 1), regardless of drought, small aircraft production shocks, and other issues raised by apologists for the Governor's program. I document this using historical simulation exercises, for drought [1], [2], and using a accounting exercise for aircraft (I fully expect Ironman to say that drought and aircraft do explain the Kansas malaise, and further it's just dandy to subtract chain-weighted values from chain-weighted values.)
As Ehrenfreund/WaPo points out:
the legislature eliminated a cut Brownback had put in place to help small businesses. Analysts said that the provision had become a loophole, as many Kansans were able to avoid paying taxes entirely by pretending to be small businesses.

Initially, the state forecast that about 200,000 small businesses would take advantage of the break. As it turned out, about 330,000 entities would use Kansas's new rule. That discrepancy suggests that tens of thousands of workers claimed that their incomes were from businesses they owned rather than from salaries.
Just to be clear, this provision is something the President has indicated that he wants to include in his tax reform plan.
What's the likely macro impact in Kansas? Without knowing too much about how the additional tax revenue will be directed to spending, it's hard to say, so what follows is necessarily a back-of-the-envelope calculation. Reecalling the balanced budget requirements, it seems that spending would be about $600 bn million per year higher than what it otherwise would have been. Tax revenues rise, which depresses aggregate demand, while government spending and transfers rise, which elevates aggregate demand. Assuming transfers are spent with a marginal propensity to consume of unity, then the elevated spending of about 530 billion million Ch.2009$ (the GDP deflator is 13% higher in 2017Q1 than in 2009) results in a real GDP about 0.4% higher than it otherwise would have been (to be specific, I'm assuming a balanced budget multiplier, and presuming there is some slack in the state economy). This does not mean the economy will necessarily rebound strongly; however, in reducing the likelihood of yet more austerity, it should be helpful to growth.
At the very least, it will signal the return of some sanity in the conduct of Kansas fiscal policy formulation.