A common talking point is that the ACA is imploding, or that it's unpopular. It is useful to consult actual data and expert opinion when listening to such arguments.
From the CBO:
Under Current Law. Although premiums have been rising under current law, most subsidized enrollees purchasing health insurance coverage in the nongroup market are largely insulated from increases in premiums because their out-of-pocket payments for premiums are based on a percentage of their income; the government pays the difference between that percentage and the premiums for a reference plan (which is the secondlowest-cost plan in their area providing specified benefits). The subsidies to purchase coverage, combined with the effects of the individual mandate, which requires most individuals to obtain insurance or pay a penalty, are anticipated to cause sufficient demand for insurance by enough people, including people with low health care expenditures, for the market to be stable in most areas.

Nevertheless, a small number of people live in areas of the country that have limited participation by insurers in the nongroup market under current law. Several factors may lead insurers to withdraw from the market—including lack of profitability and substantial uncertainty about enforcement of the individual mandate and about future payments of
the cost-sharing subsidies to reduce out-of-pocket payments for people who enroll in nongroup coverage through the marketplaces established by the ACA.
It is of interest to note that the withdrawal of insurers from certain markets is due to policy uncertainty induced by the current Administration's refusal to guarantee payments of subsidies to insurers.
What about popularity?
This graph compiled by Goldman Sachs is useful for documenting the relative popularity of the current law.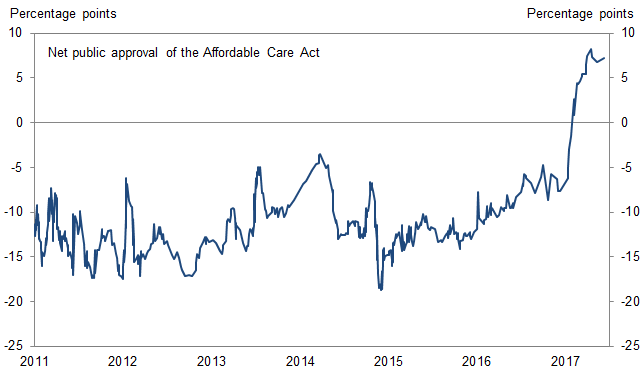 Source: Phillips, "US Daily: Health Legislation: Nearing the End," Goldman Sachs, June 27, 2017.
So, the ACA could be repaired with some feasible modifications. The ACA is popular. More so than the House-passed AHCA (for which we have polling data).
So…the question remains, why push a massive tax cut for high income households in exchange for massive cuts in Medicaid spending and elevated mortality levels?.