My stint in the Executive Office of the President as a senior economist spanned the last months of the Clinton Administration and the first months of the G.W. Bush Administration. In the first months of 2001, we knew massive tax cuts were coming; we weren't so sure that we'd be in a long term ground war on the Asian continent.

First, consider likely new Treasury issuance: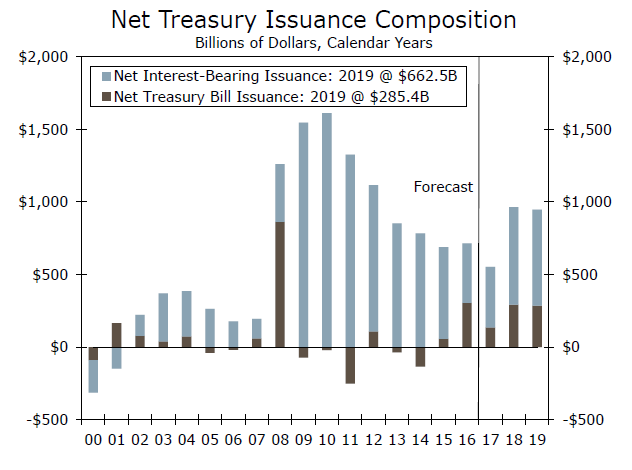 Source: Wells Fargo, Who will buy all the new Treasury securities," Special Commentary (Nov. 27, 2017).
Second, consider what foreign demand has been over the past few years: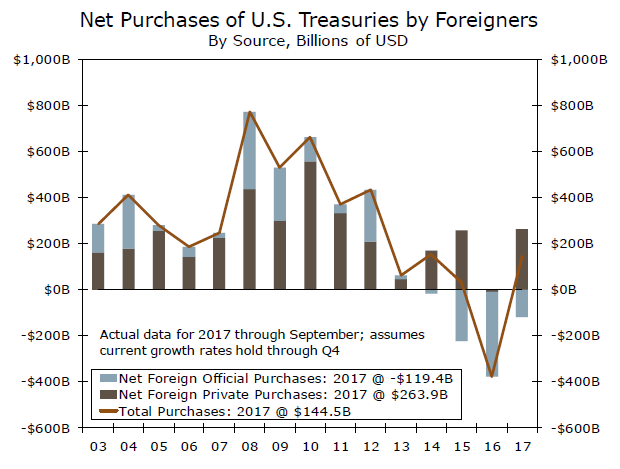 Source: Wells Fargo, Who will buy all the new Treasury securities," Special Commentary (Nov. 27, 2017).
In other words, we better hope China starts "manipulating" its currency again if we don't want Treasury rates to rise a lot relative to baseline (see Kitchen-Chinn (2012) for estimates of the impact of foreign purchases).
Third, consider what happens if the rosy scenarios for growth don't pan out, and if we have some (partially anticipated) elevated defense expenditures. Expenditures for the Iraqi theater of operations only (i.e., not including Afghanistan) were about 874 billion FY2010$ through FY2012. Here's a figure from this post.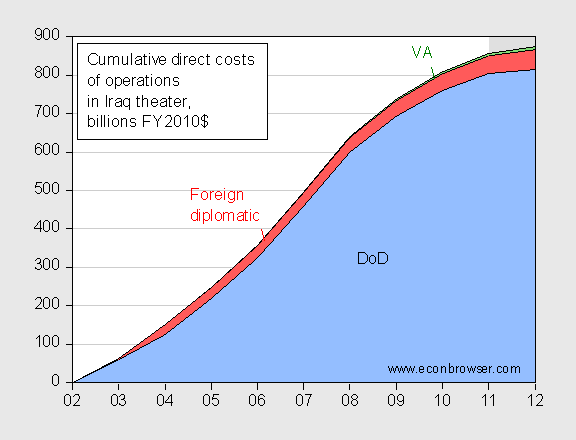 Figure 3: Cumulative real direct costs, in constant (FY2010) dollars by fiscal year, in the Iraq theater of operations ("Operation Iraqi Freedom"). Does not include debt service costs. Source: Nominal figures from Amy Belasco, "The Cost of Iraq, Afghanistan, and Other Global War on Terror Operations Since 9/11," RL33110, Congressional Research Service, March 29, 2011, Table 3. Data for FY2011 is for continuing resolution, for 2012 is Administration FY2012 request. Deflated by CPI-all. CPI for 2011 assumes September 2011 m/m inflation is the same as August 2011 m/m inflation. Assumes 2012 inflation is equal to August 2011 CBO forecast for CY2012 inflation.
Obviously, Korea is not Iraq. That isn't necessarily comforting. From The National Interest:
At its peak in 1952, Washington was spending around 4.2 percent of U.S. GDP fighting the Korean War. While Pentagon officials believe another war on the Korean Peninsula could be finished far more quickly, reducing the likely casualties and cost, there is a risk that the conflict could last much longer.

The Iraq War that began in 2003 was predicted to last only a few weeks, but it was not until December 2011 that the last U.S. military personnel left the Middle Eastern nation. The total cost of the war, which was originally forecast at $60 billion, ended up at nearly $1 trillion (5 percent of U.S. GDP), according to estimates by the Congressional Budget Office.

The cost of reconstruction could also be "enormous," Capital Economics argues.

"After the most recent wars in Iraq and Afghanistan, the US government spent around $170 billion on reconstruction. South Korea's economy is around 30 times bigger than these two countries' GDP. If the US were to spend proportionally the same amount on reconstruction in South Korea as it did in Iraq and Afghanistan, it would add another 30 percent of GDP to its national debt," the London-based consultancy says.

"The upshot is that a prolonged war in Korea could significantly push up federal debt in the US, which at 75 percent of GDP, is already uncomfortably high."
So, the question is whether we want to engage in reckless fiscal profligacy when there is a real likelihood under the current Administration of elevated defense-related costs (see the outcome of this choice here).