In response to my quote of CRFB's assertion that average growth acceleration under the Tax Cuts and Jobs Act relative to baseline will be only between 0.01-0.02 percent (shown below),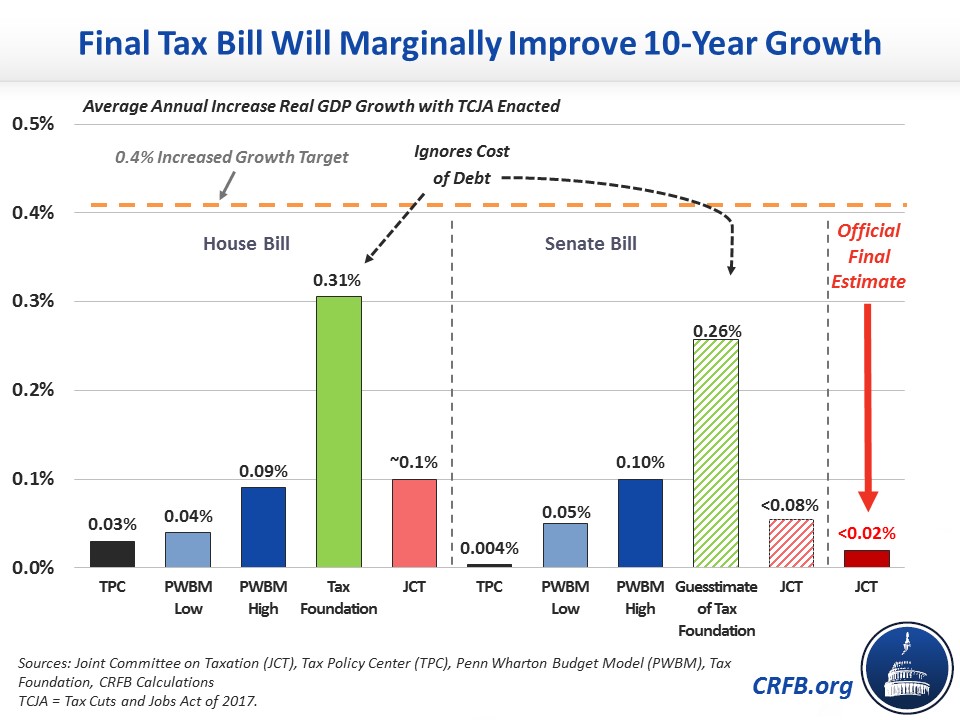 Source: Committee for a Responsible Federal Budget (Jan. 3, 2018).
Reader Vivian Darkbloom writes:
I'm asking myself how an average increase of only 0.01 percent to 0.02 percent in GDP growth over a decade could result in an average of increase in the level of GDP output of 0.7 percent of that same ten-year period as reported by the CFRB and Menzie.
and continues:
Either you need to justify it (and the related text regarding the assertion that it is 1/20th to 1/40th of the McConnell estimate), or retract it.
The key to understanding how the 0.01-0.02 percent growth rate is consistent with 0.8 percent higher than baseline GDP for most of the 10 year window is to recall that GDP drops to 0.1-0.2 percent above baseline at the end of the window. You can make up an example, like I did, and get for instance average GDP is 0.71 percent higher over the entire ten year period, but there is only 0.01 percent acceleration in average growth.

Figure 1: Growth rates deviation from baseline, percentage points (blue line, left scale) and level under baseline (black, right scale), and under alternative (red, right scale). Dashed lines are averages. Source: Author's calculations. [updated 1/18]
The example can be downloaded as a small spreadsheet here. The relevant JCT document is here.
Reader Leper Messiah, who wrote:
Having now read the original CFRB blog entry, their estimate of .01 to .02 annual percent growth should have been .1 to .2. That would put the JCT estimate as 1/2 to 1/4 of the McConnell entry. Kudos to Vivian Darkbloom for spotting a major error in the calculation. It appears Maya et al are the ones who are math-challenged.
will also be disappointed to know he/she is not going to get satisfaction either.
In other words… we gave up a $1 trillion of tax revenue, and got a measly average acceleration of growth of 0.01-0.02 percent!?!?