From WSJ op-ed via AEI:
The second factor [in the slow recovery] is less obvious, but possibly also of great importance…. Congress and [the] President signaled their intentions to introduce major changes in taxes, government spending and regulations–changes that could radically transform the American economy.

…

… other government proposals created greater uncertainty and risk for businesses and investors. …
Congressional "reforms" of the American health delivery system have gone through dozens of versions. The separate bills passed by the House and Senate worry small businesses, in particular. …

…How hard the Fed will fight inflationary pressures through open market sales and other actions that raise interest rates is a significant source of uncertainty about future inflation and about the potential for monetary policy tightening to choke off the recovery.

The uncertainty about monetary policy has important political dimensions as well. The Fed now faces greater political pressures than at any other time in the past quarter century, … These pressures may intensify greatly if, and when, future Fed actions to restrain inflation conflict with politicians' desires to prop up housing and the major government enterprises enmeshed in housing finance.

Even though some of the proposed antibusiness policies might never be implemented, they generate considerable uncertainty for businesses and households. Faced with a highly uncertain policy environment, the prudent course is to set aside or delay costly commitments that are hard to reverse. The result is reluctance by banks to increase lending–despite their huge excess reserves–reluctance by businesses to undertake new capital expenditures or expand work forces, and decisions by households to postpone major purchases.
That was written by Steven J. Davis, Gary Becker, Kevin M. Murphy, on January 4, 2010.
Here is a plot of the economic policy uncertainty indices for the US, both news and baseline, as well as the VIX.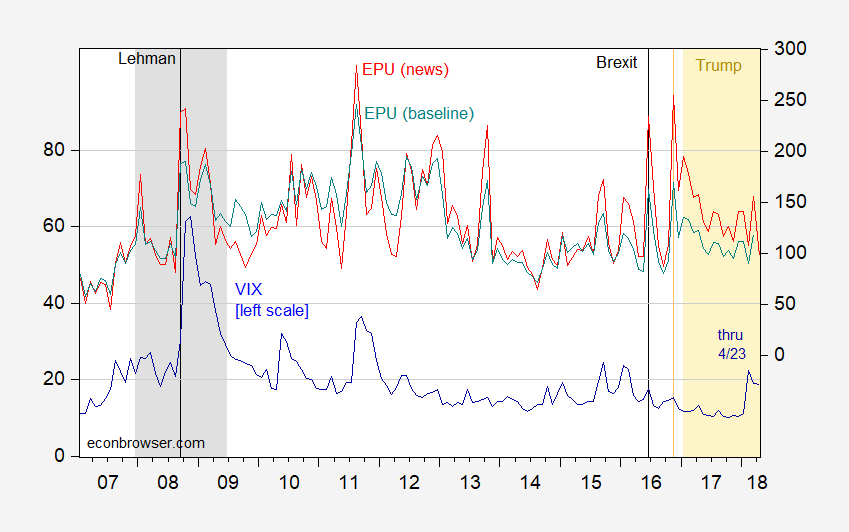 Figure 1: VIX (blue, left scale), EPU-News (red, right scale), EPU-baseline (teal, right scale). NBER defined recession dates shaded gray. Source: FRED, policyuncertainty.com, NBER.
Does this matter? Maybe, maybe not. Baker, Bloom and Davis in the Quarterly Journal of Economics (2016) provide this set of impulse response functions differing by specifications, suggesting a negative impact on industrial production.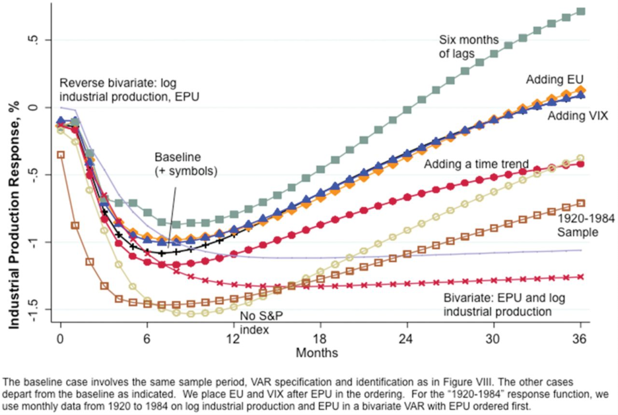 Figure 9 from BBD (2016).
Of course, it is possible that these IRFs pertain to shocks that are not policy uncertainty shocks per se. However, it is amusing to me to see people who argued that uncertainty was important in times past now saying it's not.