Back in mid-December, Political Calculations asked if California was in recession. The release of April state-level employment figures provides an opportunity to revisit this question — it's likely no recession occurred, and is currently not occurring.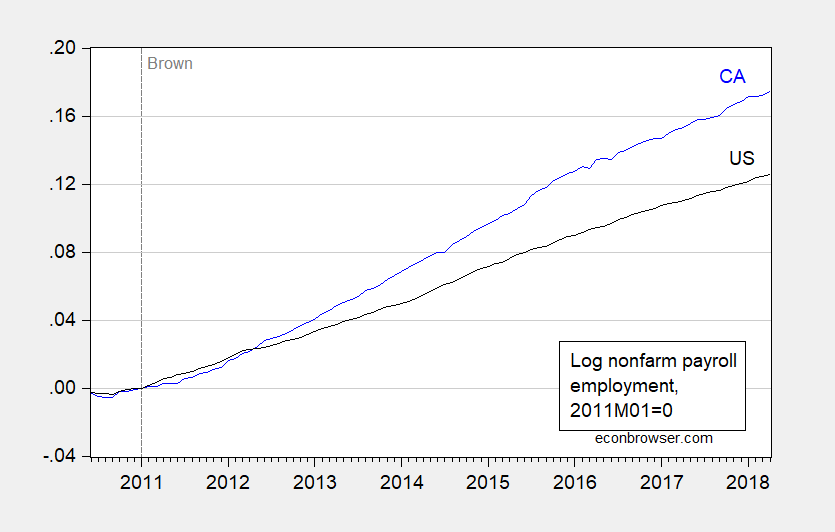 Figure 1: Log nonfarm payroll employment for California (blue), and for US (black), normalized to 2011M01=0. Source: BLS, and author's calculations.
Note that California has cumulatively outpaced the Nation by 5% (log terms) since Governor Brown took office in 2011M01. California's Department of Finance April forecast projects continued growth. The DoF forecast is based in part on IHS's national forecast (see description here), and the Department's in-house macroeconometric model. For a check, I include the UCLA Anderson Forecast' March projections (approximate, as I inferred from the discussion).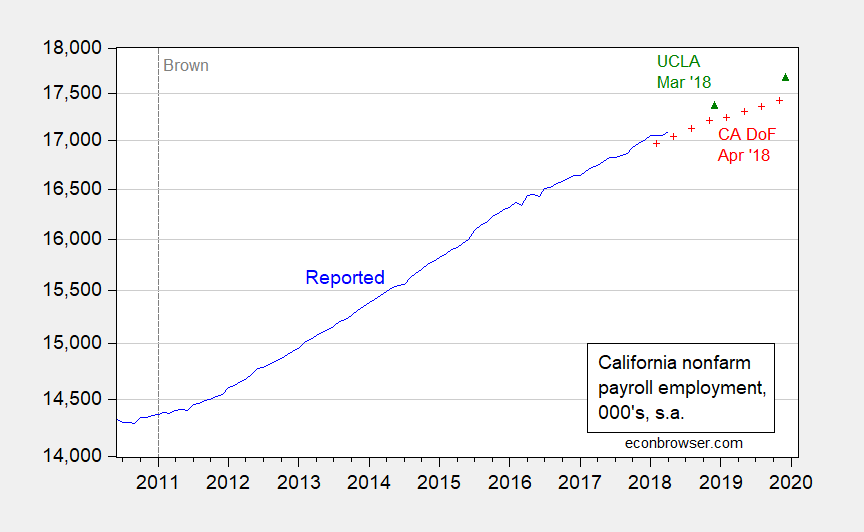 Figure 2: California nonfarm payroll employment as reported (blue), California Department of Finance April forecast (red +), UCLA Anderson Forecast from March (green triangles). Source: BLS, CA DoF, UCLA Anderson Forecast, and author's calculations.
Of course, there are biases and incentives associated with all organizational forecasts. I also plot the forecast from a simple ARIMA(1,1,1) on log California nonfarm employment.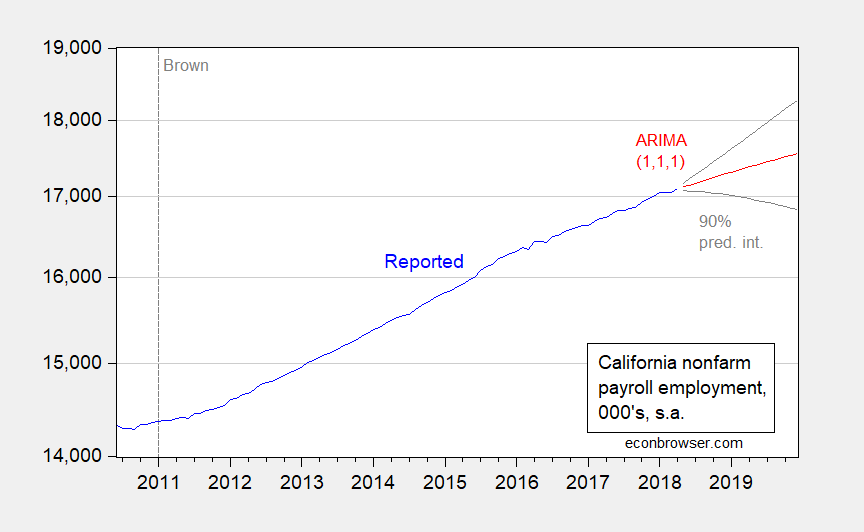 Figure 3: California nonfarm payroll employment as reported (blue), dynamic forecast from simple ARIMA(1,1,1) on log employment, estimated over 1990M02-2018M04. Source: BLS, and author's calculations.
Using a relationship between the first differenced log coincident index and log nonfarm payroll employment for California, and forecasted coincident index (using the leading index) leads to a forecast through 2018M09 very slightly below that shown in Figure 3).
What about previous downward blips in employment? From Wells Fargo (5/18):
Recent Declines Revised Away as California Adds 39,300 Jobs in April Hiring got back on track in April, as employers added 39,300 jobs. Moreover, job growth was revised higher in February and March, which now both show modest gains of 1,200 jobs and 5,400 jobs, respectively, compared to modest net declines reported previously. Every major industry added to payrolls during the month. California's unemployment rate also ticked down 0.1 percentage point to a new record low of 4.2 percent in April.
It is of interest that some constraints are being approached:
California's agricultural regions tend to have much higher unemployment rates as much of the work in those places is seasonal, resulting in higher seasonal and frictional unemployment. Despite these challenges, unemployment rates even in California's agricultural markets are reaching new cycle lows. El Centro, which has long had the nation's highest jobless rate, has seen a dramatic drop during the past year, largely as its labor force shrunk. The region's unemployment rate is still astonishingly high at 17.1 percent, but agricultural-related businesses are also having a harder time finding workers.
Hence, the Administration's program of targeting undocumented workers seems to have the effect of increasing costs in the agricultural sector, perhaps as desired.
It is true that California labor force and employment as measured by the household survey (CPS) have both plateaued; however, as I have noted previously, the use of household survey based series at the state level alone to infer business cycle patters is contra-indicated. (Moreover, I am unaware of an academic literature which links state level labor force participation rates (LFPRs) to state level business cycles.)