The Bureau of Economic Analysis announced today that U.S. real GDP grew at a 4.1% annual rate in the second quarter. That's significantly better than the 2.2% average growth we've seen since the Great Recession ended in 2009, and is also a little above the 3.1% average for the U.S. economy over the last 70 years.


Our latest reading for the Econbrowser Recession Indicator Index is 2.7%, staying at very low levels. The U.S. remains clearly in the expansion phase of the business cycle.
Even though the GDP estimates are intended to be seasonally adjusted, there's been a pattern in recent data that the first-quarter numbers are often a little soft. That gives a boost to second-quarter growth rates like the one just reported. Year-over-year growth rates show a smoother pattern of steady improvement.
Growth in consumption, nonresidential fixed investment, and net exports helped produce the strong numbers. Higher oil prices stimulated a big boost in spending on mining exploration, shafts, and wells. That was one factor in higher investment spending; growing business confidence may have also played a role. Tax cuts likely contributed to the growth in both consumption and investment. Some of the export growth may have come in anticipation of coming tariffs. I count the contribution from exports as a soon-to-disappear plus, though it's balanced by a big minus in inventory investment that's also likely transient.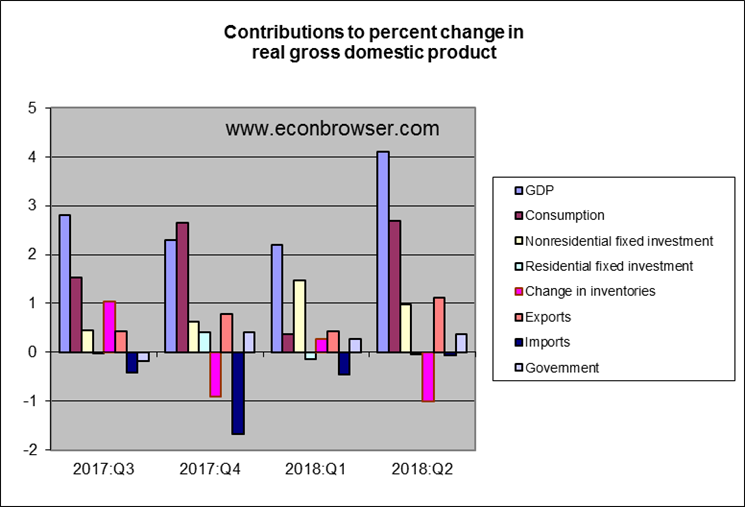 Overall, this is a very good report on the U.S. economy. We'll see how long it can last.