A reader alerts me – from CNBC, indications farmers are going to take a hit, as export volume drops off a cliff.
United States tariffs are beginning to take their toll on farmers and the storage, shipping and freight operations they need to move their crops to market.

In North Dakota, soybeans from 2017 are still in storage after China pulled its contracts. Of the 15.9 million bushels left from that year's crop, 12.1 million bushels are sitting in grain elevators. That is an increase of 68 percent.
"There aren't any shipping contracts to move them out of those facilities and get them to ports in the Pacific Northwest for export, either," said Simon Wilson, executive director of the North Dakota Trade Office.
…
In Wisconsin, Chippewa Valley Bean, a kidney bean processor and supplier, slashed prices on its remaining beans from the 2017 harvest to move them out. Cindy Brown, the company's president, told CNBC the company is taking a financial hit but had to do it.

"We are playing catch up on moving product and bursting at the seams," Brown said. "We had to do something. We not only need the room but also needed to pay our growers on contracts we made with them in 2017."
This article confirms what we knew a month ago, as depicted in this picture — end-market year stocks far exceeded previous years' levels.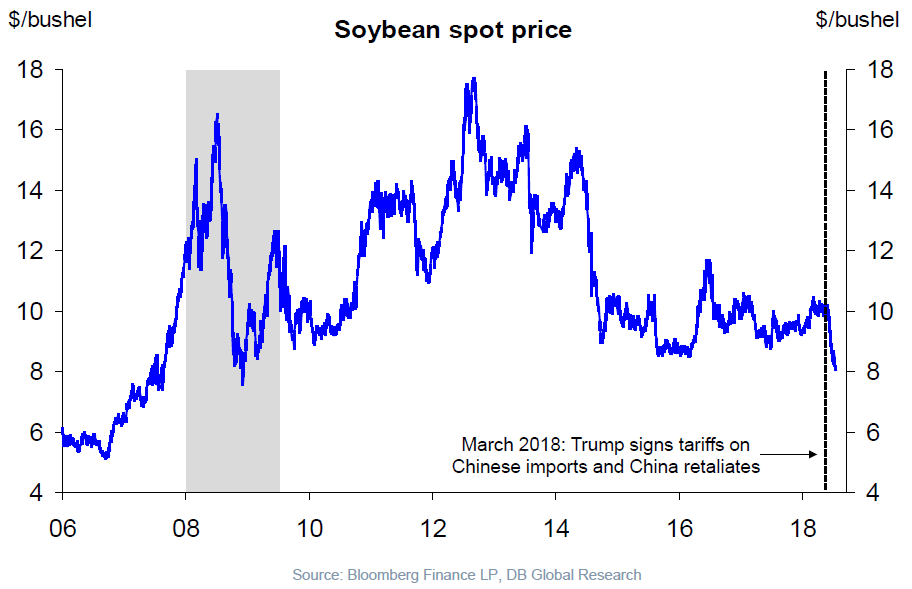 Source: Slok, "Global markets: US overheating and Treasury supply pushing US rates up. Trade wars and Turkey pulling US rates down," Deutsche Bank, September, 2018.
This is my call for all the commenters who claimed that farmers were just going to "wait out the Chinese" and be able to sell their crops at a profit when prices recovered in the Fall, to provide countering evidence in favor of their predictions.