How does a tariff work? A tariff is a tax on imported goods, so if a Chinese good is sold to an American, the American literally has to pay the tax.

The quote above is from Mr. Trump, as recounted in Peter Coy's "The Real Pain From Trump's Tariffs Trickles Down to Consumers" in Bloomberg Businessweek; it clearly highlights the fact that either (1) Mr. Trump has no understanding of how tariffs work, or (2) he does understand, and he's lying.
Now it's true that when the importing country is large relative to the exporting, then in economic terms it's true the exporting country is losing out by having to sell goods at a lower price than they otherwise would (see graphs in this post). But even then, there's no guarantee that the burden on exporters is substantial.
Who actually ends up footing the tab for the tariffs isn't as obvious as it might appear at first glance. There's no guarantee that the full levy will be passed along to the consumer via a higher price. The retailer, wholesaler, shipper, foreign manufacturer, and even the manufacturer's suppliers may choose to, or be forced to, swallow some of the cost. The division depends on each player's bargaining power, says Menzie Chinn, a University of Wisconsin at Madison economist. In the extreme case that the Chinese side absorbed the entire cost, it would be as if China paid the tariff. In reality, economists and company executives say, the U.S. side is mostly bearing the brunt.

…

One reason Americans often pay the lion's share of a tariff is that foreign suppliers have nothing left to give. Their margins are already squeezed by hard-bargaining American retailers such as Walmart Inc. and Amazon.com Inc. Also, switching suppliers to avoid tariffs isn't easy, says David French, chief lobbyist of the National Retail Federation Inc. China has a large, skilled workforce, reliable energy, and an excellent transportation network, he says; retailers "have looked elsewhere in the world, and there aren't many" other sources immediately available.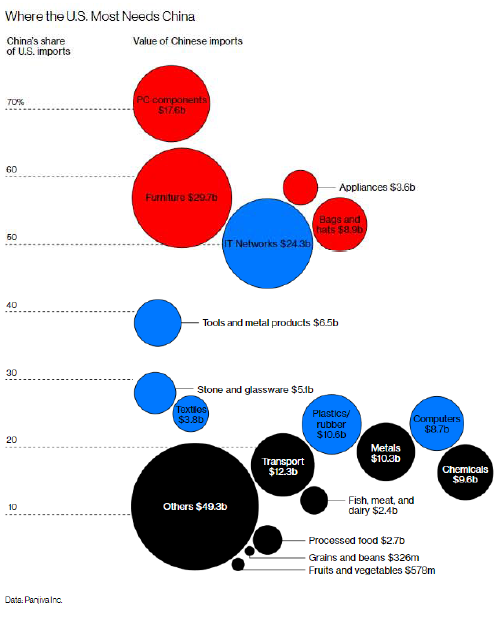 Source: Coy (2018).
Foreign retaliation against US exports can lower the terms of trade for US goods; soybeans is the case in point, as confirmed by the spread between US and Brazilian soybean prices.