Equipment investment is flat; capital goods imports (aside from aircraft and computers) declining 4% per annum.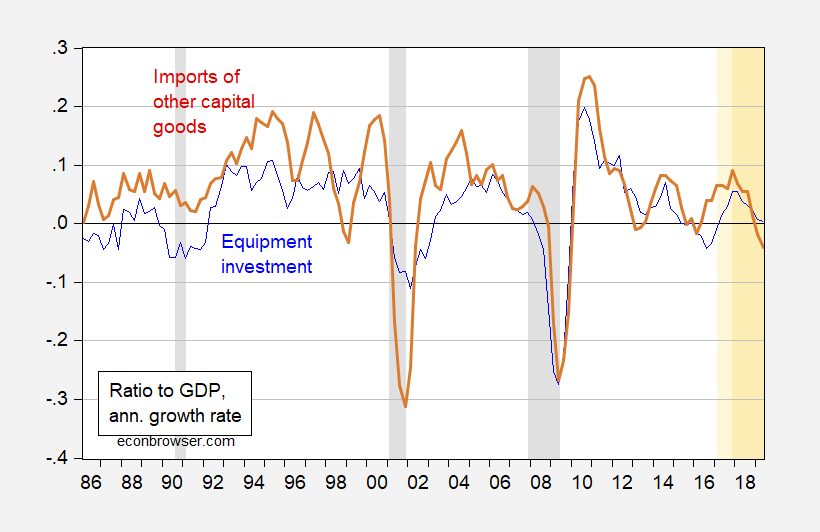 Figure 1: Equipment investment (dark blue), and capital goods imports excluding aircraft and computers (red), four quarter change  as log ratio to GDP, all in 2012Ch.$. NBER defined recession dates shaded gray. Light orange denotes Trump administration. Orange denotes TCJA in effect. Source: BEA 2019Q2 advance, NBER, and author's calculations.
Capital goods imports (as a share of GDP) growth is now below zero, while equipment investment growth is at zero. Concurrent negative growth rates signalled the beginning of the 2001 recession, and the worst part of the 2007-09 recession. Of course, concurrent negative growth also signalled the mini- (but not actual) recession of 2016 (2015Q3).
Estimating a probit regression using the investment variable as coincident (not leading) variable, one obtains (1986Q1-2019Q2):
Pr(recession) = –1.32 – 12.21dinvgdp + u
McFadden R2 = 0.30, n = 134. bold denotes significance at 5% msl. I assume that in reality, no recession occurred as of 2019Q2 in defining the recession variable.
The current implied probability of recession as of 2019Q2 is 8%; in 2007Q3 (using latest revised data), the probability was…7%.