June employment figures are out. Time to re-evaluate this assessment from one and a half years ago in Political Calculations that California was in recession.
Going by these [household survey based labor market] measures, it would appear that recession has arrived in California, which is partially borne out by state level GDP data from the U.S. Bureau of Economic Analysis. [text as accessed on 12/27/2017]
The release provides an opportunity to revisit this question. It's (still) unlikely that a recession occurred in California.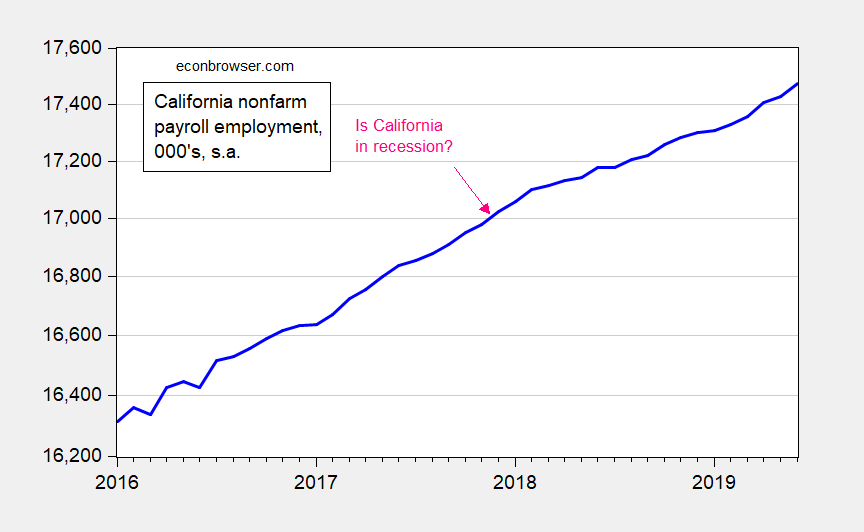 Figure 1: Nonfarm payroll employment in California (blue), in 000's, s.a., on log scale. Source: BLS.
Admittedly, these data will be revised, particularly with the benchmark revisions coming out in the new year. Still it's hard to see how the data as reported are consistent with a California recession.
Wells Fargo concluded on Friday:
After a slow start earlier this year, California's economy appears to have shifted back into high gear. Nonfarm employment surged during the second quarter, with employers adding 46,200 jobs in June, following gains of 21,600 jobs in May and 48,600 jobs in April. The 116,400 jobs added during the second quarter is two and half times what was added during the first quarter of the year.
Ironman has never, to my knowledge, acknowledged his forecast failure. However, in January 2018 he upgraded California's condition to "lackluster", still fearing minimum wage hikes would stall employment. For some people, a minimum wage hike is all that's required to push the economy over the precipice…
So are the wages of over-reliance on the state-level household survey…