With Judy Shelton's nomination to be a Fed governor, it behooves us to consider her views on the world. I will point out two salient (there are many) areas of confusion about her views: (1) interest rates and monetary policy easing, and (2) currency manipulation.
Does a Zero Interest Rate on Excess Reserves Guarantee a Zero Fed Funds Rate?
On the first point, Dr. Shelton has been known to argue for a reduction in the interest rate on excess reserves (IoER). From  WaPo (June 19, 2019):
"Because I'm so against paying interest on excess reserves, in a way, I'm radically in favor of eliminating 235 basis points [on interest rates]," Shelton said. She suggested a "glide path" of "maybe one to two years" to take the interest rate the Fed pays on excess reserves from the current level of 2.35 percent back down to zero.
In practice the effective Fed funds rate is only been slightly above the IoER — and in the past has been below (having to do with FHFA and othre entities accessing the Fed funds market, see here).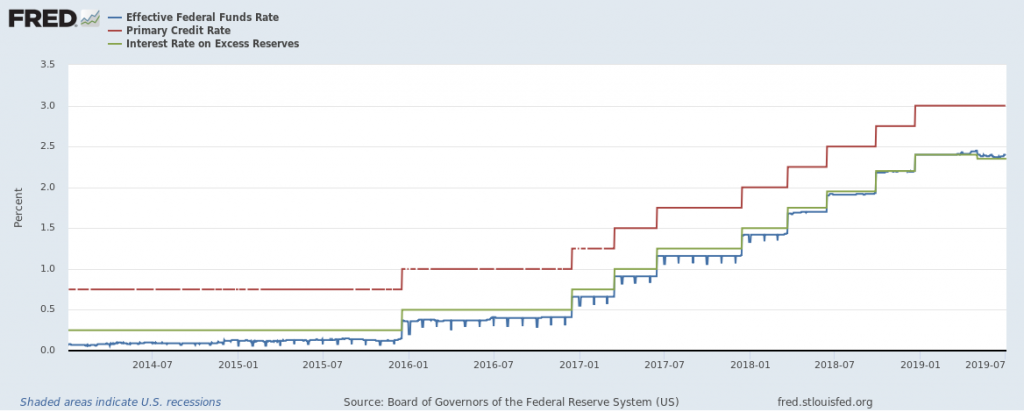 In theory, though, lowering the IoER does not lower the Fed funds rate. To see this, consider a graphic pulled from a money & banking textbook (Mishkin), and edited.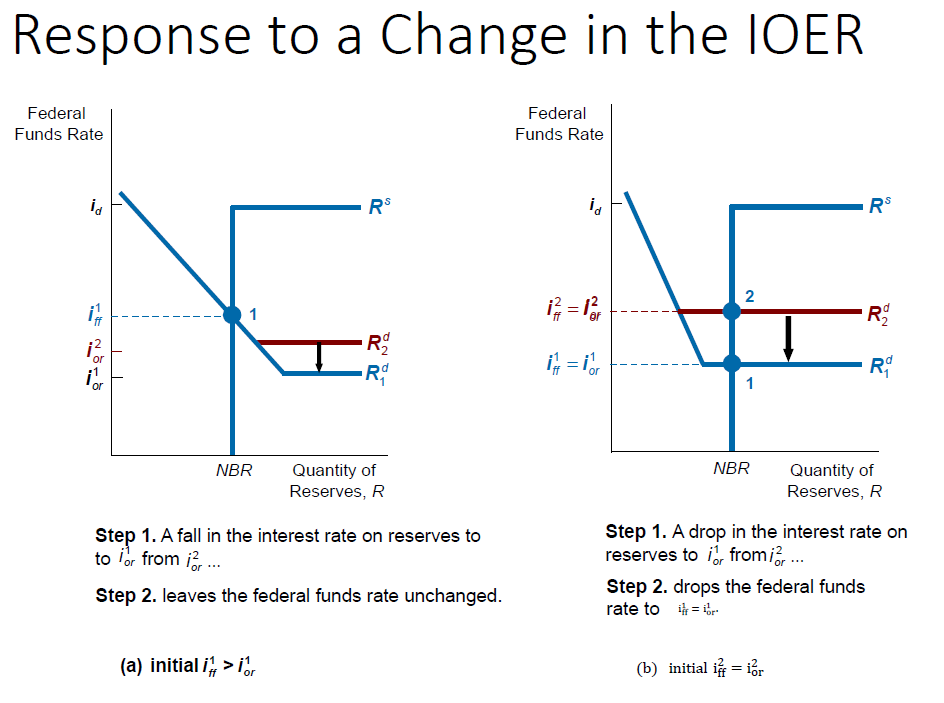 As shown here (drawn in the case no other entities besides banks can access the Fed funds market), decreases in the IoER do not necessarily impact the Fed funds rate. In order to ensure the Fed funds rate moves if the reserves demand curve intersects the supply of reserves (at NBR, nonborrowed reserves), the Fed must increase the supply of reserves.
2. Shelton Makes Absolutely No Sense in Discussing Currency Manipulation
(From this February 2017 post.) In response to my post on a possible new approach to tackling currency manipulation, reader "Judy" comments by sending me a link:
https://www.wsj.com/articles/currency-manipulation-is-a-real-problem-1487031395
This is a WSJ op-ed, which is behind a paywall. Here is an ungated version:
Certainly the rules regarding international exchange-rate arrangements are not working. Monetary integrity was the key to making Bretton Woods institutions work when they were created after World War II to prevent future breakdowns in world order due to trade. The international monetary system, devised in 1944, was based on fixed exchange rates linked to a gold-convertible dollar.

No such system exists today. And no real leader can aspire to champion both the logic and the morality of free trade without confronting the practice that undermines both: currency manipulation.

When governments manipulate exchange rates to affect currency markets, they undermine the honest efforts of countries that wish to compete fairly in the global marketplace. Supply and demand are distorted by artificial prices conveyed through contrived exchange rates. Businesses fail as legitimately earned profits become currency losses.

…central banks provide useful cover for currency manipulation. Japan's answer to the charge that it manipulates its currency for trade purposes is that movements in the exchange rate are driven by monetary policy aimed at domestic inflation and employment objectives. But there's no denying that one of the primary "arrows" of Japan's economic strategy under Prime Minister Shinzo Abe , starting in late 2012, was to use radical quantitative easing to boost the "competitiveness" of Japan's exports. Over the next three years, the yen fell against the U.S. dollar by some 40%.

…
Whether China is propping up exchange rates or holding them down, manipulation is manipulation and should not be overlooked.
So…let me get this straight. If you lower interest rates and that depreciates a currency, that's manipulation. If you embark on quantitative easing by purchasing domestic assets and the currency depreciates, well that's currency manipulation. And if you intervene in the foreign exchange market to keep a currency weak by purchasing foreign currency, that is manipulation, as well as if you intervene to keep it strong by selling off foreign currency.
This expansive definition of "manipulation" means that pretty much every central bank in the world is manipulating their exchange rates — except for those that have their exchange rates at the "correct" levels, as determined by somebody.
That article made me wonder what criterion would result in exchange rates being at correct levels. According to this article, Dr. Shelton believes a fix to gold would do the trick.
"We're talking about monetary integrity. And if we really do have a some kind of a global economy, it doesn't make sense that people are using different units of account to measure value."
Implicitly, this means she views the world as an optimal currency area (e.g., symmetric shocks, and/or free factor mobility and fiscal union). Hmmm.
I'll further observe that if you fix your exchange rate to gold at the "wrong" levels, you might have the real exchange rates less volatile, but still misaligned. Those who know economic history, know the consequences, summarized in this graph: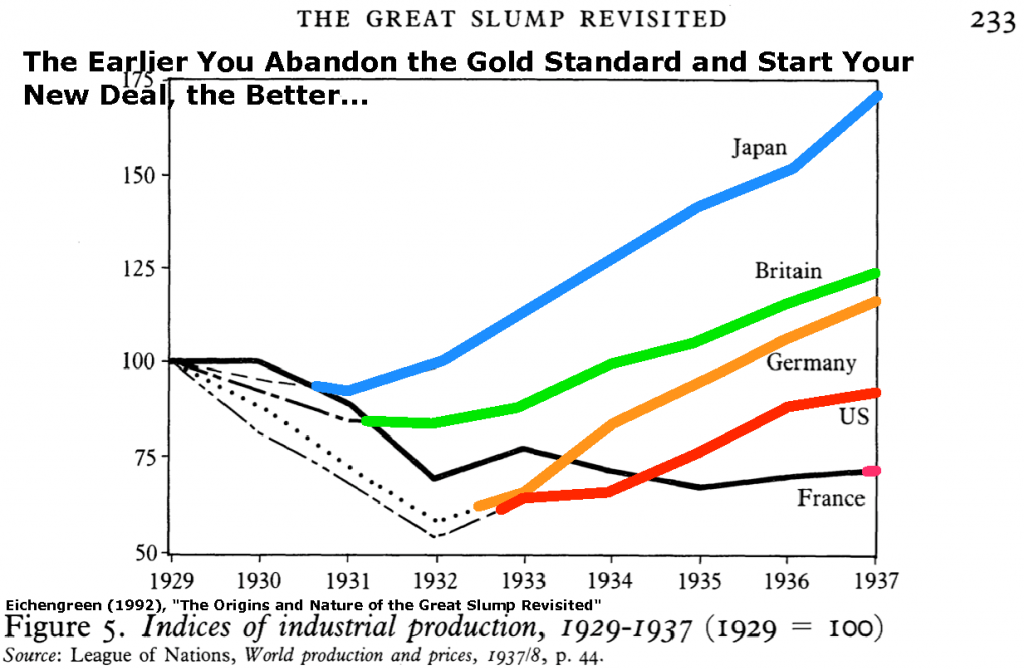 See also Jim's post on the subject.
With currency manipulation becoming a hot topic, I fear a Fed governor who has truly confused views on the subject will only give ammunition to the "crazies". I say this, even though the Fed has typically averred that the currency is the purview of the US Treasury — after all, so many rules and norms have been broken in the past three years, what is another.
More on Dr. Shelton's views, in this long interview.