If recoveries don't die of old-age, then they either have "accidents" or they're murdered. I'm not sure what a business-cycle accident is, but we can check what might have killed the recovery, should we enter a recession in 2020, as suggested by some forward looking financial indicators. I'll look at investment spending, a forward looking variable, highly sensitive to interest rates, and the outlook for economic activity and uncertainty.
One thing to note is that real rates were not particularly high; 1.11% in November 2018, as compared to 2.69% in mid-2007. One could pin the recession of 2020 on that, but it'd be a stretch. On the other hand, what's been true is that (log)equipment investment spending (equip) has underperformed relative to what one would've expected on the basis of key observables: (log) GDP (y), and real interest rates (r). I estimate a regression the regression for the recovery (2009Q2-2016Q4), and conduct an ex post historical forecast.
Δ equipt = 0.00 + 1.48Δ yt + 1.81Δ yt-1 – 2.27Δrt
Adj-R2 = 0.22, SER = 0.021, NOBS = 31, DW = 1.09, bold denotes significance at 11% msl using HAC robust standard errors.
The forecast is shown in Figure 1, along with 60% prediction interval. What is clear is that equipment investment is growing more slowly than what should have been the case, given observed real GDP growth and changes in real interest rates.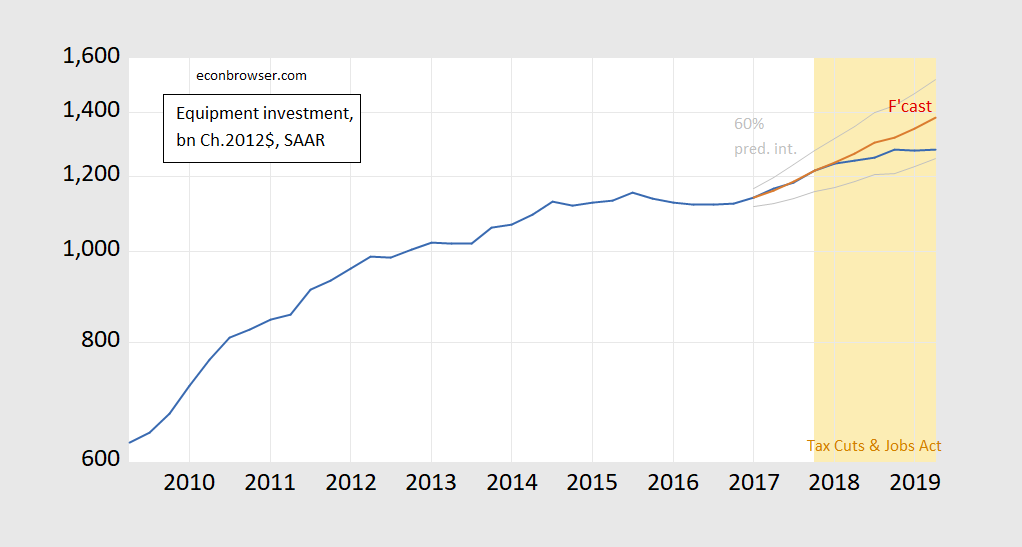 Figure 1: Equipment investment, bn. Ch.2012$ SAAR (blue), and ex post historical dynamic forecast (red line) and 60% prediction interval (gray lines), on log scale. Orange shading denotes Tax Cuts and Jobs Act in effect. Source: BEA, and author's calculations.
The deviation is not yet statistically significant, but then, the empirical model is not particularly precise.
What factor has depressed equipment investment, despite a vibrantly growing US economy? One suspect is policy uncertainty. The shortfall in equipment investment and trade policy uncertainty are shown in Figure 2.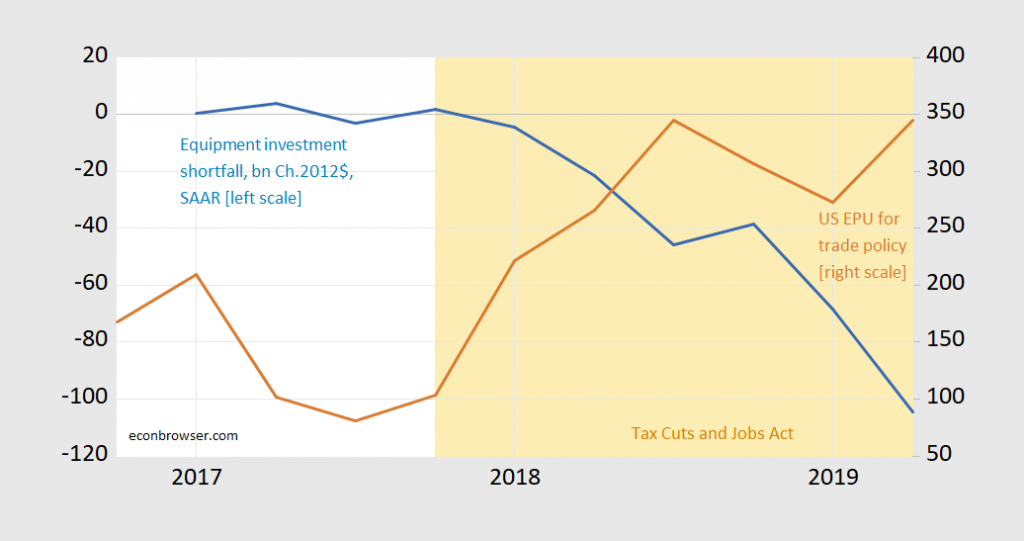 Figure 2: Shortfall in equipment investment, bn. Ch.2012$ SAAR (blue, left scale), and economic policy uncertainty categorical index for trade policy (brown, right scale). Orange shading denotes Tax Cuts and Jobs Act in effect. Source: BEA, policyuncertainty.com, and author's calculations.
The faltering pace of equipment investment in the face of tremendous fiscal stimulus, and enormous investment incentives (consider the drop in corporate tax rates and faster expensing of equipment investment as resulting in big declines in the user cost of capital) is then quite remarkable.
Now, one can debate whether it's actual protectionism, or the uncertainty regarding the imposition of protectionist measures. Since in my assessment, Mr. Trump will wimp out in imposing all threatened tariffs on imports from China — especially on consumer goods set to be delivered around Christmas season — and on full-fledged Section 232 tariffs on automobiles, it'll be the uncertainty that will have killed the recovery.
Update, 8/4 10AM Pacific: I have posted data at here, regression output here.