I keep on hearing that economists are lousy at forecasting, citing the An, Jalles, and Loungani (2018) analysis. Recently, we heard Larry Kudlow claim that nobody was predicting a recession in December 2007, when he was dismissing the possibility. Without disputing the consensus is lousy at detecting turning points in real time, we can check if all economists are.
In particular, thanks to this thing called "the Internets", we can verify. From the Wall Street Journal December 2007 survey (taken early that month), three economists (out of 52 respondents) predicted at least two quarters of negative growth (Richard Berner/David Greenlaw of Morgan Stanley, Ram Bhagavatula and Kathleen M. Camilli), and four others at least one quarter of negative growth (Paul Ashworth of Capital Economics, Kurt Karl/Arun Hara of Swiss Re, David Resler of Nomura, and Lawrence Yun of NAR).
What about August 2019? A total of four forecasters predict at least two consecutive quarters of negative growth (with another two a single quarter), out of 55 respondents.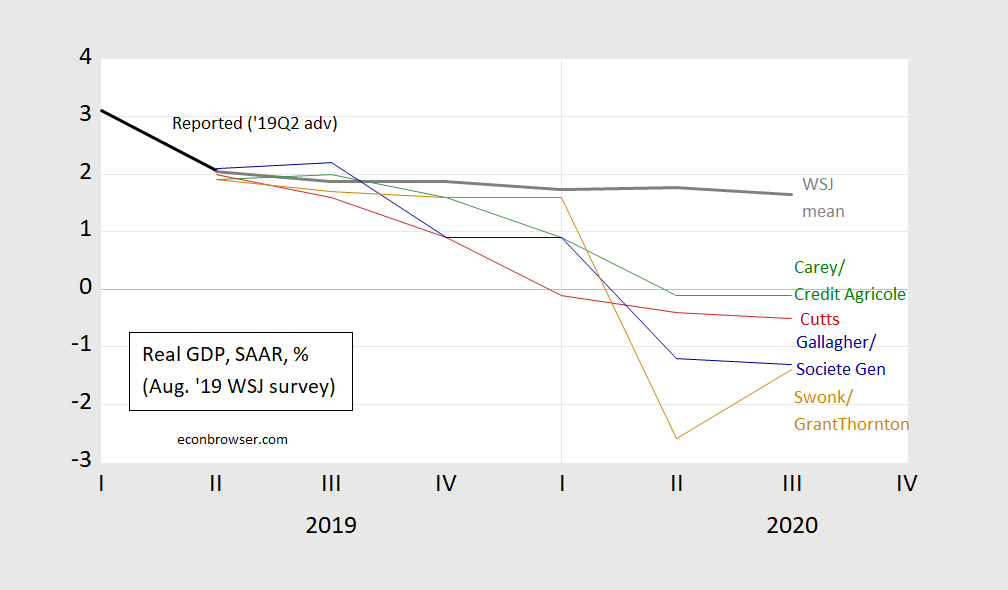 Figure 1: Real q/q GDP growth, SAAR (black), and mean forecast from Wall Street Journal August survey (gray), and Michael Carey/Credit Agricole (green), Amy Crews Cutts (red), Stephen Gallagher/Societe General (blue), and Diane Swonk/Grant Thornton (light brown). Source: BEA, 2019Q2 Advance Release and WSJ August 2019 survey.
In addition, Joel Naroff predicts -1.5% SAAR growth in 2020Q4; it's possible he thinks there'll be another quarter of negative growth in 2021Q1 for a technical recession, but we don't know.
So, you can see there are some economists (11% of those polled and responded) who are willing to predict a recession by end-2020.
* "Technical" because recessions are officially defined by the National Bureau of Economic Research's Business Cycle Dating Committee, relying upon a number of key indicators, including, but not primarily, real GDP. The two quarter definition is merely a rule of thumb, used for this post.