Through 2018M03, US exports to China were growing smartly. The Section 232 and Section 301 actions were announced. The "deal" essentially restores real exports to China to the pre-shock trend for 2020, above for 2021 (if you believe!).
If the commitments to the deal's export provisions are upheld, then there is a quantitatively important impact, at least insofard as the US-China bilateral balance is concerned.
However, what if nothing had happened in the US-China trade war. Well, me might have gotten  to where we are supposed to be with the deal…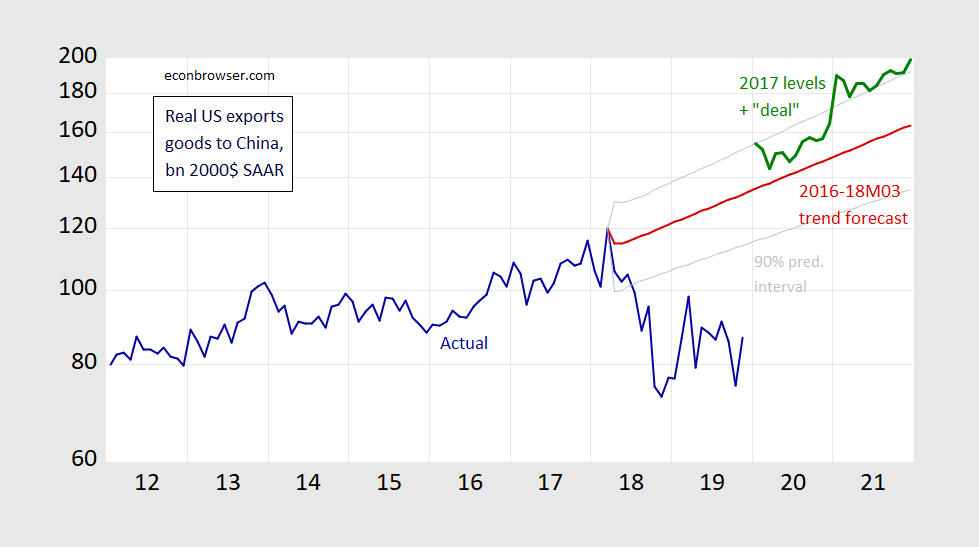 Figure 1: US goods exports to China, log transformed, seasonally adjusted using ARIMA X11, deflated by price index for all US commodity exports (blue), forecast based ARIMA(1,1,1) in logs 2016-18M03 (red), 90% prediction interval (gray lines), and implied deal levels based on 2017 baseline (green), using implied level of export prices for 2019M12 extrapolated from 2016M03-2018M06. All in bn 2000$, SAAR on log scale. Source: BEA/Census, BLS, and author's calculations.