I was lucky enough to get assigned to coteach a macro course (with Charles Engel) this semester. However, as time passed, it seemed strange to go through the models without referring to current events — in my half of the course, I got to teach one lecture in person, and then had to switch to remote teaching –, so here is my digression from the syllabus, talking about — among other things — why a "V" recovery is not likely, contra Larry Kudlow, Stephen Moore, et al.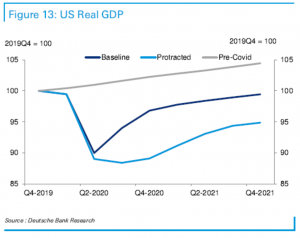 Source: Deutsche Bank, March 30, 2020.
Today's presentation is here (I'm afraid narrated lecture restricted to enrolled students). Next lecture will go over recent models of the crisis.
Webpage for my half of the course, with link to first half.