I'm talking about inflation expectations in my macro course, so wanted to show what different measures predicted for the next year.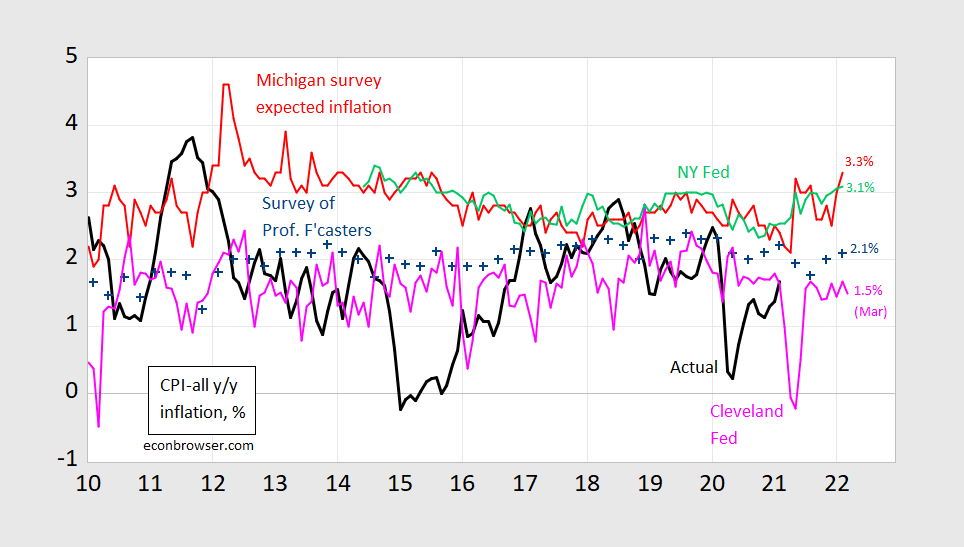 Figure 1: CPI inflation year-on-year (black), median expected from Survey of Professional Forecasters (blue +), median expected from Michigan Survey of Consumers (red), median from NY Fed Survey of Consumer Expectations (light green), forecast from Cleveland Fed (pink). Source: BLS, University of Michigan via FRED, Philadelphia Fed Survey of Professional Forecasters, Philadelphia Fed, NY Fed, and Cleveland Fed.
Interestingly, the two household based surveys (Michigan, NY Fed) are at the top, while the market/expectations based (Cleveland Fed) and economist survey based (SPF) are at the bottom. In some sense, the household survey results is not too surprising; the Michigan survey has historically been upward biased.
Keep in mind we're doing price level catch-up over the next year.