Competitiveness is often appealed to in popular discourse, but seldom defined. In macroeconomics, competitiveness is usually interpreted as cost competitiveness. Chinn and Johnston (JPAM, 1994) discuss the topic at length. Here is the OECD's measure of cost competitiveness since 1999, along with the Fed's CPI deflated measure of the dollar against a broad basket of currencies.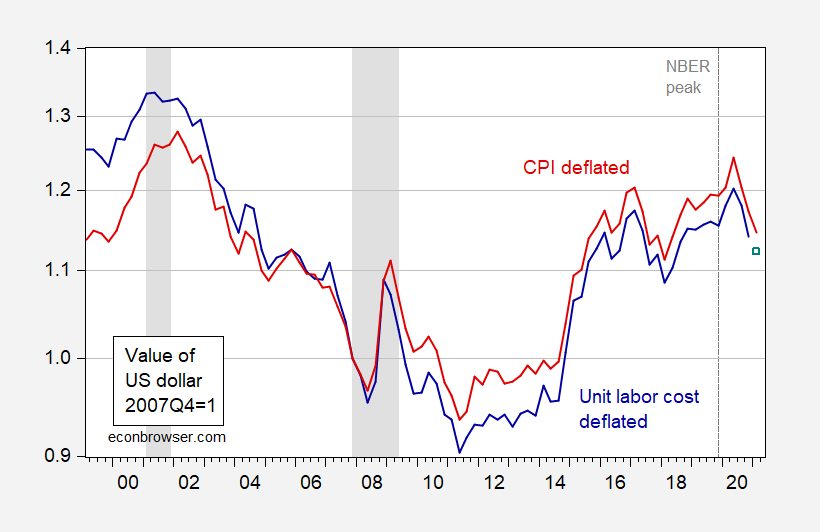 Figure 1: Unit labor cost (ULC) in manufacturing deflated value of US dollar (blue), estimated ULC deflated series for 2021Q1 (blue square), CPI deflated value of US dollar against broad basket of currencies (red), both in 2007Q4=1, on log scale. 2021Q1 observation is for January and February. Fed series is for goods and services 2006 onward; prior is goods, spliced to goods and services series. ULC deflated observation for 2021Q1 based on first differences specification using Fed series, 2019-20. NBER defined recession dates shaded gray. Source: OECD and Fed via FRED, NBER, and author's calculations.
Given the differential growth rates in the US likely to arise with the implementation of the American Rescue Plan, a widening of the US trade deficit seems imminent. (The CBO projects a widening in 2021 relative to 2020Q4.) Increasing competitiveness, as measured by relative costs of tradables, can serve to offset the increase in the trade deficit.
Using the unit labor cost deflated real rate, the dollar's value is down 5.2% in 2020Q4, and an estimated 6.8% in the first two months of 2021Q1.
Most of the movement in competitiveness in recent years is driven by movements in the nominal rate, rather than in unit labor costs. And the dollar's nominal value has been driven in large part over the past four years by policy uncertainty.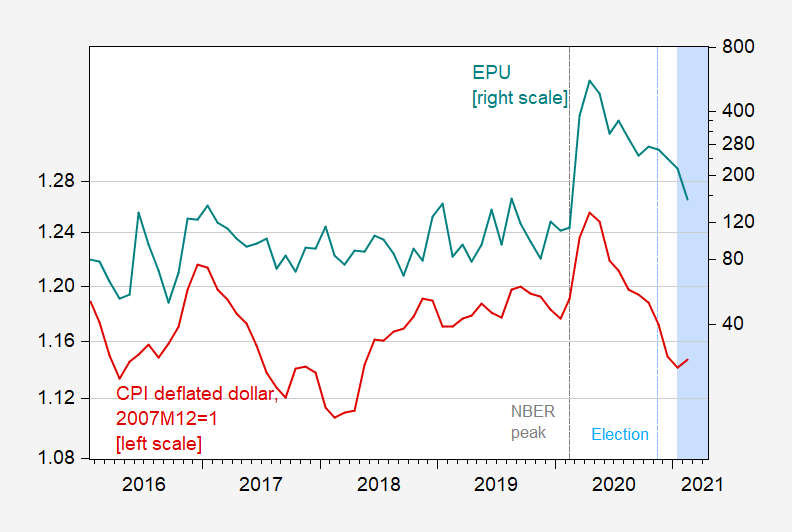 Figure 2: CPI deflated value of US dollar against broad basket of currencies for goods and services, 2007Q4=1 (red, left log scale), Economic Policy Uncertainty (news based) (teal, right log scale). Light blue shading denotes Biden administration. Source: Federal Reserve Board via FRED, policyuncertainty.com and author's calculations.
The importance of elevated policy uncertainty in driving upward the dollar's value is a useful fact to keep in mind — if we can restore some semblance of rational economic policy making (including trade policy), and foster cooperation with foreign policymakers, then we will achieve better cost competitiveness than otherwise.