From a new working paper by Candia, Coibion and Gorodnichenko:
Introducing a new survey of U.S. firms' inflation expectations, we document key stylized facts involving what U.S. firms know and expect about inflation and monetary policy. The resulting time series of firms' inflation expectations displays unique dynamics, distinct from those of households and professional forecasters. By any typical definition of "anchored" expectations, the inflation expectations of U.S. managers appear far from anchored, much like those of households. And like households, U.S. managers are largely uninformed about recent aggregate inflation dynamics or monetary policy. These results complement existing evidence on firms' inflation expectations from other countries and confirm that inattention to inflation and monetary policy is pervasive among U.S. firms as well.
Fascinating revelations that must be heeded, especially by those whose first inclination is to assume rational expectations on the part of businesses.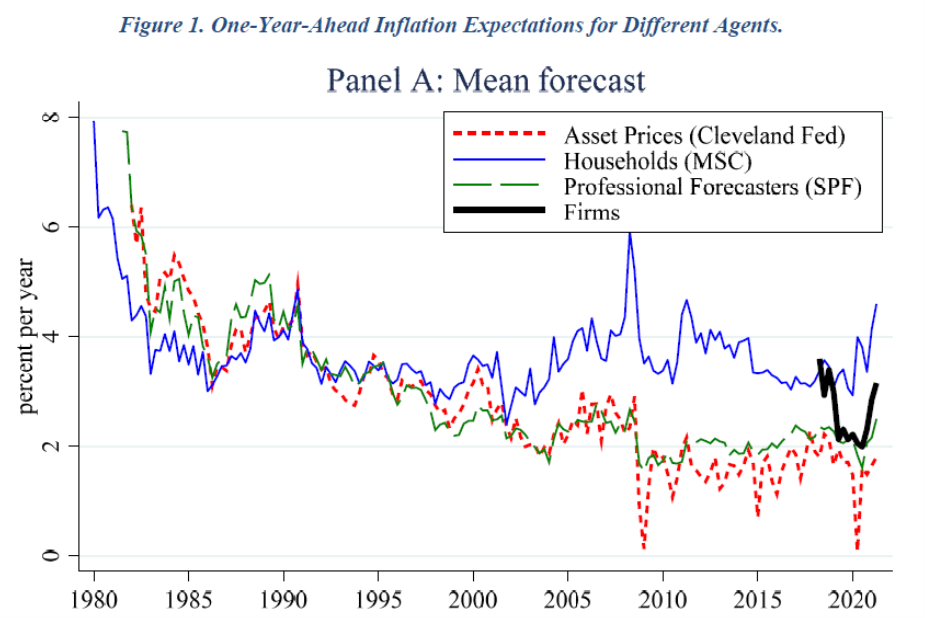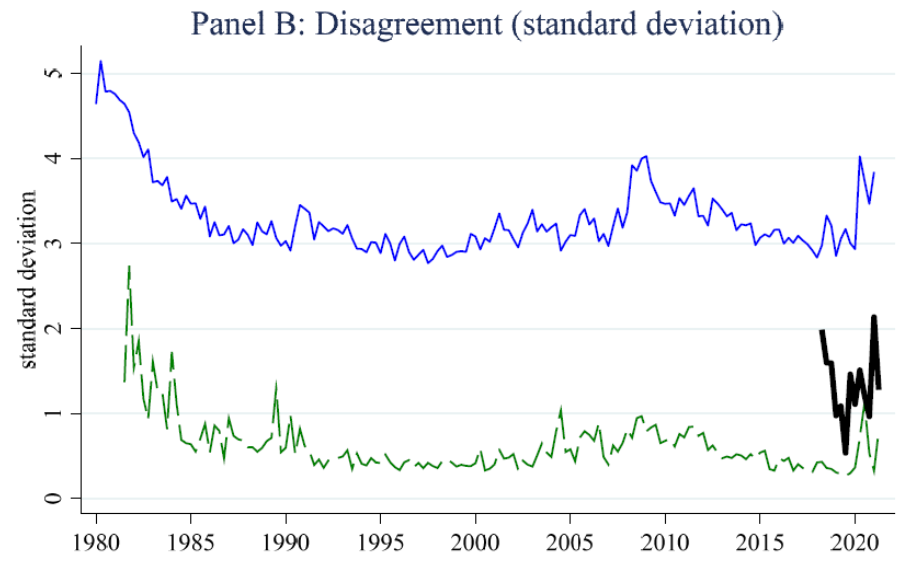 Source: Candia et al. (2021). Notes: Financial markets' expectations are from the Federal Reserve Bank of Cleveland, households' expectations are from the Michigan Survey of Consumers (MSC) and professional forecasters' expectations are from the Survey of Professional Forecasters run by the Federal Reserve Bank of Philadelphia. We exclude responses of households that are greater than 15 percent or less than -2 percent. Firms' expectations are from our new survey of CEOs. We exclude responses that are greater than 15 percentage points or less than -2 percentage points.
Interestingly, firms have elevated their expectations of inflation even as dispersion has decreased. The increase is comparable to that evidenced by households, but the level of expected inflation remains considerably below that of households.
More on the role of expectations for actual inflation, here.