From WPR, "Top Wisconsin Republicans Call For Ending Enhanced Unemployment Benefits":
Two of the Legislature's top Republicans say they'll pass a bill that would cut off federal unemployment insurance benefits that were added during the COVID-19 pandemic, saying they're no longer needed and they're making it harder for businesses to find workers.
This is an interesting assertion given the following (admittedly imprecisely measured) statistics: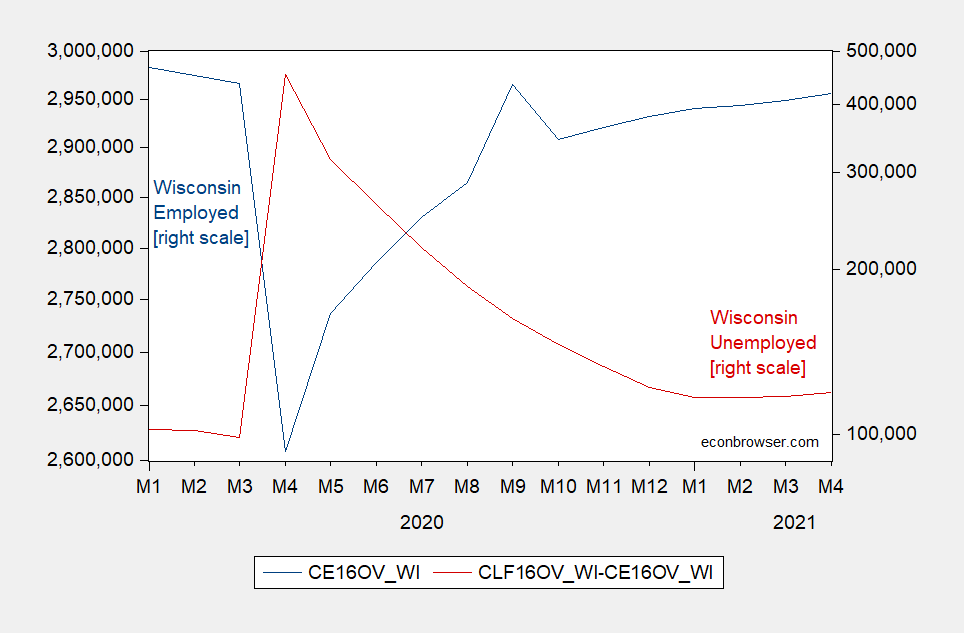 Figure 1: Wisconsin employment (blue, left log scale), and unemployed (red, right scale), both seasonally adjusted. Source: BLS. 
Total unemployment has generally fallen, only rising slightly (2700) since February through April.
In addition new and continuing claims have fallen over the last four weeks (through file week ending 5/8):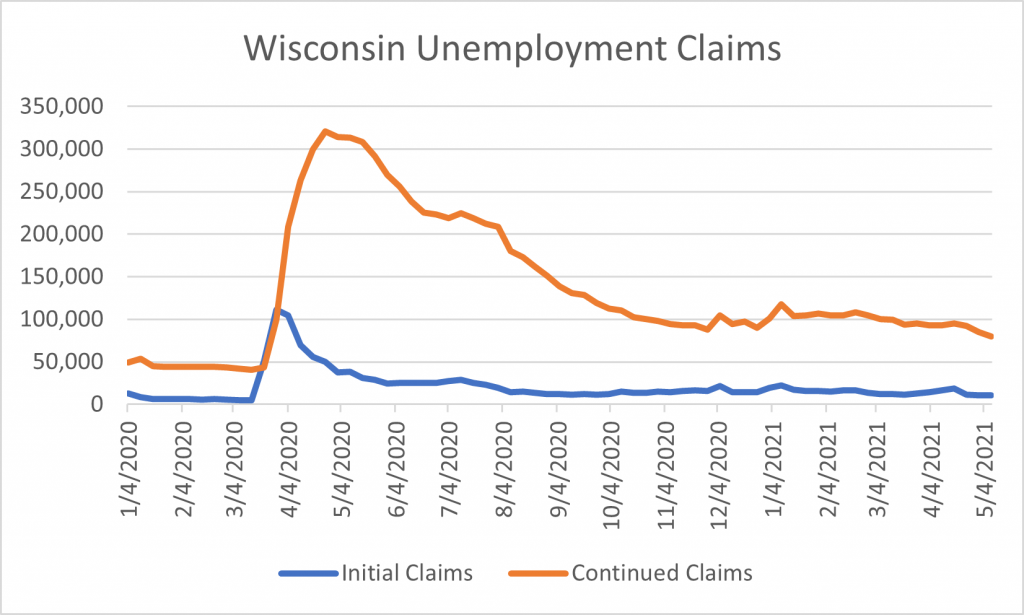 Figure 2: Wisconsin initial unemployment claims (blue), continued claims (orange), by file week ended. Source: BLS.
Now it is possible that in the absence of enhanced unemployment benefits, unemployment claims would've been lower.  DWD Chief Economist Dennis Winters is skeptical that they have been important thus far.
Guo et al. (2021) conclude (nationwide, not Wisconsin specific):
In this report, we analyzed the impact that enhanced UI benefits had on the probability of employment during the COVID-19 pandemic. We found no evidence that the enhanced benefits influenced tge employment probability, and most replacement rate ratio groups had employment trends compared to the base period. We also found that individuals who would benefit the most from UI (higher RRR) faced lower unemployment rates compared to others. Additionally, this group re-entered the labor market faster than other groups, especially during the reopening period. These results are similar to our findings when incorporating the weekly and hourly wage controls. Lastly, we examined the effect of COVID-19 policies implemented in various states to measure their effect on the labor market. The observed policies generally decreased employment probabilities significantly. Moreover, we find
significant negative effects of these measures on the probability of employment prior to the CARES Act implementation. Along with the limited duration of the enhanced UI benefits and the difficulty of turning down a job in pandemic, our results suggest that many of these negative labor market dynamics preceding the increase in UI may have been overshadowing the possible effects of the CARES Act.