Does Wisconsin's fortunes — as a manufacturing heavy state — depend on what happens in the rest-of-the world? The answer is, partly, yes…
Today's employment release shows continued employment growth in manufacturing.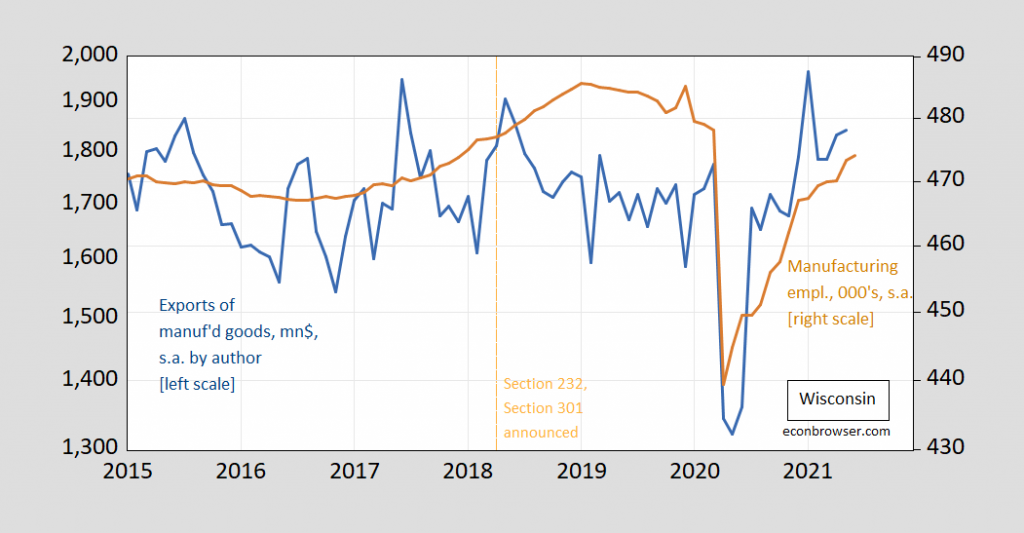 Figure 1: Exports of manufactured goods attributed to Wisconsin, in millions $, seasonally adjusted using monthly multiplicative monthly dummies (blue, left log scale), and Wisconsin manufacturing employment, 000's, s.a. (brown, right log scale). Source: Census, BLS and DWD, and author's calculations. For how "exports" are accounted for at a state level, see here.
The two series look like they're moving in tandem, but it could be that both are being affected by common shocks, rather than one causing the other. In fact, almost assuredly this is true – exports to RoW are driven by the increase in RoW economic activity that is happening at the same time as surge in US activity. On the other hand, it makes sense that Wisconsin manufacturing fortunes depend independently on exports. As discussed in this recent post, continued progress in dealing with the pandemic by way of vaccination in other countries — and hence not relying upon lockdowns — is key to sustaining US and Wisconsin exports.
Wisconsin manufacturing exports (gross value) in 2020m01 were about $19 billion (annualized), while Wisconsin manufacturing value added in 2020Q1 was about $60 billion (annualized). One would want to compare value added in exports to value added production, but at least these numbers emphasize the point that Wisconsin depends on exports…
In other words, Wisconsin's fortunes (as are the Nation's) are tied with the world's.