A couple of plots to highlight the fact that the November number on nonfarm payroll employment should be understood in the context of ongoing revisions in the data (see release here).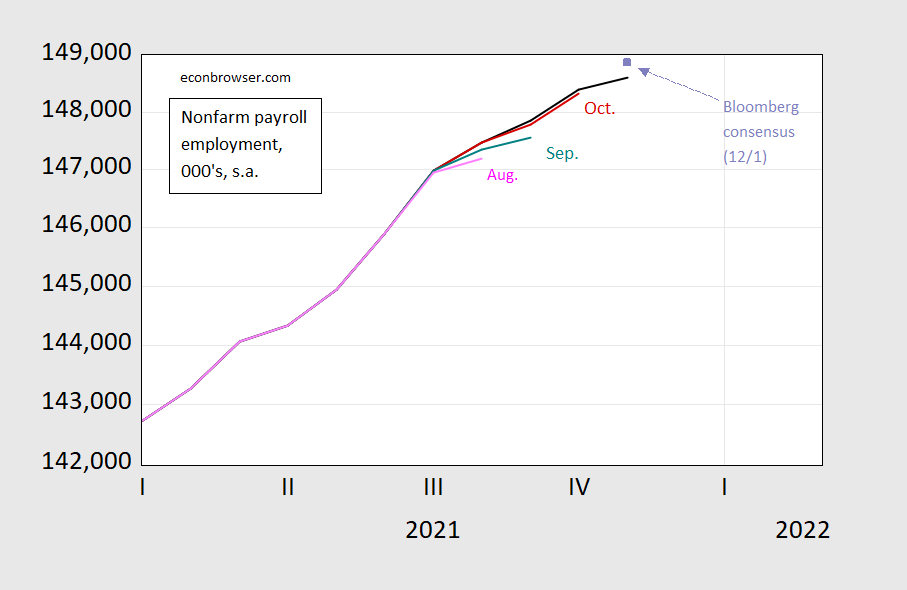 Figure 1: Nonfarm payroll employment for November (black), October (red), September (teal), August (pink), and Bloomberg consensus of 12/1 (lilac square), all on log scale. Source: BLS, various releases, Bloomberg.
So generally, revisions have been upward over the summer and last couple of releases. The mean absolute revision in employment changes going from 1st release to 3rd release from January to September of this year is 107K. That means (using 1.96) the implied change in employment from the 3rd release could be zero or could be as high as 420K, given the mean absolute revisions exhibited in the first nine months of this year. (And of course, there will be a benchmark revision coming in the new year).
The somewhat confusing result is the disparate paths for different employment measures. Civilian employment from the household survey rose smartly.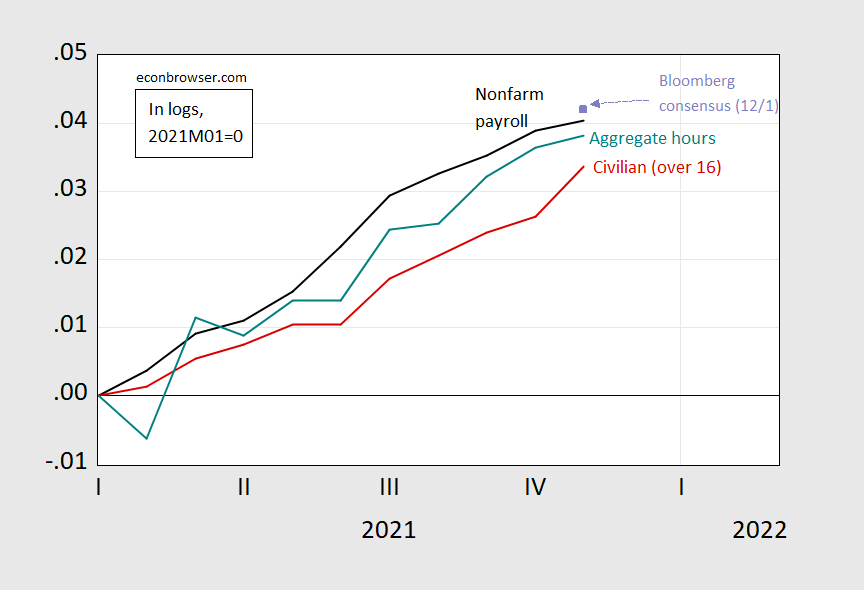 Figure 2: Nonfarm payroll employment (black), Bloomberg implied consensus for nonfarm payroll employment  (lilac square), civilian employment (over 16) (teal), aggregate hours index for nonsupervisory, production workers (red), all in logs, 2021M01=0. Source: BLS, and author's calculations. 
Civilian employment rose at an annualized 8.8%, while nonfarm payroll employment rose only 1.7% (aggregate hours from the establishment survey also rose slightly faster than NFP, at 2%). The fact that average wages for nonfarm, nonsupervisory/production workers rose at 5.5% (annualized), essentially the same as in October, also further suggests that labor market strength is a bit more than indicated by NFP. Whether that will remain so in December is definitely an open question.
Furman and Powell have more on the release, as does Bill McBride at Calculated Risk.