Monthly GDP for November is in; next big indicator is December nonfarm payroll on Friday. Here are some key indicators followed by the NBER BCDC.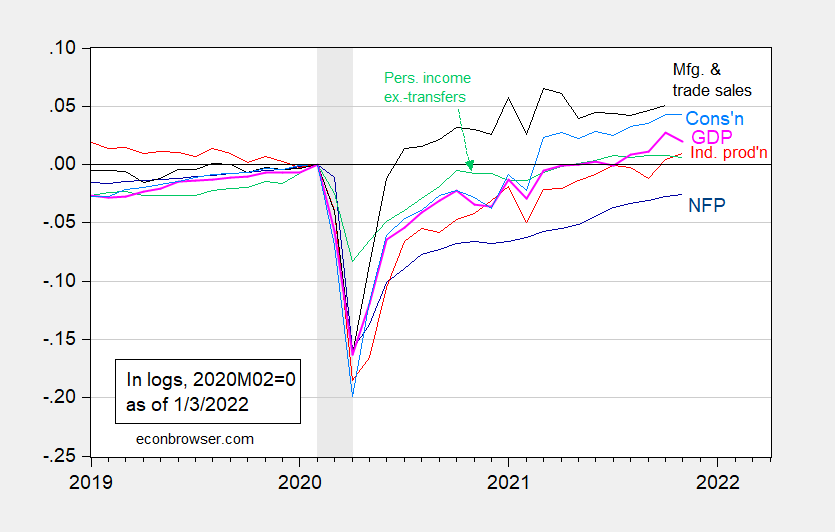 Figure 1: Nonfarm payroll employment (dark blue), industrial production (red), personal income excluding transfers in Ch.2012$ (green), manufacturing and trade sales in Ch.2012$ (black), consumption in Ch.2012$ (light blue), and monthly GDP in Ch.2012$ (pink), all log normalized to 2020M02=0. NBER defined recession dates, peak-to-trough, shaded gray. Source: BLS, Federal Reserve, BEA, via FRED, IHS Markit (nee Macroeconomic Advisers) (1/3/2022 release), NBER, and author's calculations.
Monthly GDP as measured by IHS-Markit is down. From today's release:
Monthly GDP declined 0.8% in November, reversing about one-half of
a 1.6% increase in October. T…. The November decline was mainly accounted
for by a sharp widening of the goods deficit. There was also a decline
in nonfarm inventory investment.
One hint at what will show up in the employment report is a hit to leisure and hospitality employment. As Paweł Skrzypczyński points out, seated diners in December are down relative to 2019 levels, so sectoral employment is unlikely to have increased strongly.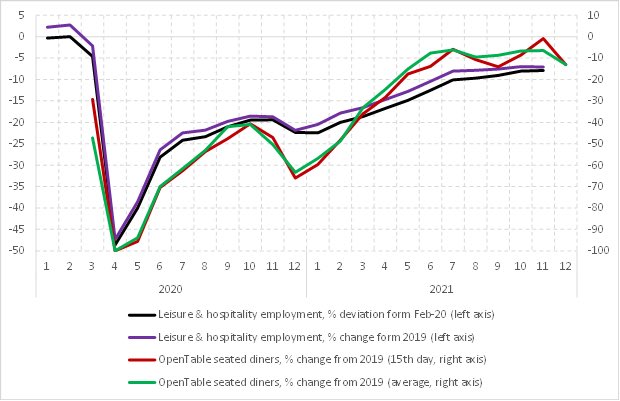 Source: Paweł Skrzypczyński