Goldman Sachs cut its 2022 growth estimate from 2% to -7%. I visualize the level of GDP thus: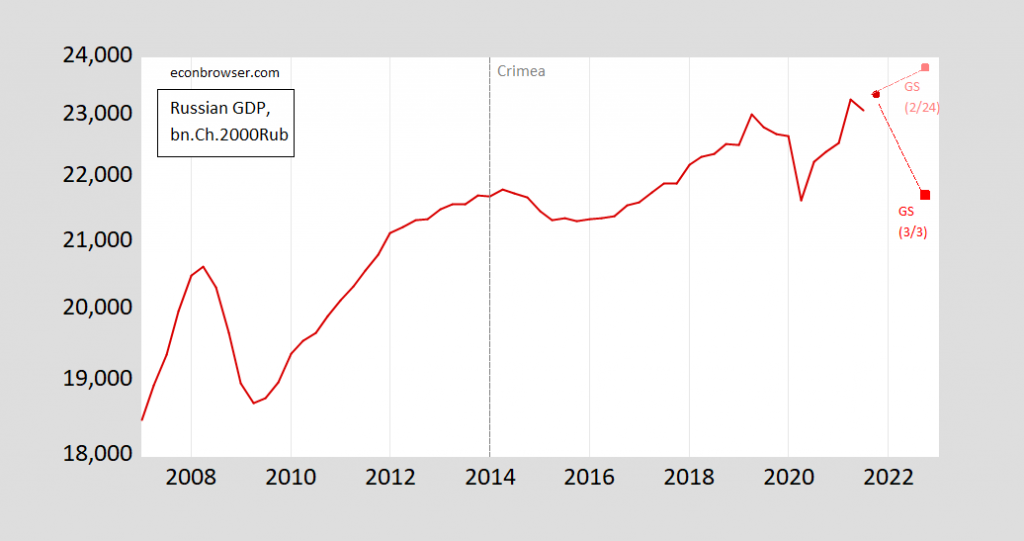 Figure 1: Russian GDP in billions Ch.2000Rubles (red), IMF January WEO forecast (red circle), GS forecasts of 3/3 (red square), of 2/24 (salmon square), all on a log scale. Levels for 2021Q4, 2022Q4 calculated using growth rates. Source: OECD via FRED, IMF, Goldman Sachs, and author's calculations. 
If the GS forecast (incorporating sanctions effects and a heightened interest rate) were to prove correct, then this downturn would dwarf the 2014 recession.
Obviously, a cessation of hostilities might drastically change the situation. However, it's been pointed out that economic sanctions tend to be "sticky" (listen here OMFIF podcast, also FT today), so unless everything is completely resolved in an unexpectedly amicable way, we may be in a world of severe economic sanctions for a while.