That's the question a skeptical JohnH asked 7 weeks ago, about the Ukrainian offensive. The answer seems to be "pretty well".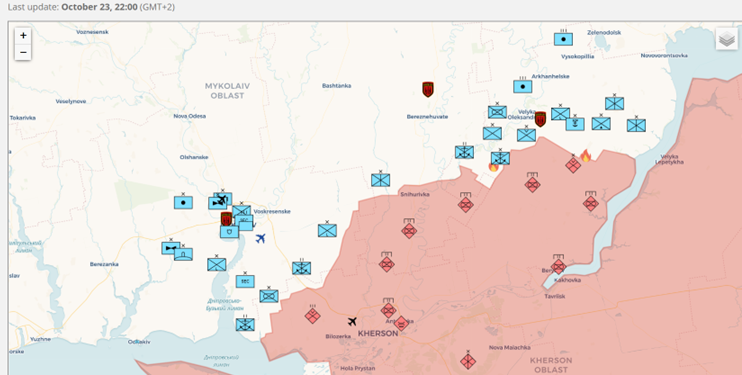 Source: Militaryland, accessed 10/23/2022, 3:30pm Pacific.
From ISW (dated 10/22):
Russian forces continued to withdraw from western Kherson Oblast while preparing to conduct delaying actions that will likely be only partially effective. The Ukrainian General Staff reported that Russian forces have completely abandoned their positions in Charivne and Chkalove (both approximately 33km northwest of Nova Kakhovka), and Russian officers and medics have reportedly evacuated from Beryslav.[1] The Ukrainian General Staff added that Russian forces are also removing patients from the Kakhovka Hospital on the eastern bank of the Dnipro River, likely to free up hospital beds for Russian military casualties that may result from the withdrawal across the river.[2] The Ukrainian General Staff noted that some Russian elements are preparing Kherson City for urban combat, while other servicemembers continue to flee the city via the ferry operating in the vicinity of the Antonivsky Bridge.[3] The UK Ministry of Defense reported on October 22 that Russian forces completed construction of a barge bridge alongside the damaged bridge and forecasted that the barge bridge would become a critical crossing point for Russian forces as Ukrainian forces advance toward Kherson City.[4] A large part of the Kherson City population has also reportedly left the city.[5]