Mixed news for 4th quarter net income in the current account release

A month ago, I made a prediction regarding the trajectory of the net income flow in the current account balance. This issue is relevant given the discussion about the Hausmann-Sturzenegger "dark matter" hypothesis. I indicated that -$502 million entry for 2005q4 would be a plausible outcome, reflecting rising interest rates combined with increasing foreign holdings of US debt securities.


As it turned out, the March 2006 balance of payments release only partly confirmed my views. The actual net income deficit was worse than predicted; net income was -$2.4 billion, rather than -$0.5 billion predicted (on a seasonally adjusted basis). On the other hand, the 2005q3 net income was revised upward from +$0.5 billion to +$2.9 billion.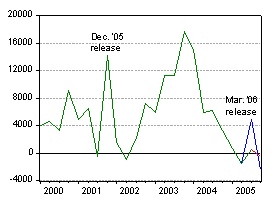 Net income (SA, millions $), from December '05 and March '06 releases, and prediction based on December '05 release. Source: BEA, and author's calculations.

(Green line: December '05 release; Blue line: March '06 release; Red line: prediction based on December '05 release). Nonetheless, the main point of that post — namely that the trajectory of the net income account was likely to be negative — remains intact, largely because the US interest rate has continued to rise in the first quarter of 2006.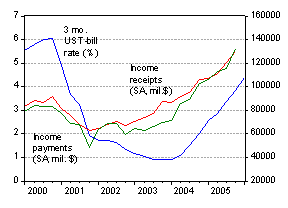 US 3 month T-bill rate in secondary market (left scale), income receipts and payments (right scale). Source: BEA, and St. Louis Fed FRED II.

Now it is true that foreign rates (especially those in Europe) move with U.S. rates (see this paper); but to the extent that our payments are much more related to returns on debt securities than our receipts, higher interest rates are likely to lead to a widening net income deficit.

Technorati Tags: balance of payments,
dark matter,
net income,
interest rates