Last Tuesday, there was a unique joining of three subcommittees to address the issue of alleged Chinese currency manipulation. Here's Steve Roach's assessment [1], Mish's view [2], and news accounts by CNN [3] and by WSJ [4].
With so much heated discussion about currency manipulation, it might behoove us to review the current state of the art regarding measuring currency misalignment.
There are as many – – or more – – measures of equilibrium exchange rates as models of exchange rate. This is the subject of a recent Treasury Occasional Paper entitled "Equilibrium Exchange rate models and misalignments," written by T. Ashby McCown, Patricia Pollard and John Weeks [pdf]
The authors write:

It is difficult for any model to describe adequately, and with a firm empirical basis, all features of modern economies that are relevant to determining exchange rate movements. This reflects in part the difficulty of modeling international financial markets and capital flows.



Economists have developed a variety of methods to estimate equilibrium exchange rates. The methods differ considerably in their construction and in their estimations of equilibrium values. In some sense, comparing the models is similar to comparing "apples and oranges" because they can radically differ in structure and can even use different measures of the real effective exchange rate. Often, they are attempting to measure entirely different kinds of equilibrium. That does not mean the models do not provide useful information. To the contrary, they provide valuable insights, but one must recognize that they are limited by the use of somewhat simplified structures, which are often necessary if they are to have a reasonable empirical underpinning.



Those shortcomings aside, practitioners have provided us with a variety of estimates of equilibrium values and measures of over- or under-valuation. Although the range of results can and often do vary considerably, it is possible to draw certain inferences about misalignment provided the results are drawn from a variety of models and the results are largely similar in magnitude and direction. This information should be supplemented with assessments of other reasons why the exchange rates, during relevant periods of time, might deviate from perceived equilibrium values.



However, the ability to draw inferences and make comparisons from different equilibrium exchange rate work could be substantially improved. Apart from the "apples and oranges" of different deflator indexes, models are often run at different times and the structure and particular features of the models used are unclear.

I found one table particularly interesting. It compares the estimated misalignments by three private sector models for a given time period (end of 2005).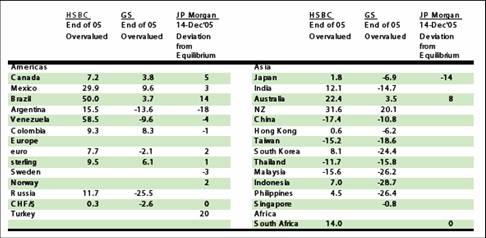 Source:
T. Ashby McCown, Patricia Pollard and John Weeks, 2007, "Equilibrium Exchange rate models and misalignments,"
Occasional Paper No. 7
.
[pdf]
The models are described thus:


The Hongkong and Shanghai Banking Corporation (HSBC), with some strong caveats, estimates long-term, 5-8 year, bilateral exchange rates based on calculating a rate that would be consistent with long term external balance.
J.P. Morgan Securities uses a behavioral equilibrium exchange rate model for emerging market countries, with fundamentals of productivity, terms of trade and trade openness to estimate real equilibrium exchange rates. The model provides a measure of currency over-valuation or under-valuation based on economic fundamentals. Short-term dynamics are described by an error correction form of the model. Morgan bases its estimates of the fair value of currencies, defined as the exchange rate consistent with the equilibrium in both domestic and foreign markets, more generally on the basis of fundamentals such as productivity differentials, external prices, country risk and interest rate differentials.

GSDEEMER of Goldman Sachs is a behavioral equilibrium exchange rate model with long-run equilibrium exchange rates determined on the basis of relative productivity, the terms of trade, international investment position, trade openness and G-3 real interest rates. The equilibrium exchange rates in the initial part of the exercise are bilateral real exchange rates against the dollar. In a second stage, bilateral nominal rates are derived in an error correction model by assuming that the nominal rate carries all the burden of adjusting to a medium-term equilibrium.

I largely agree with the assessments contained in the paper. Furthermore, the table highlights the statistical uncertainty surrounding the estimates (discussed in the context of the RMB in this post), but also model uncertainty — namely that we are unsure of what goes into the model specification even when the motivations are similar (as in the J.P. Morgan and Goldman Sachs models).
A slightly less skeptical view on exchange rate models is presented in this post.
Technorati Tags: dollar, equilibrium exchange rate,
currency misalignment,
overvaluation,
undervaluation