I used to wonder about the use of this term a lot, at least in the context of government pronouncements. Here's my answer. First, the use of the term in context. From Bloomberg:

Weak Dollar Boosts Growth Without Fueling Inflation (Update1)



By Matthew Benjamin and Vivien Lou Chen



Oct. 8 (Bloomberg) — Treasury Secretary Henry Paulson, whose signature appears on every new dollar bill, may find the weak currency with his name on it helps the U.S. economy more than the strong one he publicly endorses.

The dollar's 8 percent slide during Paulson's 15 months in office is good news on the docks of Long Beach, California, where shipping containers are making their return trip to Asia filled with U.S.-made computer, auto and aircraft parts whose prices have become more competitive abroad. What's more, economists don't foresee the weaker currency generating higher import prices and accelerating inflation.



"The dollar is in a quasi-sweet spot," says Joseph Quinlan, chief market strategist at Bank of America Corp. in Charlotte, North Carolina. "It's dropped enough that it's creating an earnings upside for U.S. multinationals, while I expect many foreign companies to hold the line on prices they charge U.S. consumers."



Exports by General Motors Corp., Boeing Co. and other U.S. companies were up 11 percent in the second quarter from a year earlier, shrinking the nation's trade deficit in goods for the first half by $14 billion, to $405 billion, and helping the economy weather the housing bust.



According to estimates by Goldman Sachs Group Inc., that's the biggest improvement in 20 years; exports of goods grew more than twice as fast as imports in the first half of 2007.



Further Narrowing



The government will report August trade figures on Oct. 11, and a Bloomberg survey of economists says they will show a further narrowing of the gap.



Asked how Paulson, 61, views the dollar's recent slide, his spokeswoman, Brookly McLaughlin, refers to recent statements from him that reiterate the official U.S. policy since Robert Rubin ran the Treasury under President Bill Clinton: "I feel very strongly that a strong dollar is in our nation's interest."



As Treasury secretary, he can't be expected to say anything else, says Tom Fitzpatrick, global head of currency strategy at Citigroup Inc. in New York.



"The U.S. needs external capital to fund its deficits," he says. "So you have to say a strong currency is in your interest, because if you go the other way, why the hell would anyone want to invest here?"



At the same time, Paulson has good reason to be privately pleased with the dollar's decline, says Sophia Drossos, currency strategist at Morgan Stanley in New York and a former Federal Reserve economist.



Protectionist Pressures



Noting that Congress is considering sanctions to redress the trade imbalance with China, she says, "If you are the U.S. administration and you don't want to see protectionism take hold, what is your incentive to change anything? It doesn't seem like it's in the interest of the U.S. Treasury to arrest the decline of the dollar. They are accepting it as a move based on fundamentals."



The impact of the dollar's weakness is evident at the port of Long Beach — the nation's second-busiest behind Los Angeles — where exports jumped 34 percent in August from a year earlier.



Larry Cottrill, the port's director of master planning, says the number of unfilled containers leaving the port dropped 14.5 percent in August and was down 4.5 percent for first 11 months of the year ended Sept. 30. That's a turnaround from the last decade, when the fastest-growing container category was outbound empties, he says.



…



Shifting Production



Rainer Schmueckle, chief operating officer at Daimler AG's Mercedes Car Group, said at a Sept. 25 press conference that the Stuttgart, Germany-based company would have to consider shifting more of its production to the United States if the euro, were to rise above $1.45 and remain there. The euro traded at $1.4092 at 8:42 a.m. in New York.



…

What I think is interesting about this quote is that it highlights two different meanings of the idea of dollar strength. The first is the level of the dollar, adjusted for price levels. This is sometimes referred to as price competitiveness, and can be measured by the trade weighted value of the dollar after adjustment by the CPI (as in the the Fed's index) or unit labor costs (as in the IMF's series reu).
But Tom Fitzpatrick's quote refers to a second (and in my mind confusing) use of the "strong dollar" term. Here he is referring to the returns on dollar assets denominated in a common currency. So consider the expected return on dollar assets:


i US – i EU – E[d(s)]

Where i US is the interest rate on dollar asset, i EU is the interest rate on euro asset, and E[d(s)] is the expected rate of dollar depreciation against the euro over the horizon consistent with the maturity of the debt instruments. The greater the anticipated depreciation, the lower the expected return in dollar terms on dollar assets, holding all else constant. To the extent that uncovered interest parity does not hold (see [1] [pdf] for definitions, [2] and [3] for discussion), one might think that the as this term declines, capital inflows decline (admittedly, this is an old fashioned view, but as far as I can tell, this is how economists in the financial sector and practitioners talk, to a first approximation).
So, since a weaker dollar at a given instant is a plus to the extent that it encourages expenditure switching, we don't want a strong dollar. But to the extent that expectations regarding further weakening over time of the dollar tend to diminish capital inflows, we prefer a "strong dollar" (at least if we want to finance the ongoing incipient current account imbalance).
What do exchange rate forecasts — in this case from Deutsche Bank — indicate? They indicate substantial dollar weakness in the next three months, with recovery in the subsequent months.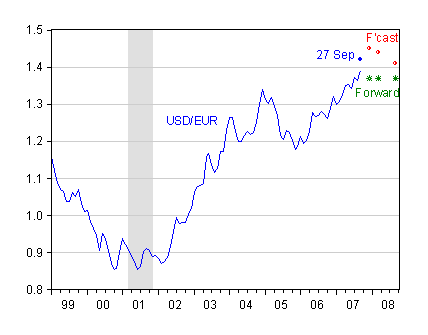 Figure 1:
Spot exchange rate, monthly average (blue line), end of month (blue triangle), Deutsche Bank forecast of 5 October (red circle) and forwards (green asterisks). Source: St. Louis Fed FRED II, and Deutsche Bank,
Exchange Rate Perspectives
, 27 September 2007.
But of course, these are merely forecasts, and as any expert will allow, forecasting exchange rates is notoriously difficult. One particular worry is highlighted by Figure 1. The dollar has been declining fairly steadily against the euro over an extended period (and is forecasted to depreciate about 11% on an annualized basis over the next quarter). Should this trend become ingrained into market expectations, the DB forecasts could be proven very wrong, and the dollar become even weaker than anticipated over the longer horizon of a year. In the absence of any countervailing effects (i.e., invoking the ceteris paribus condition), the US interest rate would have to rise, Euro rate decline, or capital flows decline drastically. This is the worry I've laid out in the past here, but thankfully has failed to become a reality.
However, a floor on the dollar/euro exchange rate may be introduced by movements in euro area interest rates — with softening growth in the euro area, the ECB is more likely to drop interest rates. (Calls for intervention would likely go unheeded, and in any case, the effectiveness of forex intervention is debatable.)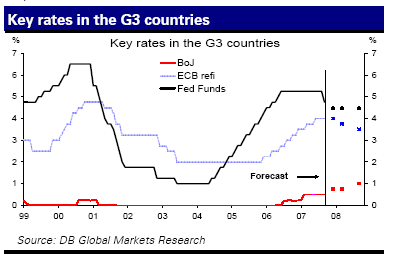 Figure 2:
Actual and forecasted policy rates in US, Euro area, and Japan. Source: Deutsche Bank,
Global Economic Perspectives
, 8 October 2007.
So, we may get a "strong dollar", in at least the second sense, as policy rates in the euro area and Japan rise, and the Fed Funds rate stabilizes. (Of course, this is view is predicated on the continued "containment" of the housing/subprime mortgage turmoil, and no more surprises — a la Jim's recent post.)
Technorati Tags: dollar,
euro,
intervention,
interest rate parity