…then a balanced budget is far off.
The CBO released its November budget review yesterday. In this figure, the red dashed line (receipts) is slowing its ascent. Expenditures are falling, but to the extent that transfers rise in slowdowns, one knows the likely trajectory of the blue line.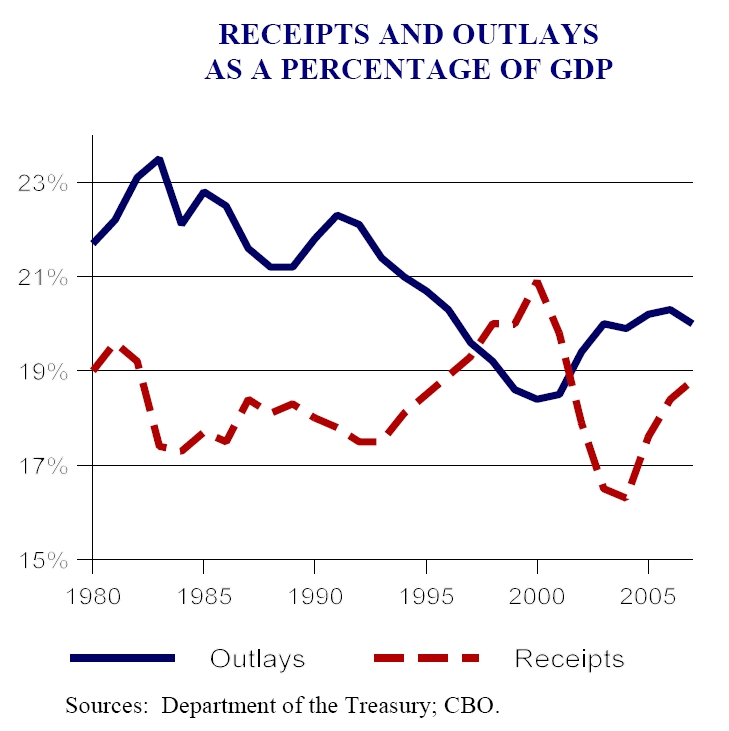 Note: Blue line, expenditures; red dashed line, receipts. Source: CBO, Monthly Budget Review, November 6, 2007; improved image, courtesy of J. Teter.

One quote:

"Outlays for net interest on the public debt equaled 1.8
percent of GDP in 2007, the same level recorded last year.
The government's net interest costs rose 6.3 percent in
2007 primarily because of growth in federal debt and
higher short-term interest rates."
Thought experiment: What happens to net interest as a share of GDP, and the debt-to-GDP ratio if nominal growth slows? Here's a partial answer.