As the dollar continues its decline, I think it's useful to step away from the high frequency analysis [1],[2], to consider what the currents in academic thinking on the enterprise of predicting exchange rates are.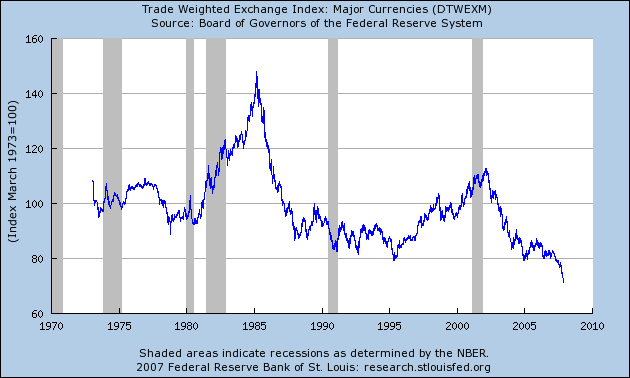 Figure 1: Narrow dollar index. Source: Federal Reserve via St. Louis Fed FRED II, accessed November 8, 2007.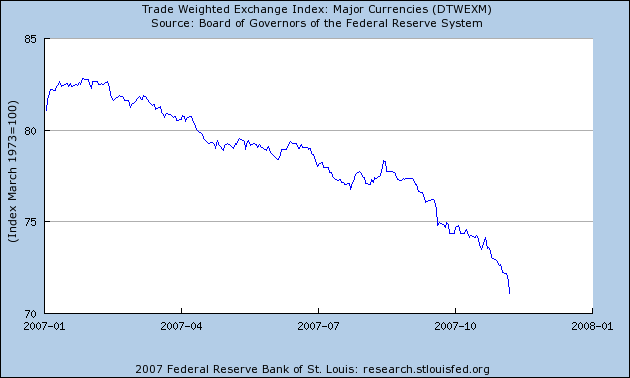 Figure 2: Detail, Narrow dollar index. Source: Federal Reserve via St. Louis Fed FRED II, accessed November 8, 2007.

First, I think it's helpful to break motivations for exchange rate movements into (1) business-cycle macro-related factors, and (2) structural factors related to central bank/sovereign wealth fund holdings (as dramatically exemplified by Wednesday's events), and investor preferences regarding currency of denomination. (Intermediate term factors like productivity trends I'll lump in with (1) for now; see this post for a treatment.)
The factors in (2) have been discussed in this weblog upon numerous occasions. While I don't want to minimize the importance of these factors, they are difficult to model, partly because we do not directly well observe reserve accumulation. Nor do we have models of reserve accumulation that have particularly high predictive power. In other words, exactly because "tipping points" and other similar nonlinearities are observed infrequently, these effects are difficult to incorporate into econometric models that rely upon being able to observe phenomena repeatedly (for an academic treatment over the long horizon, see this piece by myself and Jeffrey Frankel).
So, in this survey, I'll focus on those factors that fall in the category (1). These include the standard monetary factors like money, incomes, interest rates and inflation rates.
Now, as I've observed before, one of the key stylized facts regarding the empirical modeling of exchange rates is the one associated with Meese and Rogoff's 1983 paper: that it is difficult to outpredict a random walk in out of sample forecasts where the ex post values of the explanatory variables are used (what are sometimes called ex post historical simulations).
This stylized fact has been remarkably durable in its 20 year history. After some work which seemed to indicate that one could outpredict a random walk at long horizons (Mark (1995) [pdf] and Chinn and Meese (1995) [pdf]), subsequent research demonstrated that this long horizon outprediction was an artifact of sample period, at least insofar as RMSE criteria are concerned. Cheung, Chinn and Fujii (2003) [pdf] showed that at long horizons, one could find cases where the random walk was outpredicted at long horizons using interest rate parity, but not (typically) structural macro models of the type examined by Meese and Rogoff.
One path has been undertaken by Roman Frydman and Michael Goldberg, where they have dispensed with the rational expectations approach, and forwarded what they call the "imperfect knowledge expectations". In a recent paper [pdf], they explain their approach thusly:

Why do academic economists believe that short-run currency fluctuations are not
connected to macroeconomic fundamentals, whereas the individuals most connected to
financial markets obviously do? Our answer is that market participants and observers
recognize that the relationship between the exchange rate and macroeconomic
fundamentals changes at times and in ways that cannot be fully foreseen. While they
may use economic theory to understand and forecast markets, they recognize that they
cannot base their actions solely on a fixed model.




…




The basic premise of our approach, called "imperfect knowledge economics" (IKE), is that the search for sharp predictions of market outcomes is futile. Market participants and policy makers must cope with ever-imperfect knowledge in forecasting the future exchange rate. As a result, our knowledge and our institutions (e.g., the conduct of monetary policy) change over time. Indeed, capitalist economies provide powerful incentives for individuals to find new ways of thinking about the future and the past. In such a world, it is rather odd for economists to expect that a fixed set of economic fundamentals would matter in exactly the same way for more than 30 years, or that they could fully prespecify how this relationship might have changed over time.




It is thus not surprising that academic economists have found that their models forecast exchange rates no better than flipping a coin does. This finding still attracts much attention among academic researchers. Indeed, it is one of the main reasons why they have concluded that markets participants' irrationality, rather than macroeconomic fundamentals, moves currency markets.

…
What are the practical implications from this view of the world? They lay their views out in a newly published book. In this paper, they draw out the implications for the dollar over the near future.

In our model, the exchange rate is determined by the interplay between the decisions of bulls and bears, who base their forecasts in part on different interpretations of trends in macroeconomic fundamentals. A market participant may well decide that, because the dollar/euro exchange rate is, say, 40 percent overvalued relative to PPP, as it currently is, she wants to be a net seller of euros. However, in a world of imperfect knowledge, the gap between the actual and PPP exchange rates is merely one of many fundamental factors that market participants might reasonably rely on in forming their forecasts. Research shows that other fundamental variables that have been important at various times over the past 30 years include domestic and foreign interest rates, GDP growth rates, unemployment rates, current account imbalances, inflation rates, and monetary policy announcements. These variables may exhibit trends that cause market participants in the aggregate to revise their exchange rate forecasts further away from PPP, thereby causing the exchange rate to follow suit. This IKE view of exchange rate swings, therefore, rationalizes the accounts of the euro's recent rise that point to the importance of macroeconomic fundamentals.

…

Trends in macroeconomic fundamentals are not the only factors that drive currency fluctuations and swings in exchange rates. How and when individuals revise their forecasting strategies also matter. Such decisions can depend on many factors, including prior forecasting success, economic and political developments, emotions, or, as we will suggest shortly, the size of the departure of the exchange rate from PPP. The revision of forecasting strategies and its timing, therefore, is to some extent non-routine, so that modeling such decisions with fully predetermined rules, as contemporary models do, is bound to fail.
Given that some of my own research suggests nonlinearities in exchange rates [pdf], and changes in what factors traders consider important [pdf], I'm sympathetic to some of the ideas Frydman and Goldberg propound. At the same time, I should observe that a quite different approach to thinking about exchange rates adheres to the rational expectations view — and indeed takes the inability of typical exchange rate determinants to predict the exchange rate as proof that the rational expectations/present value approach is correct. This approach, developed by Engel and West [pdf], was discussed in this post. In a paper provocatively titled Exchange Rate Models Are Not as Bad as You Think [ppdf] Engel, Mark and West write:
Engel and West (2004, 2005) propose testing two implications of the present value models. They emphasize that because we acknowledge that there are "unobserved fundamentals" (e.g., money demand shocks, risk premiums), the exchange rate may not be exactly the expected present value of observed fundamentals. But if exchange rates react to news about future economic fundamentals, then perhaps exchange rates can help forecast the (observed) fundamentals. If the observed fundamentals are the primary drivers of exchange rates, then the exchange rates should incorporate some useful information about future fundamentals. We verify this proposition using Granger causality tests. Engel and West (2004) also develop a technique for measuring the contribution of the present discounted sum of current and expected future observed fundamentals to the variance of changes in the exchange rate, which is valid even when the econometrician does not have the full information set that agents use in making forecasts. Here we find that the observed fundamentals can account for a relatively large fraction of actual exchange-rate volatility, at least under some specifications of the models.


Standard tests of forward looking models under rational expectations make the assumption that the sample distribution of ex post realizations of economic variables provides a good approximation of the distribution used by agents in making forecasts. But (as Rossi (2005) has recently emphasized) when agents are trying to forecast levels of variables that are driven by persistent or permanent shocks, the econometrician might get a very poor measure of the agents' probability distribution by using realized ex post values. The problem is enhanced when the data generating process is subject to long-lasting regime shifts (caused, for example, by changes in the monetary policy regime.) For an economic variable such as the exchange rate — which is primarily driven by expectations — it might be useful to find alternative ways of measuring the effect of expectation changes.
See this post on present values and exchange rates.
Although these paragraphs appear quite damaging to the enterprise of using fundamentals to prediction future exchange rate movements, I don't believe that the situation is as dire as indicated by this passage. Indeed, in this same paper, they observe that there are instances when exchange rates can be forecasted.
While we argue that theoretically the models may have low power to produce forecasts of changes in the exchange rate that have a lower mean-squared-error than the random walk model, we also explore ways of increasing the forecasting power. Mark and Sul (2001) and Groen (2005) have used panel error-correction models to forecast exchange rates at long horizons (16 quarters, for example.) We find that with the increased efficiency from panel estimation, and with the focus on longer horizons, the macroeconomic models consistently provide forecasts of exchange rates that are superior to the "no change" forecast from the random walk model.
It may seem that some of these ideas are too abstract to be of any relevance to thinking about where exchange rates will go. Yet, as highlighted above, there does seem to be some evidence that at long horizons, exploiting cross-country information, one can find evidence of predictive power.

Perhaps more interesting is some recent work by Engel and West, as well as Molodtsova and Papell, suggesting that Taylor rule fundamentals (namely output and inflation gaps) can be used as predictors of exchange rates. I discussed this point in this post from January. From Molodtsova and Papell:

Although the role of interest rate differentials for exchange rate determination has been previously studied, the Taylor rule approach to interest rate modeling is a relatively unexplored area. It introduces a multivariate structure into exchange rate behavior, which generates a richer set of dynamics and has the potential for producing interest rate forecasts with higher predictive ability. Mark (2005) considers Taylor rule interest rate reaction functions for Germany and the U.S. and estimates the real dollar-mark exchange rate path assuming that the exchange rate is priced by uncovered interest rate parity. He provides evidence that the interest rate differential can be modeled as a Taylor rule differential and the real dollar-mark exchange rate is linked to the Taylor rule fundamentals, which may provide a resolution for the exchange rate disconnect puzzle. Engel and West (2006) construct a "model-based" real exchange rate as the present value of the difference between home and foreign output gaps and inflation rates, and find a positive correlation between the "model-based" rate and the actual dollar-mark real exchange rate.



We evaluate the out-of-sample performance of models with symmetric and asymmetric Taylor rule fundamentals using the Clark and West adjustment of the DMW statistic. In order to construct Taylor rule fundamentals, we need to define the output gap, and we use deviations from a linear trend, deviations from a quadratic trend, and the Hodrick-Prescott filter. In accord with recent work on estimating Taylor rules for the United States, we define potential GDP using "semi-real time" trends which are updated each period.



The results provide more evidence of short-run exchange rate predictability than we found by using monetary, PPP, and UIRP fundamentals and support the idea that the Taylor rule plays an important role in explaining exchange rate behavior. For the symmetric model, we find statistically significant evidence of exchange rate predictability at the 1-month horizon for 6 of the 12 currencies using at least one of the output gap measures. For the asymmetric model, we find similar evidence of exchange rate predictability for 7 of the 12 currencies. As with the earlier models, the predictive power of the models with Taylor rule fundamentals decreases sharply with the forecast horizon.
What I take from this discussion is that some of the movements in the dollar are explicable in terms of fundamentals. The fundamentals that matter differ depending upon the horizon, with perhaps Taylor rule fundamentals (and consequently revisions to expectations regarding those fundamentals) driving the exchange rate at short horizons. This conclusion manifests itself in the tremendous impact revisions in expected inflation and output gaps manifest themselves into exchange rate changes, many times in ways not consistent with say flexible-price or sticky-price monetary models, or for that matter, some productivity based models.
I also think conventional monetary model fundamentals matter at longer horizons. These include money stocks, incomes, interest rates and inflation rates, and possibly the relative price of nontradables (this is where productivity trends can come into play). This predictability might not be seen in the RMSE criteria typically used, but sometimes shows up in direction of change statistics.
But, traveling full-circle, I want to stress that these factors overlay the structural factors (in category 2) that are in some sense harder to model. Will central banks change the pace of dollar acquisition (say because they change their pegging currency, or allow greater exchange flexibility? Will they in fact actually try to decrease dollar holdings? What will sovereign wealth funds do? What are investors' views regarding the substitutability of dollar denominated assets versus euro or pound denominated assets? Because some of these questions pertain to infrequent, discrete, events (de-pegging from the dollar), or to relatively new phenomena (SWFs), or to imperfectly measured relationships (investor perceptions of substitutability), one should expect much greater uncertainty surrounding the effects of these structural changes.
This assessment is consistent a view I forwarded (along with others) two years ago. In a Council on Foreign Relations report [pdf], I argued that one of the implications of happily borrowing away at the Federal and national levels (the budget deficit and the current account deficit) was that, given the source of the funding, we would place the fate of the dollar and other asset prices to some extent in the hands of foreign, state, actors. Current events have, I think, vindicated that view.
Technorati Tags: dollar,
euro,
Taylor rule,
interest rate parity, present+value,
imperfect knowledge economics,
reserve accumulation,
sovereign wealth funds