What does the literature say about the efficacy of incentives for investment?
It's a good time to teach macro, as there's almost limitless material (for instance, one could have students critique the President's principles, here) being provided by the ongoing debate over the desirability (see Jim's post) and optimal structure of a discretionary fiscal stimulus (see my previous post).
One of the proposals I've heard mooted is for accelerated depreciation for capital investment (see [1]; [2]). There's no doubt that there's trouble coming on the investment front, given that nonresidential investment typically lags residential (see this post on timing).
Figure 1:
Level of investment in equipment and software (blue), fixed investment (red) and nonresidential investment (green), in billions of Ch.2000$. NBER-dated recession dates in gray. Source: BEA, Dec. 20, 2007 NIPA release, and NBER.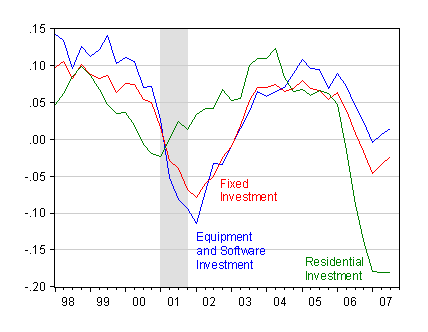 Figure 2:
Growth rate of investment in equipment and software (blue), fixed investment (red) and nonresidential investment (green), in billions of Ch.2000$, calculated as 4 quarter changes in log levels. NBER-dated recession dates in gray. Source: BEA, Dec. 20, 2007 NIPA release, NBER, and author's calculations.
As discussed in earlier posts (e.g. here, while business fixed investment has held up even as residential investment has collapsed, it is unlikely that such (relatively) strong spending will persist.
So, ideas to enhance investment spending sound good at first hearing. However, I think it's useful to revisit more recent thinking about investment behavior and tax incentives. From a May 2007 post entitled "Is the "Investment Disconnect" So Surprising?":
In a recent Brookings Papers on Economic Activity, Mihir Desai and Austan Goolsbee (2004) argue that earlier attempts to fit q-theory specifications to the data were hampered by adherence to a traditional view of how new investments were financed:

The investment model typically estimated in the literature follows the traditional view. In this view dividend taxes influence investment by, essentially, doubletaxing corporate income…




…Under this assumption, net new equity finances investment, so that investment is determined by the point at which shareholders are indifferent between holding a dollar inside or holding it outside the firm.




…If, however, retained earnings are the marginal source of finance, the
traditional investment-q relationship … will not hold.

In this view dividend taxes do not influence the tax term for marginal investments. Instead they are fully capitalized into existing share prices. In other words, changes in dividend taxes serve solely as a penalty or windfall on existing firm values. To see the intuition behind this, consider a firm that uses retained earnings at the margin to finance investment, with dividends determined as a residual. In this model dividends are the only means of distributing earnings to shareholders. In this setting, given that retained earnings are the marginal source of financing, investment is determined by the point at which shareholders are indifferent between receiving a dollar today as a dividend…

So, when q is properly measured, Desai and Goolsbee find it, as well as a tax measure, has a greater impact on investment. It is therefore instructive to examine the evolution of q, and the tax variable (where lower values of the variable indicate a lower tax burden).




…




q declines post-2001; no surprise. What is surprising — at least to me — is that the tax burden declines so little after 2001:

This relatively small effect stems from several factors. First, the value of an acceleration in depreciation allowances is a function of the corporate tax rate: with corporate tax rates already lower than they were in previous decades, altering depreciation schedules has a more muted effect. Second, the well-documented shift of investment toward computers and other equipment with shorter lives has meant that accelerated depreciation provides less relief. The average net present value of depreciation allowances for equipment investment in 2001 was already approximately 90 percent of the investment value even before the tax cuts, suggesting that even complete expensing (raising the net present value to 1) would provide limited additional benefit. Given the smaller magnitude of the 2002 and 2003 cuts, it is unsurprising that such incentives could not overcome the dramatic drop in investment induced by the remarkable drop in q over the period. Our estimates suggest that these incentives do work as they are designed, but that their magnitude is simply too small to counteract the aggregate trend.

One implication of the "new view" is that the tax breaks meant to spur investment ended up being essentially a pure windfall to firms, given the small increment induced in investment. (For a contrasting view, see the comments by Kevin Hassett).
This tells me that, if we are to maximize the "bang for the buck" of fiscal stimulus, we want to look hard at how effective business fixed investment incentives are likely to be.
While accelerated depreciation might not make much sense, the authors did observe the following:
…
Such a change [in q in recent times] is modest compared to changes like the investment tax credit of 1962, the restoring of the [investment tax credit] in 1971 or the Reagan depreciation allowance increases of 1981, all of which changed the overall cost of capital by around 0.10. …. Recent changes in investment incentives have been modest by historic standards. [text inserted by mdc]

…
My interpretation of this text is that not all tax incentives are created equal in terms of spurring investment. An investment tax credit might have a different impact, quantitatively. To the extent that the ITC is temporary, it could reallocate planned investment forward. But real public finance types might be able to say in greater detail whether my conjecture is right or not.
There is a separate question of whether tax rebate induced multipliers or an ITC-induced business fixed investment multiplier is larger.
Technorati Tags: q theory, tax policy,
fiscal policy, depreciation,
nonresidential investment.