The latest GDP release suggests trade balance adjustment is proceeding. Some of the adjustment is being driven by changes in the dollar's value. But I think a lot seems to be coming from the reduction in consumption and income growth.
First, let's take a look at the how much of GDP growth in 2007Q4 was being driven by net exports, and exports.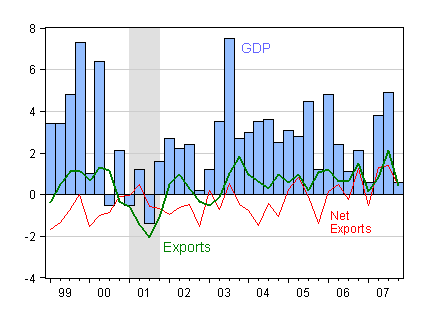 Figure 1:
GDP growth (blue bars), and contributions from Net Exports (red line) and Exports (green line). NBER Recession dates shaded gray. Source: BEA, NIPA release of 30 January 2008, and NBER.
Interestingly, net exports and exports constituted for a very large chunk of the total growth recorded. And, in contrast to Q3, import reduction only accounted for a negligible portion of GDP growth.
The non-oil net exports to GDP ratio is hurtling toward 2 ppts of GDP, as shown in Figure 2.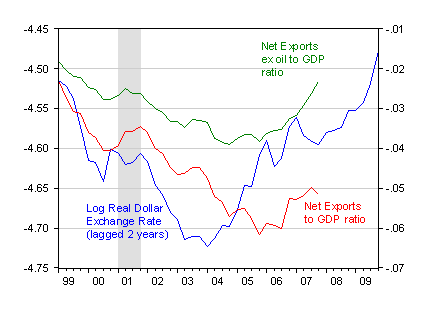 Figure 2:
Log real dollar exchange rate (broad), lagged two years (blue) and net exports to GDP ratio (red) and net exports ex oil to GDP ratio (green). NBER recession dates shaded gray. Source: Federal Reserve Board, BEA, NIPA release of 30 January 2008, NBER, and author's calculations.
However, the total net exports to GDP deficit has stalled at around 5% of GDP. While this is an improvement relative to 2005-06, this is about the same as the level recorded at the beginning of 2004, when alarm was growing about the trade deficit.
Inspection of the goods exports and imports series highlights some interesting trends (Figure 3). First, goods exports did surge in the last few quarters, but have tailed off in the last quarter (keeping in mind Q4 trade figures are based upon only two months of trade data). In contrast, non-oil goods imports are declining. While it is possible to have this occur without a recession (as in the late 1980's and in early 1995), the decline does appear to be consistent with a substantial slowdown in overall economic activity.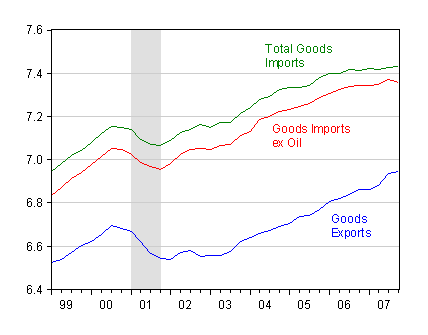 Figure 3:
Log real goods exports (blue), log real goods imports (green) and log real goods imports ex oil (red). NBER recession dates shaded gray. Source: BEA, NIPA release of 30 January 2008, NBER, and author's calculations.
In a previous post, I noted that one of the channels by which monetary policy could increase output is by inducing expenditure switching. Of course, there are offsetting effects, since higher income associated with expansionary monetary policy induces more imports, which (in an accounting sense) subtract from GDP, but there should be on net a positive impact. But the effect, at least on imports, is likely to be small because the estimated exchange rate elasticity is about 0.3, according to my estimates [1]. The elasticities are higher on the export side. But both are substantially smaller than estimated income elasticities.
That being said, the impact of decreases of the effective Fed Funds rate on the exchange rate, while apparent, does not seem very large. The real trade weighted broad dollar has declined about 5% (in log terms) since the Fed Funds rate has begun its downard descent.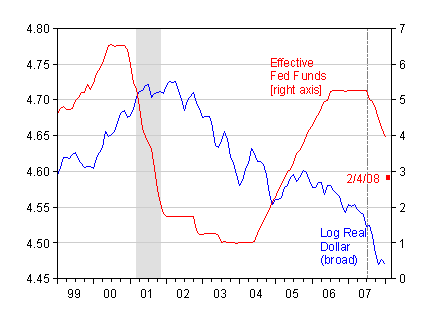 Figure 4:
Log real value of US dollar (blue, left axis) and Effective Fed Funds rate (red, right axis). Source: Federal Reserve Board.
It's important to recall that correlation is not causation. The declines in the dollar's value could come from other factors correlated with the Fed's monetary policy decisions (the decline in the desirability of dollar assets, for instance). What is also true is the dollar was declining long before the prospects of accomodating monetary policy became apparent. (Indeed, in this post I pointed out that the dollar was only maintaining its strength throughout 2005 by virtue of the incremental increases in the Fed Funds rate, and that when those ceased, we'd see the dollar depreciate secularly.)
So look for an impact on net exports coming from the drops in the interest rate, but not right away. Maybe in a year or two… In the meantime, I expect the reduction in the trade deficit to come mostly from the slowdown (if not recession), and a reduction in the consumption to GDP ratio (see Brad Setser's post on this point).
Technorati Tags: trade deficit,
imports,
exports, monetary policy,
dollar.