Today we received updates on U.S. house prices from two different sources. The OFHEO national house price index recorded a 1.3% decline in the price of a typical U.S. home during the fourth quarter of 2007, while the S&P/Case-Shiller home price index registered a 5.7% decline during the last three months of 2007. Here in San Diego, the respective numbers showed a 2.6% decline according to OFHEO and 9.1% decline from Case-Shiller during the quarter. For the year as a whole, Case-Shiller calculates that home prices fell 9.8% nationally and 15% locally.
Home price index for San Diego as reported by OFHEO and
S&P/Case-Shiller, each normalized so that August 2005 = $545,000.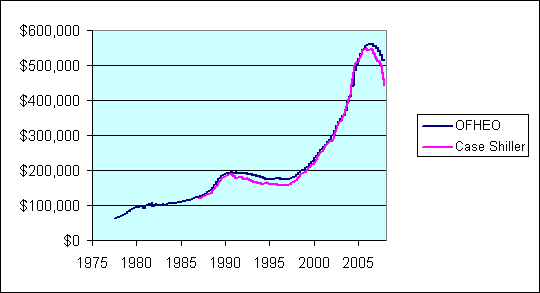 This tendency for the Case-Shiller index to record a stronger drop in home prices than OFHEO was also observed during the 1991 housing downturn. The two indexes apply the same basic methodology to different data sets. OFHEO is based on mortgages handled by Fannie Mae and Freddie Mac, while Case-Shiller uses publicly recorded data on all home sales in selected communities. It appears to be the case that the nonconforming mortgages that don't get to the GSEs were characterized by a bigger run-up in the boom, and should experience a bigger decline now, since nonconforming mortgages will be more affected by the breakdown of the private mortgage securitization process.
The 9.1% fourth-quarter drop for San Diego recorded by Case-Shiller is similar to the 7.4% decline in the median asking price of homes for sale reported by Housing Tracker. Although the latter is a much less satisfactory measure conceptually, it has the benefit of being more up-to-date than Case-Shiller. The San Diego median asking price has fallen an additional 5.9% since December, the most recent value for the Case-Shiller index.
The reason to be concerned about this is that the farther house prices fall, the greater the number of homeowners who move into the category of negative net equity, that is, owe more on their mortgage than the home is worth. And the farther into the red a household becomes, the greater the incentive and propensity for the homeowner to default on the loan. More defaults mean more losses and greater risk of insolvency for large financial institutions.
And if you think the economy can continue to hum along without those institutions continuing to extend credit, well, we may get some interesting additional data relevant for your hypothesis in a rather short while.
---
Technorati Tags:
macroeconomics,
housing,
house prices,
Case-Shiller,
OFHEO,
credit crunch