The Bureau of Economic Analysis reported today that U.S. real GDP grew at a 0.6% annual rate in the first quarter of 2008, the same tepid growth rate we saw in the fourth quarter of last year.
The plotted value for each date is based solely on information as it would have been publicly available and reported as of one quarter after the indicated date. Shaded regions represent dates of NBER recessions, which were not used in any way in constructing the index, and which were sometimes not reported until two years after the date.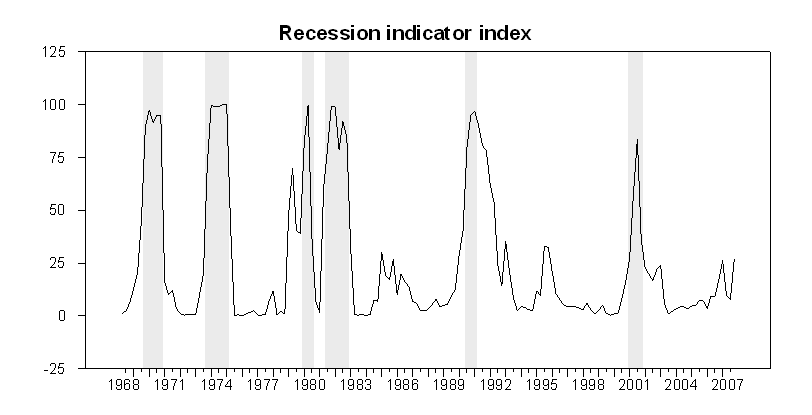 Recent sluggish growth rates bring our recession indicator index for the fourth quarter of 2007 up to 26.9%. That's its highest value since the 2001 recession, but still well short of the 65% reading that we require in order to make a declaration that the U.S. economy had entered a recession as of 2007:Q4.
This index is calculated from a simple pattern recognition algorithm that interprets moves into and out of recession as a key determinant of GDP growth rates. It is slightly more sophisticated than the traditional rule of thumb that designates two quarters of falling real GDP as a recession, though either approach would lead you to the conclusion that a recession had not yet started as of the fourth quarter of last year. Note that our index is always looking backward one quarter; we've used the just-released advance 2008:Q1 estimates to inform our assessment about 2007:Q4. The historical performance of the index suggests that given the likelihood of data revisions and the usefulness of subsequent information, it is prudent to wait a quarter before making a declaration about what the data signify. More background on how the index is constructed can be found here.
I believe there is an important benefit to having a purely objective, data-based algorithm for making these declarations. The numbers are reminding us that if, for example, the tax rebates were to keep GDP growth positive in the second quarter, we would end up characterizing the most recent experience as a period of slow growth rather than a typical economic contraction.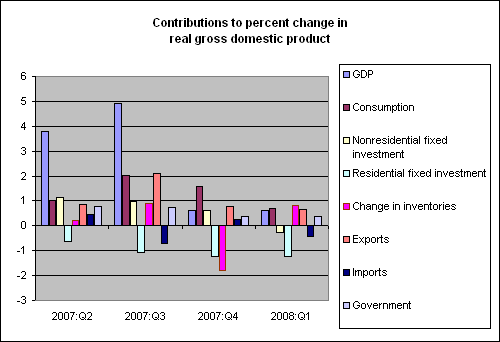 In terms of the specific details behind the 2008:Q1 numbers, housing remains the big story. If there had been no growth in any other category, the fall in housing would have been enough by itself to produce a 1.2% decline in real GDP. As it was, three other components– consumption, inventories, and exports– made modest positive contributions that were sufficient to offset the drag from housing and leave us with positive overall economic growth. We'd normally expect a much bigger contribution from consumption spending than the observed +0.7%, because personal consumption expenditures alone account for about 70% of the level of GDP. It appears that lost housing wealth and consumer confidence are important factors behind the sluggish GDP growth. Inventory accumulation also contributed +0.8% to 2008:Q1 real GDP growth, meaning that real final sales actually declined in the first quarter– not a good sign of economic health at all. Nonresidential fixed investment contributed -0.3%; a small factor in the total, but a development that worries Calculated Risk. The one cheerful note was the +0.2% contribution of net exports, one benefit perhaps of the sagging dollar.
Not a great quarter at all, but nevertheless better than many of us had been fearing.
---
Technorati Tags: GDP,
recession probability,
recession indicator index,
macroeconomics,
economics