There was a time one could plausibly argue that importing lots of goods and services, and borrowing a lot from abroad (financing the budget deficits that we've incurred since 2001) was a great idea. But at the time, about two and a half years ago, I made the following warning in a Council of Foreign Relations report [pdf]:
The United States faces a wide variety of possible outcomes, with the most dire having a significant likelihood. One real possibility entails the satiation of global investors' appetite for U.S. Treasury securities, combined with an endless vista of government budget deficits. After several years of large losses on dollar assets due to depreciation, they then demand a substantial premium for holding dollar-denominated assets; either the dollar must weaken so as to make Treasury securities cheap, or yields must rise relative to those on other assets.
Here's what the dollar has done over the past ten years.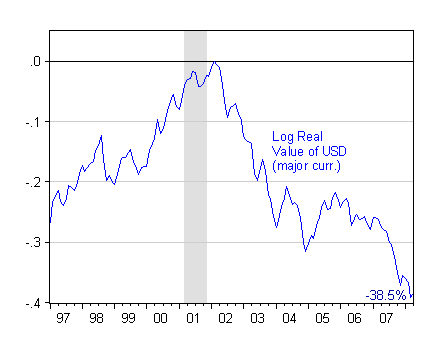 Figure 1: Log Real Value of the US Dollar, normalized to 0 at peak in 2002M02. NBER-defined recessions shaded gray. Source: Federal Reserve Board, NBER, and author's calculations.
Now, after contemplating that time series, consider this item from Bloomberg:
Dollar Slide Drives U.S. Budget as Japanese Desert Treasuries
By Wes Goodman
April 28 (Bloomberg) — Add another ailment to the U.S. misery index of soaring gasoline and wheat costs and falling home values: a federal deficit that is burgeoning as foreign investors led by the Japanese recoil from the slumping dollar.
The Japanese, who own $586.6 billion, or 12 percent of U.S. government debt, had their worst quarter in Treasuries this decade, losing 7 percent in the first three months of the year as the dollar fell to the lowest since 1995 versus the yen, Merrill Lynch & Co. indexes show. Dai-ichi Mutual Life Insurance Co., Meiji Yasuda Life Insurance Co. and Sumitomo Life Insurance Co., three of the nation's four-biggest insurers, would rather accept the world's lowest bond yields in Japan than buy U.S. debt.
"It's too early to say the dollar will stop falling," said Masataka Horii, head of the investment team in Tokyo for the $53.1 billion Kokusai Global Sovereign Open, Asia's biggest bond fund. "The U.S. economy will be slow for a while."
Japan owns more Treasuries than any other nation. After raising their holdings by $9.2 billion to $620.6 billion between March and July 2007, Japanese investors trimmed that stake by $34 billion through February, the Treasury said April 15.
America relies on foreign investors, who own more than half the U.S. government debt outstanding, to finance a deficit that New York-based Goldman Sachs Group Inc. predicts will expand to a record $500 billion for the year ending Sept. 30, after a $163 billion gap last year. Without their support, long-term interest rates would be 0.9 percentage point higher, a 2006 Federal Reserve study found.
Diminishing Returns
The yield on the benchmark 3 1/2 percent Treasury due February 2018 rose 16 basis points last week to 3.87 percent, according to bond broker BGCantor Market Data. The yield is up from 3.28 percent on March 17, the lowest since June 2003. The note's price declined 1 9/32, or $12.81 per $1,000 face amount, to $97.
Ten-year Treasury yields fell to within 2.03 percentage points of similar-maturity Japanese government bonds on March 17, the narrowest margin in more than a decade. Japan's 1.65 percent 10-year yield is the lowest of 31 bond markets tracked by Bloomberg and compares with 4.18 percent for German bunds.
A survey of Japanese funds investing overseas found 58 percent favor euro-denominated bonds, up from 20 percent a year ago, Barclays Capital Japan Ltd., a unit of the world's fifth- biggest currency trader, said in an April 24 report. Kokusai cut its U.S. fixed income holdings to a record-low 20 percent in March, from 32 percent two years ago.
"European debt is more attractive than Treasuries," said Nobuto Yamazaki, executive fund manager at Diam Asset Management in Tokyo, which runs an $8.55 billion bond fund that is Japan's third-biggest. The euro, which gained 14.5 percent in the past year against the dollar, "will continue to be strong," he said.
Of course, this is not the only hazard to the dollar's value. Interest rate differentials, accelerating inflation in the US vis a vis other countries, the possibility of dollar depegging are also important [1], [2], [3]. Which one will prove the most important is hard to say, which is why Justin Fox quotes me as "confused" about the likely path of the dollar. Downward, sure; but how far, and how long, are the questions that remain. But my guess is dumping a lot more US Government debt on the market over the next few years by making the Bush structural budget deficit permanent is not the way to stem the dollar's slide.
Technorati Tags: href="http://www.technorati.com/tags/tax+cuts">tax cuts,
dollar,
deficits, exchange rates,
interest rates, Treasurys,
portfolio balance.