From WSJ, Henry Pulizzi and John D. McKinnon write:
"The data are pretty clear that we are not in a recession," Council of Economic Advisers Chairman Edward Lazear told a meeting of editors and reporters from the Wall Street Journal and Dow Jones Newswires.

…




"I would be very surprised if the NBER, looking back at this period, would date this as a recession," Mr. Lazear said. There are even indications that revised first-quarter estimates would be slightly stronger than 0.6%. "The optimists seem to have been closer to right on that than the pessimists," he said.



Mr. Lazear's remarks follow optimistic comments on the economy by other administration officials this week. Treasury Secretary Henry Paulson, who has spearheaded the White House's response to the credit crunch in financial markets, said Tuesday that "the worst is likely to be behind us."

I must confess that I am amazed that Lazear can be so confident, given that we know that GDP is revised multiple times (see this post). In addition, we know that there are four series that the NBER places primary emphasis on, aside from GDP. (As noted previously, the President seems to be similary confident, despite the trajectory of these four key series).
Nonetheless, remaining focused on the national accounts does not necessarily make the case unambiguously stronger in Lazear's favor. Consider growth rates of final sales to domestic purchasers and final sales of domestic product, compared to GDP.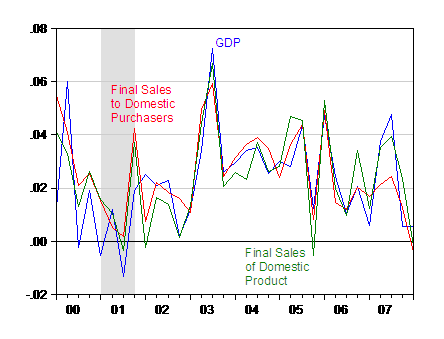 Figure 1:
Quarter on quarter growth rates of real GDP (blue), real final sales to domestic purchasers (red), and real final sales of domestic product (green), SAAR Ch.2000$. Growth rates calculated as log differences. NBER-defined recession shaded gray. Source: BEA NIPA release of 30 April 2008, and NBER.
What the real final sales series indicates is that taking out inventory accumulation yields a negative growth rate in Q1. It is of course possible that the observed inventory accumulation was in anticipation of resumed growth in Q2. The alternative interpretation is not so benign; it was that firms overestimated demand in Q1.
The real final sales to domestic purchasers series highlights a separate concern — namely that GDP growth has been sustained by now-waning external demand. Recall, final sales to domestic purchasers is:
Y – EX + IM – IInv = C + IFix + G
Where Y is GDP, EX is exports, IM is imports, C is consumption, IInv is inventory investment, IFix is business fixed investment plus residential investment, and G is government spending on goods and services.
As the figure clearly illustrates, the contribution to GDP from net exports is now much less pronounced than it was in 2007Q3. This point can also be seen in Jim's post on the release. We'll know a bit more about Q1 net exports when March's trade figures are released this Friday.
So, in this sense, the decoupling hypothesis is no longer academic. Whether US GDP growth remains positive may hinge crucially on whether rest-of-world growth is durable.
Other commentary: ECRI in CNN, Feldstein in Bloomberg, Greenspan in Bloomberg, Ritholtz in Big Picture (II), Ritholtz in Big Picture (I).
Technorati Tags: recession,
GDP,
final sales, inventory investment,
Ed Lazear.