The President's press conference yesterday was meant to buttress consumer and investor confidence. I will leave it to others to evaluate whether he was successful in this endeavor [0]. I will also ignore his disingenuous remarks concerning how allowing drilling offshore and in ANWR [1] would somehow affect gasoline prices today in a noticeable manner, and focus instead on his repeated emphasis on the fact that the economy is still growing (although he never mentioned at what pace).
This statement is indeed accurate if one focuses on real GDP. I present the log of real GDP in Chained 2000$, normalized to 0 at the NBER-defined trough in 2001Q4. I also present for reference log GDP in the previous two expansions, normalized to 0 in the previous troughs in 1991Q1 and 1982Q4. (For those interested in output gaps, the mean WSJ forecast predicts output will be 2.7% below CBO's estimate of potential output by end-2008, in log terms.)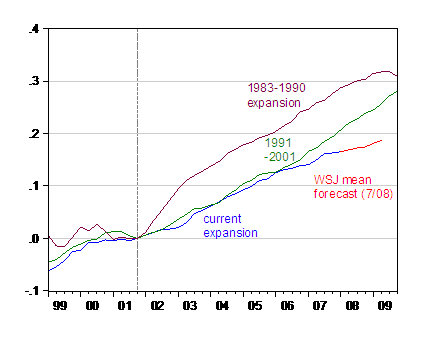 Figure 1:
Log GDP normalized to 0 at previous NBER-defined trough, for current expansion (blue), previous 1992-01 expansion (green), and 1982-90 expansion (black). Dashed vertical line at trough. Source: BEA, GDP release of 26 July 2008, NBER,
WSJ July survey
and author's calculations.
The graph clearly indicates that GDP is now substantially below (4%, in log terms) where it was at this time in the previous expansion. It is 12% below the corresponding level in the 1982-00 expansion.
I also plot the implied level of GDP assuming the mean forecast from the WSJ survey for GDP is realized. In that case, by 2009Q2, output will be 7% below the corresponding level in the previous expansion.
While the mean forecast is of interest, so too is the dispersion in forecasts. In the figure below, I plot the mean forecast, and the highest and lowest forecasts (using as the reference for highest and lowest the 2008 Q4/Q4 growth rate), from James F. Smith of Western Carolina University and Parsec Financial Management (2.82%), and Paul Ashworth of Capital Economics (0.24%), respectively.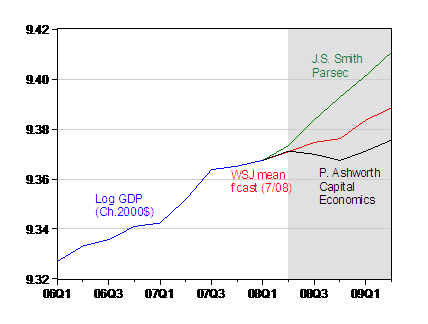 Figure 2:
Log GDP in Ch.2000$ (blue), WSJ July survey of forecasts mean response (red), high forecast from J. Smith of West Carolina State U. and Parsec (green), and low forecast from P. Ashworth of Capital Economics (black). Gray shading denotes
forecast period
. High and Low forecasts based on 2008 Q4/Q4 growth rates, as calculated by author. Source: BEA, GDP release of 26 July 2008,
WSJ July survey
of forecasts, and author's calculations.
The mean forecast projects a bump up in growth in 2009Q1. The high forecast by James Smith projects rapid growth all the way through the forecast period. Of course, Smith in the November 2007 survey provided the highest forecast of the surveyed economists for every quarter from 2007Q4-2008Q4, as well as the highest for 2008 Q4/Q4. (In March 2008, Smith also had the highest forecast for 2008Q1 growth, at 2.6%, and tied for highest Q4/Q4 growth, at 3.5%.) The lowest Q4/Q4 forecast comes from Paul Ashworth; he forecasts a 0.24% growth rate for 2008.
In Figure 3, I present a histogram of the 2008 Q4/Q4 growth rates, as implied by the q/q growth rates reported by the respondents to the survey. Smith is the single observation in the top bin. Ashworth is one of four respondents in the bottom bin. Highlighting the skewed nature of the distribution, Smith is more than 2 standard deviations from mean, while Ashworth is about 1.4 standard deviations below mean.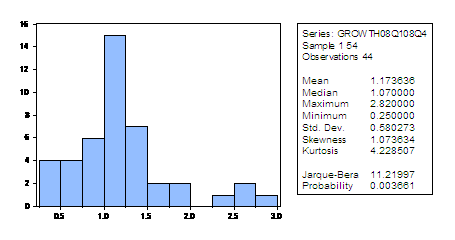 Figure 3:
Histogram of 2008 Q4/Q4 growth rates from
WSJ July survey
of forecasters. Source: WSJ survey and author's calculations.
If we take the most optimistic forecaster's view, then by 2009Q2, GDP will be only 4.8% below the corresponding point in the previous expansion. Taking the pessimistic view, it will be 8.3% below.
These forecasts were conducted in the first week of July. Hence, they predate the surprise jump in CPI inflation. Higher than anticipated inflation could have a variety of offsetting impacts. First, it could signal greater demand pressures, so GDP forecasts would be revised upward. On the other hand, taking into account the Fed's reaction function, one might think that monetary policy would therefore be tighter than otherwise, and hence output — at least several quarters out — would be lower than previously projected.
Today, additional information was released, for industrial production. Here the picture is mixed. Both industrial production and manufacturing production (recall industrial production includes output from utilities which can be influenced by weather factors, even when seasonally adjusted) rose slightly (I think "edged up" is the phrase).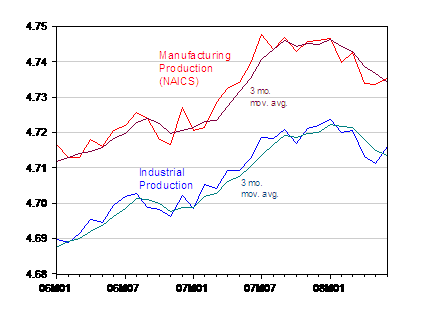 Figure 4:
Log industrial production (blue) and log manufacturing production (NAICS) (red), and trailing 3 month moving averages in dark bold lines. Base year for indices, 2002. Source: Federal Reserve Board via St. Louis Fed FREDII, and author's calculations.
Note that by the metric of the Nation's factories, utilities and mines, the economy is not growing, over a 3 month moving period.
Finally, both Macroeconomic Advisers and e-Forecasting released estimates of monthly GDP today (May for MA, and June for e-Forecasting). These series are presented in Figure 4. At this point we have a substantial disjuncture between the implications arising from the two organizations' assessments. E-Forecasting's figures indicate that in 2008Q2 GDP has declined 0.6% q/q on an annualized basis, while MA is predicting a 2.9% q/q growth rate, taking into account the April and May estimates and a forecasted 0.6% growth (annualized) in June.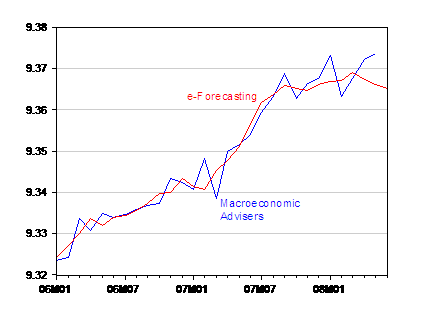 Figure 5:
Log monthly GDP (SAAR), from Macroeconomic Advisers (blue), and from e-Forecasting.com (red). Source: Macroeconomic Advisers, and e-Forecasting, releases of 16 July 2008.
Without knowing more about the track records of each of the estimates of GDP, I'm reluctant to say which one better tracks the state of the economy (or, less ambitiously, track the state of the advance GDP release…) . Any informed commentary or references from readers welcome.


What is true is that over the 1992-current period, an estimated error correction model assuming cointegrating between the two series (with long run unitary elasticity) indicates that the MA series reverts more strongly to conditional mean than does the e-Forecasting series. In a statistical sense, then, one might think the last observations of the e-Forecasting series are more likely to be closer to the underlying trend represented by both series (recalling that both series are calibrated to match the quarterly actual GDP series reported by BEA). In an informal sense, I think of this statistical result as meaning that the MA series bounces around more than the e-Forecasting series. This is not a conclusion with economic content, though, as it doesn't say which series better represents the economy's state. It might be the case that economic output does jump around a lot, month to month.
Technorati Tags: potential GDP,
recession, output+gap,
industrial+production, forecasts.