From the FT today:
Survey underlines grim outlook for eurozone


By Ralph Atkins in Frankfurt, Published: October 24 2008 11:23 | Last updated: October 24 2008 18:37





The eurozone economy contracted sharply in October as the global bank crisis slammed the brakes on business activity and blackened the outlook for the 15-country region, a closely watched survey indicated on Friday.

The steep fall in eurozone purchasing managers' indices, which showed private-sector output falling at the fastest rate since the launch of the euro in 1999, suggested the region was facing prolonged recession-like conditions, which could last well into next year.

But economists warned that the full effects of tighter credit conditions on business and consumers may have yet to feed through, and that expected cuts in European Central Bank interest rates could fail to revive growth.



The "composite" purchasing managers' index, covering manufacturing and services, slumped from 46.9 in September to 44.6 in October, the lowest since the survey began a decade ago.



"The financial crisis has developed rapidly into an economic crisis, with the eurozone economy contracting at the fastest rate for over 10 years," said Chris Williamson, chief economist at Markit, the research company that produces the survey. The indices are regarded as offering a good guide to trends in economic activity, providing a more up-to-date snapshot of activity than gross domestic product data. An index figure below 50 is taken to indicate a contraction in activity.



They showed eurozone manufacturers' new orders fell this month at the sharpest rate ever recorded, led by a slump in export orders. Service sector new business did not contract as fast but still saw the second steepest fall on record. Eurozone employment has fallen for four consecutive months.



The scale of the deterioration suggested several factors had combined into a lethal economic cocktail. Eurozone growth started to slow last year as a result of a stronger euro, higher official borrowing costs and then surging oil and commodity prices. "What I fear at the moment is that you have a natural progression from the downturn that was already in place with the extra hit from the financial market crisis … It has exacerbated problems that were already there," said Mr Williamson.


…
The impact of this data can be seen in revisions to the outlook. I don't have access to consensus forecasts for Europe, but I can plot the outlook from DeutscheBank's forecast from yesterday, and from before the financial crisis.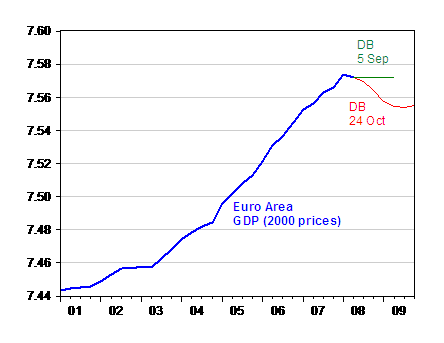 Figure 1:
Log real GDP in Euro Area in 2000 Euros (blue line), DB forecast from 5 Sep (green line) and DB forecast from 24 Oct (red line). Source: Deutsche Bank,
Focus Europe
, 5 Sep and 24 Oct issues, and author's calculations.
So, it seems the world has re-coupled, partly because of common shocks emanating from the financial crisis.
See also: Global Economy Matters blog, Haver, AP, Bloomberg, and IMF regional report on Europe [pdf].