The picture says it all. Based on data from the WSJ: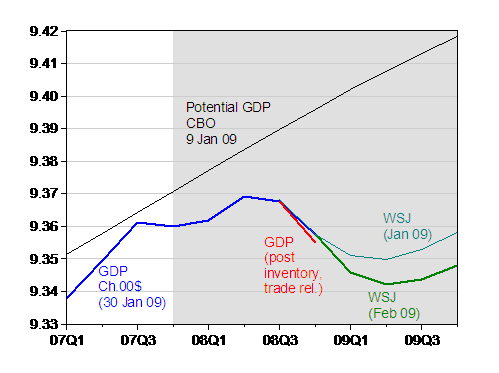 Figure 1: Log real GDP, from 30 Jan 2009 preliminary release (blue), potential GDP (black), WSJ mean forecast from January survey (teal), from February survey (green), mean forecast (red) as related in RTE blogpost (2/11/09). Gray shaded area denotes recession, assuming recession has not ended by 09Q4. Source: BEA NIPA Q4 advance release [link], CBO estimates of 9 Jan 2009, WSJ survey of forecasters from January and February [link], and NBER.

Note the survey was taken mostly before the release of the inventory and trade numbers (Jan 6-10).
I think the downward shift going from January to February is instructive.
Technorati Tags: output gap, recession,
stimulus bill, GDP.