That's the title of a new FRBSF Economic Letter. From Future Recession Risks, by Travis Berge and Oscar Jorda:
An unstable economic environment has rekindled talk of a double-dip recession. The Conference Board's Leading Economic Index provides data for predicting the probability of a recession but is limited by the weight assigned to its indicators and the varying efficacy of those indicators over different time horizons. Statistical experiments with LEI data can mitigate these limitations and suggest that a recessionary relapse is a significant possibility sometime in the next two years.
The key graph is here: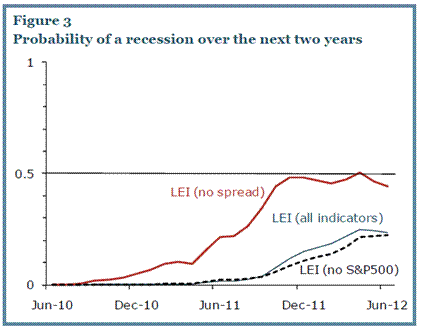 Figure 3 from Berge and Jorda (2010).
Taking out the yield curve leads to a much higher implied probability of recession, based upon historical correlations.
From the Conclusion:
Any forecast 24 months into the future is very uncertain. At two years out, the odds of recession vary
from almost three times more likely than expansion, to expansion being almost five times more likely
than recession, depending on which LEI components are used. Nevertheless, LEI forecast trends
indicate that the macroeconomic outlook is likely to deteriorate progressively starting sometime next
summer, even if the data suggest that a renewed recession is unlikely over the next several months. Of
course, economic policy can strongly influence the outcome. The policies that are adopted today could
play a decisive role in shaping the pace of growth.
This confirms my views that (1) the yield spread will lead to misleading inferences in the current environment, as suggestesd in Kucko and Chinn (2010) [1], and (2) in light of the weakness in economic activity [0] our elected leaders need to recognize the hazards confronting the economy, and implement additional stimulus [2].
I'll have a post up soon on why we don't need to worry about inflation, in the short to medium term.