I have been wondering why so many seem to be indifferent to the plight of the unemployed. Sometimes, the attitude is not so much indifference, but rather irritation that the poor are exempted from the burdens of society (see e.g., [0]).
Here is a plot of the unemployment rate and the alternative unemployment rate including marginally attached and part-time workers.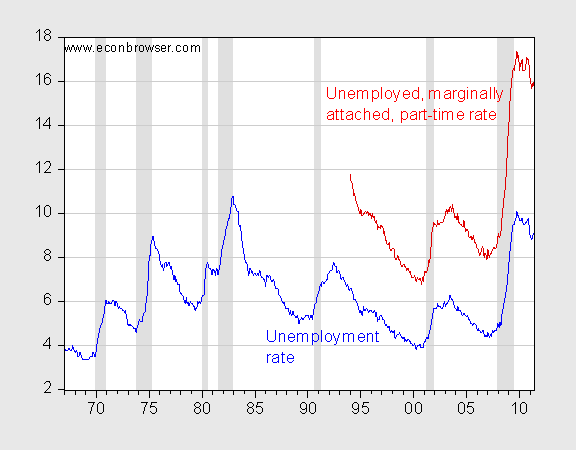 Figure 1: Unemployment rate (blue), and unemployment rate plus marginally attached and part-time for economic reasons rate (U6RATE, red), all seasonally adjusted, in percentage points. Source: BLS via FREDII.
I think some insights can be gleaned from an interesting model, from Shapiro and Stiglitz (1984) (Autor lecture notes, which I follow below).
Suppose that there are N identical, risk neutral workers, whose instantaneous utility is a function of wages (w) and effort (e), such that u(w, e) = w − e. e is either 0 or a constant, e > 0. The unemployed workers receive w ≥ 0 and e = 0. There is an exogenous separation rate per unit time (b). Finally, r is the intertemporal discount rate (the workers solve a dynamic problem).
The workers maximize the present discounted value of the utility, and either decide to work (and expend effort) or not work. There is an exogenous probability of being caught shirking, q. This parameter q is a function of the monitoring technology. If caught shirking, the worker is fired.
What one wants to do is to find the conditions under which a worker will be exactly indifferent between shirking and not shirking (taking the value of being unemployed as given). Once one finds the situation in which the worker is indifferent, one obtains the "No Shirking Condition" or NSC.
The NSC is such that the critical wage rate is higher when effort is more expensive, the utility of being unemployed is higher, the lower the probability of being caught shirking, the higher the interest rate, and the higher the exogenous quit rate; see equation 11.


Where the unemployment rate u = (N-L)/N.
What about firms and the demand for labor? This is standard. There are M identical firms, with production functions Qi = f (Li). Hence, the aggregate production is Q = F (L).
Each worker contributes one until of labor unless she shirks. Assume the marginal product of labor exceeds the disutility of effort, so F'(N) > e; consequently, full employment is efficient. The monitoring technology q is exogenous. Finally, the only way to punish shirkers is therefore to fire them.
The two schedules are shown in the following figure.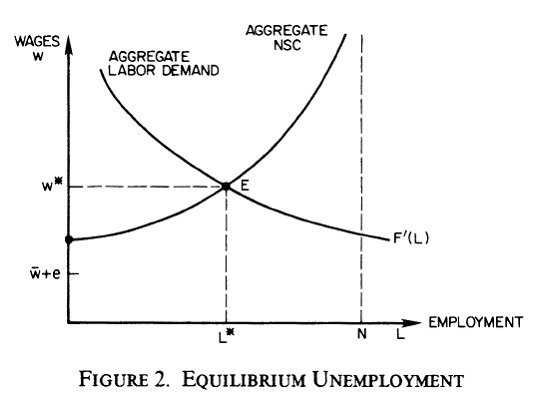 Figure 2 from Shapiro and Stiglitz (1984).
The aggregate NSC is upward sloping in w-L space because as employment rises, the pool of unemployed workers declines, reducing the expected value of the cost of shirking; hence a higher wage is required to prevent shirking, for a given unemployment benefit (w-bar) and a given disutility of effort. The aggregate NSC asymptotes to N because when L=N, then the pool of unemployed is zero, and the probability of finding a job if fired is infinity.
The aggregate labor demand curve is downward sloping for the usual reason — namely the declining marginal product of labor. Notice that equilibrium employment is below N, i.e., below full employment. Hence, there is involuntary unemployment, which exists to prevent shirking.
The unemployment is involuntary, and firms will not raise wages since it gets the needed workers it needs at that wage, and it won't decrease wages as this induces shirking. Another way of thinking about this is a wage higher than a neoclassically determined wage makes the cost of shirking higher by raising the expected discounted value of being employed, and raises the expected costs of shirking (since a large pool of unemployed increases the probability of staying unemployed for a longer time). Hence the title of the paper,
"Equilibrium unemployment as a worker discipline device." Alternatively, there is an externality in the economy; the private cost of an additional worker is w, while the social cost is e (w > e). From a social perspective, employment is too low.
Clearly, unemployment benefits have a pernicious effect from one perspective, as it shifts up the aggregate NSC curve, raising unemployment. Figure 3 shows what a raise in w-bar would do (also consistent with a decrease in q or an increase in b).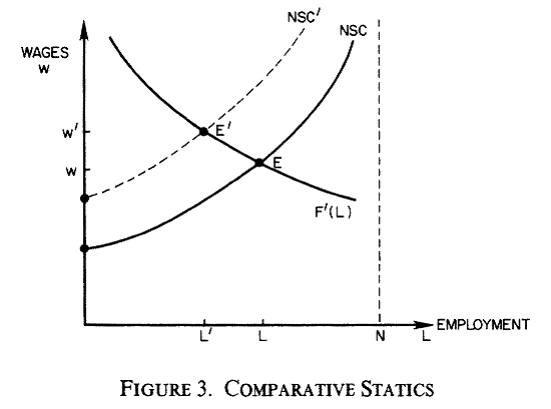 Figure 3 from Shapiro and Stiglitz (1984).
Reducing unemployment benefits has the happy outcome (at least from some people's perspective) of lowering unemployment. In fact, an infinite tax on unemployment would shift down the NSC curve, and could then nearly eliminate unemployment (That's a way of getting those shiftless workers working! Debtor's prison would serve an analogous purpose, I think). So, in some sense I am unsurprised by the view by many commentators that unemployment insurance should be done away with, as a halfway step.
Shapiro and Stiglitz suggest taxing away the profits of the firms and providing a wage subsidy to drive w closer to e (i.e., internalizing the externality). Interestingly, this is not a pareto improving measure, since firms will be worse off.
The optimality conditions are derived assuming risk neutrality. Once risk aversion is assumed, the socially optimal unemployment benefit is greater than zero, but firms will still opt to pay zero benefits.
Long Term Unemployment, Again
One relevant question is whether the pool of long term unemployed has the same effect on disciplining workers as those short term unemployed. I don't know the answer to this question, but we do know long term unemployment is at all time highs.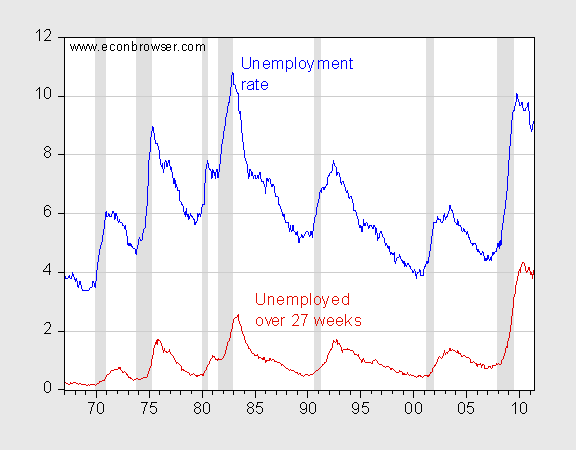 Figure 2: [CORRECTED 8/5 1:15pm] Unemployment rate (blue), and unemployment rate for workers unemployed 27 weeks and over (UNEMP27OV divided by CNP16OV CLF16OV, dark red), all seasonally adjusted, in percentage points. Source: BLS via FREDII.
[Update, 8/5 1:15pm Pacific: Thanks to Chad Stone for catching my error on the long term unemployed rate. I get by with the help of my friends.]
My intuition is that, with risk aversion (perhaps of first order), the possibility of dropping into a pool of workers from which it is particularly difficult to exit from into a job will disproportionately push down the NSC. In other words, a pool of long term unemployed might be particularly effective in driving down the equilibrium wage.
Given the likely contractionary impacts of the recently agreed to debt ceiling agreement [1], it seems unlikely we will have a rapid decrease in either of these series. This is unfortunate, since high levels of long term unemployment can eventually transform into heightened levels of structural unemployment, as discussed in this April conference on Long Term Unemployment in Industrial Countries. (Discussed in this post and this post).
By the way, the morning panel video presentations by Rob Valletta (SF Fed), Prakash Loungani (IMF), Phill Swagel (U. MD, formerly Treasury), and Ken Scheve (Yale), are now online.
The worries outlined in April seem ever more salient. For now, it seems that the political process has resulted in a situation where unemployment, both total and long term, will persist.