A perennial topic of discussion is the deficiencies of the CPI in measuring the things that are important to "real people". I actually believe that there is a point to some of these critiques. In particular, we know the CPI is "plutocratic" in that the weights associated with the CPI bundle are consistent with the expenditure shares of a household somewhere in the 4th income quintile. [1] [2] However, I think that other critiques — namely that food, health, and transportation, are missed — are misguided.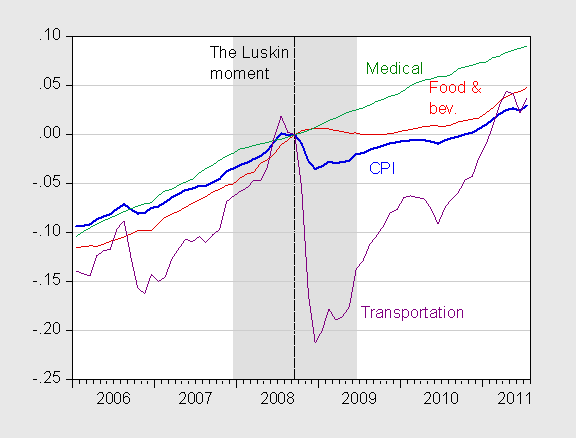 Figure 1: Log CPI (blue), food and beverages component (red), medical care (green), and transportation (purple), seasonally adjusted, all rescaled to 2008M09 = 0. NBER defined recession dates shaded gray. "The Luskin moment" is the month that Don Luskin argued that the US was on the verge of "accelerating prosperity". Source: BLS, NBER and author's calculations.

Note that while there has been a tremendous run-up in transportation prices (driven by gasoline prices), it has only regained its position relative to the overall CPI recently. That might be surprising to some, but I think that surprise reflects the fact that people pay attention when transportation prices go up, they don't so much when they go down (or stay constant). On the other hand, the medical care component continues to outpace the overall CPI.