(a.k.a. Okun's Law is Alive and Well)
Today we are fortunate to have a guest contribution written by Laurence Ball (Johns Hopkins University), Daniel Leigh (IMF) and Prakash Loungani (IMF) .
---
It is rare to call an economic relationship a "law." But Okun's Law has earned its name. In 1962, Arthur Okun found a relationship that has become enshrined in textbooks as Okun's Law. The textbook version states when U.S. output dips one percent below its potential, unemployment rises above its natural rate by about half a percentage point.
Fifty years after Okun's paper, we find that this relationship fits very well, including during the Great Recession. Deviations from Okun's Law occur, but they are usually modest in size and short-lived. Our results imply that it is a fallacy to claim that the last three U.S. recoveries have been "jobless recoveries". Rather, the recoveries have been slow, and the slow job growth that has resulted has been just about what one would expect based on Okun's Law.
Our results matter for policy choices. Okun's Law is a part of textbook models in which there are shocks to aggregate output, which lead firms to hire and fire workers. Paul Krugman for instance wrote in 2011: "Why is unemployment remaining high? Because growth is weak — period, full stop, end of story. Historically, low or negative growth has meant rising unemployment, fast growth falling unemployment (Okun's Law) … what we've been seeing lately is well within the normal range of noise." Krugman's policy prescription since the onset of the Great Recession has been for sufficient aggregate demand stimulus to boost growth and lower unemployment.
Skeptics of Okun's Law question this prescription. They argue that Okun's Law has broken down because of problems in the labor market, such as mismatch between workers and jobs. They stress labor market policies such as job training, not demand stimulus, as the key to reducing unemployment. For instance, Diana Furchtgott-Roth of the Manhattan Institute wrote in a recent op-ed that "Job creation isn't moving fast enough. It's time to try a different set of solutions." Her proposed solutions, based on a study by Deloitte, are to boost the "talent competitiveness" of U.S. workers "through changes in education, immigration, occupational regulation, foreign direct investment, unemployment insurance and patent law."

U.S. evidence: Fit & Stable
Using annual U.S. data from 1948 to 2011, we find that the Okun's Law has a coefficient of –0.4 or –0.5, with an in the neighborhood of 0.8. Chart 1 illustrates the fit of the estimated Okun's Law by plotting the unemployment gap (the gap between unemployment and the natural rate) against the output gap (output relative to potential). The relationship is very tight. No year is a major outlier in the graphs.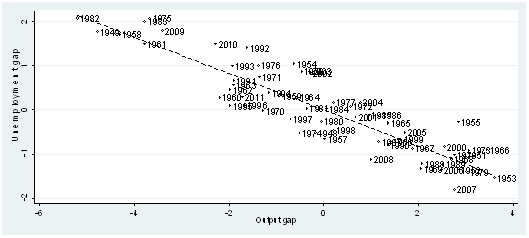 Chart 1. United States: Okun's Law, 1948-2011 (Annual data) (Natural Rates Based on Hodrick-Prescott (HP) Filter with λ = 100)

Some economists, including Menzie Chinn and Ferrara and Mignon in Econbrowser posts, suggest that Okun's Law is non-linear, with different unemployment effects of increases and decreases in output. At least for annual data, Chart 1 suggests that a linear Okun's Law fits the data well. When we estimate separate coefficients for positive and negative output gaps, the estimated coefficients are –0.37 for positive output gaps and –0.39 for negative gaps.
Previous researchers also suggest that the coefficient in Okun's Law varies over time. Once again, we find no evidence against our simple specification with a constant Okun coefficient. A test for a break in the Okun coefficient at an unknown date fails to reject the null of parameter stability for all three of our baseline specifications.
Our finding of a stable Okun's Law is robust to various methods of measuring short-run movements in output and unemployment. We try alternatives to the Hodrick Prescott (HP) filter. We also estimate the relationship in "changes", that is between the change in the unemployment rate and the change in (log) output, which does not require using the HP or any other filter. The relationship holds for quarterly as well as annual data. Chart 2 shows the tight fit between actual unemployment and the estimate based on Okun's Law. Some residuals are evident during the early years of the Great Recession, for which Ferrara and Mignon provide some conjectures.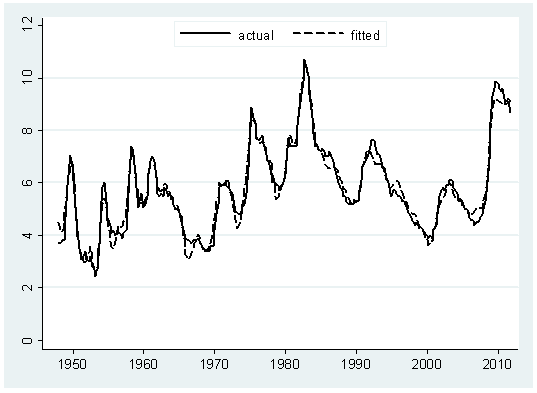 Chart 2. United States: Actual and Fitted Unemployment Rate, 1948Q2-2011Q4. Notes: Figure reports fitted unemployment rate from Okun specification estimated on quarterly data in levels with two lags and natural rates based on Hodrick-Prescott filter with λ = 100.
The Myth of Jobless Recoveries

It is often claimed that U.S. recoveries since the 1990s have been "jobless." We find no evidence that Okun's Law broke down during these episodes. Confusion on this issue has arisen, as Gali, Smets and Wouters (2012) have also noted, because output grew more slowly in recent recoveries than in earlier ones, causing high unemployment to linger.
To see why recent recoveries might appear jobless consider Chart 3, which shows the paths of output, unemployment, and the employment-population ratio from 2007 through 2011. We also present estimates of the long-run levels of the three variables based on their pre-recession behavior. Specifically, we estimate trends with the HP filter through 2007, and assume that the natural rate of unemployment, the growth of potential output, and the growth of the long-run employment-population ratio remain at their 2007 levels over 2008-2013.
Many interpret the experience shown in Chart 3 as a jobless recovery. For example, the website of National Public Radio (2011) presents similar graphs under the headline, "Output Came Back, Employment Didn't." These statements are true in the sense that the employment-population ratio has been steady at a low level, while the growth rate of output has returned to normal (the paths of actual and potential output are roughly parallel) and the level of output surpassed its pre-recession peak in 2011.
Yet, as the chart makes clear, Okun's Law has not broken down. Since a large output gap has persisted, Okun's Law predicts large deviations of employment and unemployment from their long-run levels. From 2009 through 2011, the output gap as measured in Chart 3 averaged -10.8 percent and the unemployment gap averaged 4.4 percentage points. In fact, the ratio of the two gaps, –0.41, is close to our estimate of the Okun coefficient.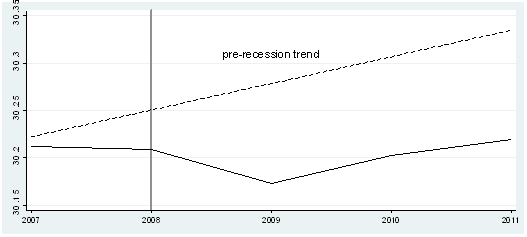 Chart 3a. U.S. and the Great Recession: The Myth of a 'Jobless Recovery': Log of Real GDP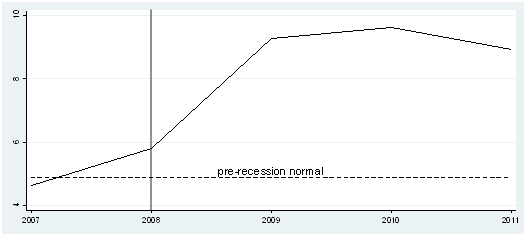 Chart 3b. U.S. and the Great Recession: The Myth of a 'Jobless Recovery': Unemployment Rate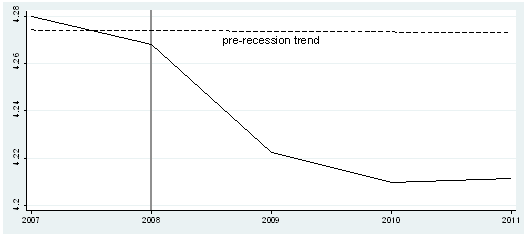 Chart 3c. U.S. and the Great Recession: The Myth of a 'Jobless Recovery': Log of Employment-to-Population Ratio
Why have the last three recoveries been viewed as jobless, while previous recoveries were not? This is because the speed of recoveries has been slower than before. In the early 1990s and early 2000s, as well as after the Great Recession, slow growth meant that sizable output gaps persisted well into the recovery. In contrast, in most earlier recessions, the output trough was followed by a period of above-normal growth that pulled output back to its previous trend. As Okun's Law predicts, unemployment also returned to normal, making the recoveries look job-full.
Chart 4 illustrates this point with data for the early 1980s. After the recession of 1981-82, output growth averaged nearly 6 percent over 1983-84, with the result that output, employment, and unemployment were all close to their previous trends by 1984. Based on experiences like this one, observers came to expect that the end of a recession would lead quickly to a full recovery of employment. They were surprised when this did not happen more recently, even though Okun's Law has not changed.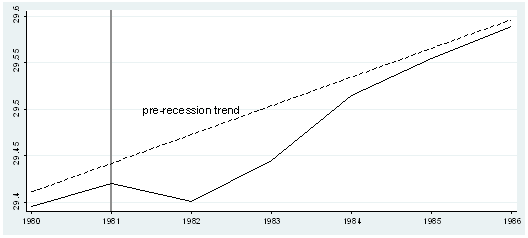 Chart 4a. U.S. and the 1981 Recession: A Recovery that Looks 'Job-full': Log of Real GDP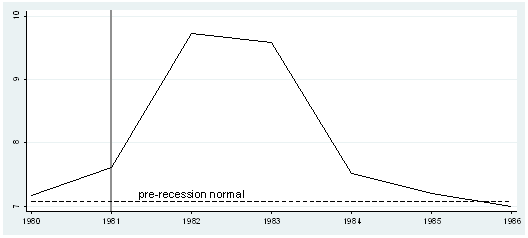 Chart 4b. U.S. and the 1981 Recession: A Recovery that Looks 'Job-full': Unemployment Rate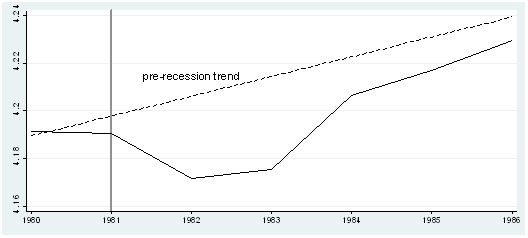 Chart 4c. U.S. and the 1981 Recession: A Recovery that Looks 'Job-full': Log of Employment-to-Population Ratio

U.S. Exceptionalism?

Does Okun's Law hold outside the U.S.? In our NBER working paper, which was released this week and presented earlier at the IMF's Annual Research Conference, we also report estimates of Okun's Law for twenty advanced countries since 1980. While a stable Law fits the data for most countries, the coefficient in the relationship—the effect of a one-percent change in output on the unemployment rate—varies across countries. We estimate, for example, that the coefficient is –0.15 in Japan, –0.45 in the United States, and –0.85 in Spain. These differences reflect special features of national labor markets, such as Japan's tradition of lifetime employment and the prevalence of temporary employment contracts in Spain.
The bottom-line: Okun's Law is not as universal as the law of gravity (which has the same parameters in all advanced economies), but it is strong and stable by the standards of macroeconomics.
---
This post written by Laurence Ball, Daniel Leigh and Prakash Loungani.