With Haruhiko Kuroda ascending to head the Bank of Japan [1], it is likely that monetary policy will remain fairly expansionary. Even without direct intervention in foreign exchange markets, the yen will likely continue to weaken as expectations of inflation rise. What is the likely impact of trade flows?
Figure 1 depicts the Japanese net exports to GDP ratio and the real value of the yen.
Figure 1:
Net exports to GDP ratio (blue, left axis), log real trade weighted value of the yen against a broad basket of currencies (red, right axis); January value for 2013Q1. Source: IMF,
IFS
,Japan
Cabinet Office ESRI
, and
BIS
.
While net exports are clearly declining, it's important to keep in mind that Japanese GDP is also declining, from already low levels.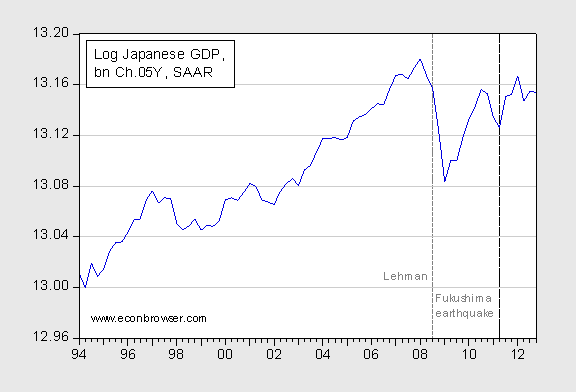 Figure 2:
Log real GDP in Ch.2005¥ (blue). Source: OECD via FRED, Japan
Cabinet Office ESRI
.
Hence the stakes are high. An expansionary monetary policy (as described in this post) can affect output by way of reducing real debt loads, and relaxing collateral constraints in financial accelerator model, as well as other channels. Those channels are in addition to the exchange rate channel that most are focused on.
Obviously, for an open economy, that exchange rate channel is important. And over the past few months, the yen has indeed depreciated precipitously. The January value is about 20% weaker than that recorded in 2011Q4. What does this imply for Japanese net exports? Relative to baseline one needs to know the price elasticity of imports and exports. Crane, Crowley and Quayyum (2007) find (for the period up to 2006) that the import elasticity with respect to relative price is near zero, while the export elasticity with respect to the real effective exchange rate is about 0.34.
Willem Thorbecke has recently estimated elasticities for Japanese exports. He finds that for a sample starting in 1990, the elasticity ranges between 0.44 to 0.61 (midpoint about 0.5). 2012Q4 real exports was 77,495.7 bn Ch.05Yen. That means a 20% depreciation, if sustained, should result in about 7,750 bn. Ch.05Yen increase in real exports; this is about a 1.5% of 2012Q4 GDP. That back-of-the-envelope calculation pertains to the long run; after two years, any deviation is reduced to about 10% of the original amount.
For more on the economists (and others) behind Abenomics, see this article.